10 Books To Read If You're Online 24/7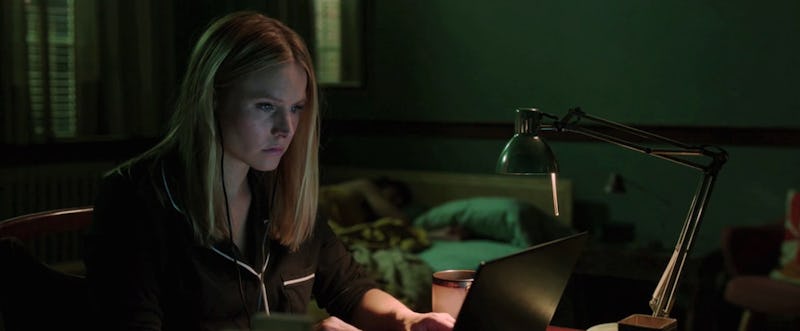 Remembering life without the Internet is like remembering another world. After all, the Internet practically created another world — the cyber universe. From finding information at the touch of a finger, to sharing photos from around the world, to purchasing and instantly downloading whatever book you want to read at the moment (thank you, technology), the Internet has undoubtedly made a huge impact on our lives.
On one hand, technology changes so quickly that it seems authors are reluctant to be too techie in their work, for fear it'll date the material. Personally, I think being super-specific to the trends of a time period can create a great snapshot of the era (hello, Clueless), but still, it can be tough to find tons of stories (in print, at least) about the Internet. And who wouldn't want to read novels about the Internet world? I mean, if you're online 24/7, you might as well let this seep into your book choices. And though it may seem hard to find books about your favorite world (I'm talking cyberspace), the truth is that there are lots out there. And you can even buy them IRL and hold the hardback in your hands. The future is here, people.
Internet addicts will recognize Felicia Day as the star and creator of the extremely successful web series, The Guild. In this hilarious autobiography, she recounts her years spent playing World of Warcraft, her childhood as a math and music whiz kid, and how she became an Internet sensation. It's hilarious, it's witty, and it's perfect for anyone who spends most of their time online.
If you're obsessed with social media, this book will make you VERY VERY PARANOID. It's sort of like 1984 for the Google generation: Mae Holland works for The Circle, a powerful Internet company that seems great at first. Key words: At first. Read it before it gets made into a movie starring Emma Watson and Tom Hanks.
In a futuristic world, teenager Wade Watts tries to find an Easter egg in the OASIS, a virtual utopia. This YA adventure novel is full of '80s pop culture references, and anyone who's always online will wish they could inhabit this book.
Based on the YouTube series of the same name, this creepy story follows Sunshine Griffith as she moves into a new home in Washington where something is just a little off.
Lincoln O'Neill is assigned to monitor work emails at a newspaper, but instead finds himself falling for Beth Fremont. Just by reading her emails. Did I mention this is set pre-Y2K? Told partially through 1999-era emails, this is a great read for fans of rom-coms like You've Got Mail.
6. Fangirl by Rainbow Rowell
Oh, look, Rainbow Rowell is on the list again. Because her books are pretty great for people who love the Internet. This YA book, set in modern-day, follows Cath, a college student who writes fan fiction. Her topic of choice? The Simon Snow series, which sounds a lot like Harry Potter. If you like Harry Potter, fan fiction, and awesome books, this is the novel for you.
If you're obsessed with YouTube, you've probably heard of Grace Helbig, vlogger extraordinaire. In this part-autobiography, part-life-advice book, Helbig doles out tips for being a grown-up, while regaling readers with stories about her own life. Read it in time for her next book, Grace & Style, which will be released February 2016.
Want to read more books by YouTubers, you say? How about this comedy cookbook by My Drunk Kitchen creator, Hannah Hart? Part autobiography, part life advice, part cookbook, this one will crack you up (pretend I'm saying that while holding an egg, so that can be an egg pun).
OK, just one more YouTuber book, I promise. Mamrie Hart, creator of You Deserve A Drink, gives readers 1) recipes for creative cocktails, and 2) crazy stories about her life, in this autobiography. Read this, along with My Drunk Kitchen and Grace's Guide, and you'll cover the YouTube vlogger trinity.
10. Snow Crash by Neal Stephenson
Hiro Protagonist is a pizza deliverer IRL, but a warrior prince in the Metaverse. This novel, set in a future world characterized by virtual reality, is witty and weird and a must-read for anyone with a digital obsession.
Image: Warner Bros Television (1)