Nygma & Penguin Are Ready To Take Over 'Gotham'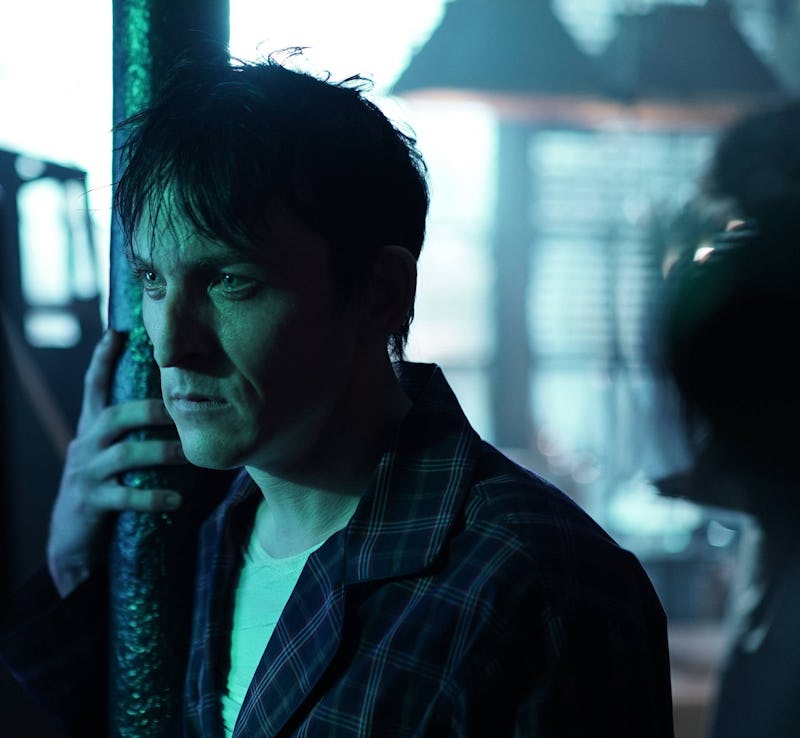 It's a moment that fans have been waiting for since they met for the first time: Ed Nygma & Penguin are friends. But the road to get there was pretty bumpy and strange, and at times it seemed like the two would ruin any chance of a friendship with one another. For example, things did not get off to a good start. Ed Nygma kidnapped the Penguin, sedating him so he couldn't run away — very Misery — and brought him back to his apartment. And Ed could not keep his cool throughout a single part of their meeting... looks like the villainous version of the character deeply admires the Penguin.
Meanwhile, Penguin was far more melancholy, lecturing Nygma about the risks of assuming a criminal identity. But since he was so weak from his injuries, eventually, Stockholm Syndrome set in, and Penguin lost his will to fight, eventually swearing that he would leave Gotham City forever.
And after two false starts, Ed eventually got Penguin to open up about his grief at losing his mother. But even after pining over his loss of Kristen Kringle, Ed tried to convince Oswald that losing everyone who cares about him was actually a good thing that made him a much stronger villain.
And his monologue was... terrifying. "A man who answers to no one but himself, and that is the man I see before me. A free man." Chilling words, but the exact ones that Penguin needed to hear in order to break out of his grief-induced funk and resume his usual villainy. And now that they'll be working together, both men are focused on one thing: reclaiming Gotham from Galavan, who's currently in jail. They went from total opposites to two peas in a pod just like that.
However they're planning to go about it, it will take all of Penguin's street smarts and all of Riddler's scientific savvy to do it. Gotham better watch out for this new team.
Image: Nicole Rivelli/ FOX