Amy Poehler, Jacqueline Bisset, and More Give Us the Best and Worst Moments From the 2014 Golden Globes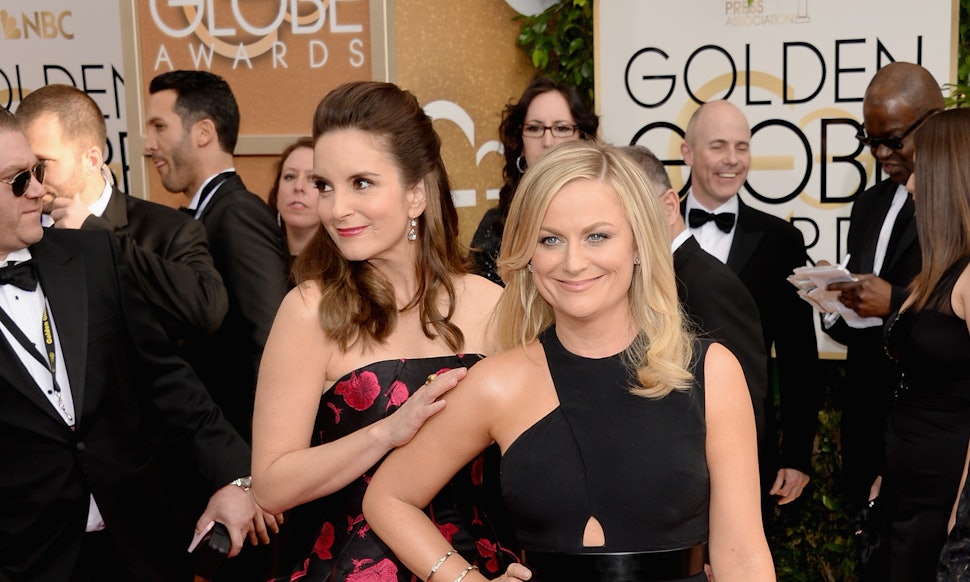 Jason Merritt/Getty Images Entertainment/Getty Images
Dear Oscars: that was how you do award shows. The 2014 Golden Globes were full of fantastic moments, from some very deserving actors taking home trophies (Amy! Amy!) to the flubs and teleprompter screw-ups that made for some great spontaneity. Still, despite all the fun, there were a number of odd, awkward, or just plain weird moments that left viewers itching to change the channel. Luckily for you, we saw them all. The best and worst moments from this year's Golden Globes.
Click here for more 2014 Golden Globes coverage on Bustle.
BEST: The Opening Monologue
Say what you want about the rest of the show, but that opening monologue was pure perfection. From re-naming Tom Hanks to "Tam Hunks" to having Jennifer Lawrence pose as Amy Poehler to ribbing on Julia Louis-Dreyfus for hanging out with the cooler, E-cigarette smoking movie folks, Tina and Amy's monologue was nothing short of fantastic. Best line: "George Clooney would rather float into space and die rather than spend one more minute with a woman his own age."
WORST: Jacqueline Bisset's Acceptance Speech
Dancing on the Edge star Jacqueline Bisset's surprise win for Best Supporting TV Actress was strange, but it was what came after that was even weirder. When her name was called, Bisset took forever walking to the stage, seemed to get lost, and, when finally holding the Globe, stood silent for several awkward moments while surveying the room. Her actual speech consisted of more "ums" and "well's" then any actual words, and when the music started playing her off, she just kept going, even though she had nothing to say.
BEST/WORST: All the Mess-Ups
From the failed censoring of Bisset ("shit" got through) to the teleprompter mishap for Jonah Hill and Margot Robbie (the wrong presenters' lines were up), the Globes were full of mistakes. Still, that made for a fun, improv-heavy show.
BEST: 'Breaking Bad' Winning Best Drama
It might not have been the most surprising win of the night, but Breaking Bad's taking of the trophy for Best TV Drama was certainly one of the best. The series had a fantastic final season, and the Globe honor was hugely deserved. Also, it was nice to hear Aaron Paul say it "Yeah, bitch!" one last time.
WORST: 'Frozen' Not Winning Best Song
It would've been disappointing, but at least understandable if Frozen had lost Best Song to Inside Llewyn Davis, because "Please Mr. Kennedy" is pretty damn great. But for "Let It Go" lose to a U2 song? Not okay, especially when Bono's acceptance speech was more "Mandela needed us" than "hey, who saw this coming?"
BEST: Amy Adams Winning Best Actress
No one deserved this more than Amy Adams. The American Hustle star has received countless nominations over the years, but it's a rare sight to see her actually take home an award. Accepting the Globe, Adams teared up, shared memories of her first days in Los Angeles, and thanked Hustle director David O. Russell for "letting the world know that a princess can punch."
Image: Getty Images
BEST: Mr. Golden Globe
Sorry, Sosie Bacon: no one cares about Miss Golden Globe, the "honor" given to the child of celebrity couples. They do care about MR. Golden Globe, though, a new award created by Tina Fey in the name of "gender equality." The honoree, "Randy," AKA Amy Poehler with bangs, pouted, mumbled, and asked Fey if Idris Elba or Harvey Weinstein was his father. Now that's how to handle a crappy award.
Image: Getty Images
BEST: Emma Thompson
Was she actually drunk or just doing a bit? Who cares! All we know is that when Emma Thompson got on stage to present the award for Best Screenplay, she took off her shoes, sipped her drink, slurred her words, and generally looked to be having the most fun of anyone at the Globes.
WORST: Diane Keaton Honoring Woody Allen
Nobody expected Woody Allen to accept his Lifetime Achievement Award in person, but watching his muse and friend, Diane Keaton, burst into song while accepting it on his behalf, came as a bit of a surprise, and not a particularly welcome one.
BEST: Amy Poehler Winning Best Actress in a Comedy
Three cheers for Leslie Knope! After two nominations, Parks and Rec 's Poehler finally won a Golden Globe for her work on the series. Accepting her award, Poehler seemed as excited as all of us at home; she kissed Bono, exclaimed "I never win!", and smiled bigger than Leslie eating a waffle.
Best/Worst: Leonardo DiCaprio Winning Best Actor in a Musical/Comedy
This is a mixed bag. It's great to see perpetual nominee DiCaprio finally win an award, but over Bruce Dern, whose performance in Nebraska was heartbreakingly great? We're not sure how we feel about this one.
BEST: '12 Years a Slave' Winning Best Drama
After being shut out for every other award, it was especially gratifying to see 12 Years a Slave take home the most prestigious honor of the night, the Golden Globe for Best Motion Picture, Drama. The film was up against several worthy contenders, but managed to sneak in a win that was wholly deserved. Here's hoping it's not as hard for the Steve McQueen film come Oscar times.