Make An Entire Thanksgiving Meal In The Microwave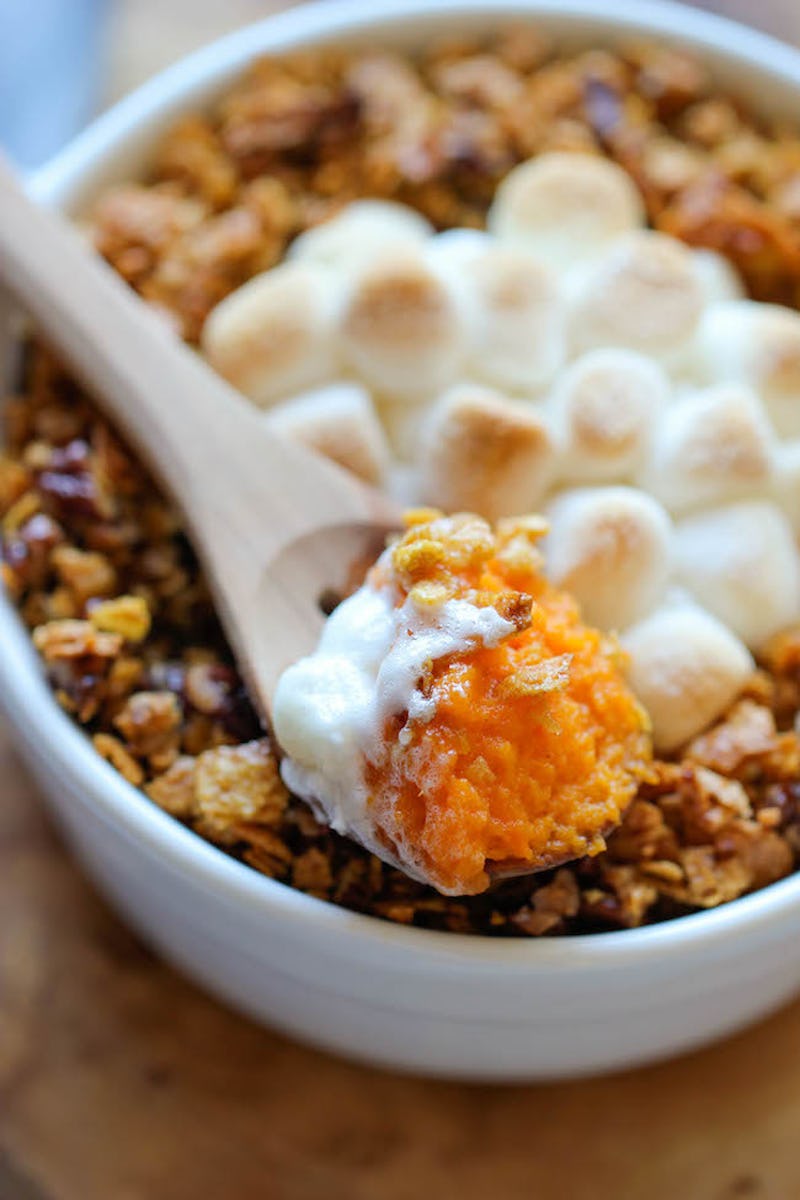 Thanksgiving is delicious, and the more dishes you have the better, but making all those sides can take a lot of time, not to mention space in your oven. That's where these microwave Thanksgiving recipes come into play. Along with the invention of the wheel and antibiotics, this may be the greatest thing to ever happen to modern society.
OK, so maybe that's a bit of an exaggeration, but we're busy AF around the holidays! Who has time to do things like wait for the oven to preheat when they have 85,000 other dishes to prepare? Not me, y'all. Not me.
The microwave can actually be your best friend when it comes time to cook Thanksgiving dinner. You're probably thinking the microwave should only be used to heat up leftovers, make popcorn, or cook mac and cheese when you're drunk, but I promise that the microwave can do so much more than that.
You can actually make a sophisticated meal, and it will save you so much time and stress this Thanksgiving. You'll thank me when you have plenty of time to change out of your apron and shower instead of slaving over the stove while your hungry guests wait.
So, whether you're going the simple route and nuking some veggies, or want to be more inventive and — GASP! — try microwaving your 12-pound turkey, here are 10 things you can make in the microwave this Thanksgiving.
1. Mashed potatoes
This one is beyond easy. Follow your favorite mashed potato recipe, and then microwave your potatoes in a microwave-safe dish for eight minutes. DONE.
2. Green beans
Get one of those little microwave bags of green beans. Add some garlic, butter, and lemon zest. Tastes gourmet AF.
3. Gravy
Combine two tablespoons of butter or fat drippings from your turkey. Combine in a small, microwave-safe bowl with two tablespoons of flour, one cup of pan juices, and some salt and pepper to taste (you can even get creative with chopped herbs or garlic!). Microwave for five or so minutes, stirring halfway through.
4. Cranberry sauce
Follow this cranberry sauce recipe from Closet Cooking; but instead of cooking it on the stovetop, cover a bowl with wax paper, and zap it in the microwave for 10 minutes, stirring halfway through, until the cranberries pop.
5. Pumpkin pie mug cake
This pumpkin pie mug cake is so stinkin' cute — not to mention, personal, portable, and made in the nuker! What's not to love?
6. "Toasted" nuts
Toasted nuts are a welcome addition to your Thanksgiving cheese plate, or taste great sprinkled on top of a salad or green beans. Depending on the type of nut, it can take anywhere from three to eight minutes to toast. Sprinkle them on a plate in a single layer, drizzle with a little oil, and microwave in one-minute increments until your nuts start to become golden-brown and fragrant.
7. Spaghetti squash
This fall veggie is super-versatile — make it into a faux pasta, or stuff it with your favorite toppings. Get the microwavable spaghetti squash recipe here.
8. Sweet potato casserole
Pierce the skin of your sweet potatoes, put them on a plate, and microwave for five to seven minutes. Then, make this ridiculously good sweet potato casserole from Damn Delicious.
9. Apple cinnamon crumble
I look at this picture, and I swear I can smell the deliciousness of this apple crumble from Averie Cooks.
10. Turkey
OK, y'all. This is the big Kahuna and a real gamble — but I'd be remiss if I didn't mention that you can, in fact, cook a Thanksgiving turkey in your microwave. Here's what you need to know: don't stuff it, cook it in one of those ~*fancy*~ oven bags with your favorite spices, and according to the USDA (yes, really), cook your turkey at "nine to 10 minutes per pound on medium (50 percent) power." Woof. Please send me pics if you actually do this.
For more Thanksgiving ideas, check out Bustle on YouTube.
Images: Brown Eyed Baker; Nom Nom Paleo; The Kitchn; Closet Cooking; The Kitchn; My Baking Addiction; Damn Delicious; The Kitchn; Averie Cooks; Jeff Ataway/Flickr