25 Books For Every Book Nerd You Know This Holiday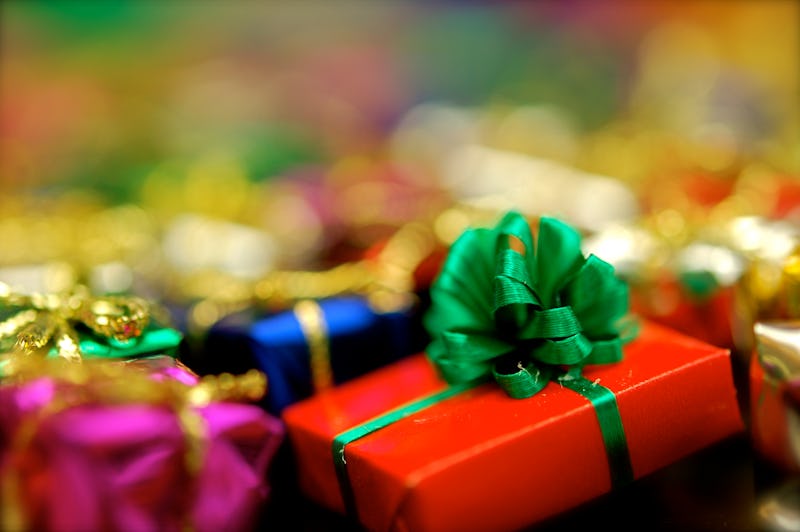 There's no doubt about it: book gifts are the best gifts. They're personal, they're meaningful, and, as everyone knows, a good book stays with a person forever. Giving a book to someone says "This made me think of you. I hope you fall in love with it." What better message can there be?
But when you have so many lovable book nerds in your life, choosing what book to give them over the holiday season can be an uphill battle. After all, they probably have so many books already stuck every which way in their over-stuffed bookshelves. One solution? Give those literary lovers something new to make the holiday season bright. Choose a book gift from this year, one they already haven't had the chance to read and re-read and re-re-re-read so often the pages are dog-earred to death and show stains and crumbs from every cup of coffee, glass of wine, and treat they've enjoyed while reading.
Luckily, you will have no shortage of awesome options because 2015 was packed-full of great reads, from legendary authors to explosive first-timers. Whether you're shopping for a relative, your significant other, or your BFF, this list will help you find the perfect book to give any book nerd in your life.
An adventurous tale of friends reunited, from the acclaimed author of I Was Told There'd Be Cake, you'll be calling each other to rave over every plot-point in this read. In their late 20s, Kezia, Nathaniel, and Victor are reunited for the wedding of a college friend. The three slip back into their old love-triangle dynamic, and are soon thrown into an international escapade that eventually leads them to the estate of Guy de Maupassant, author of the classic short story The Necklace. Pro-tip: If you buy in print, you can choose the cover from three different colors (my copy is hot pink and I love it).
Inspiring, uplifting, empowering. Elizabeth Gilbert's brilliant guide to taking control of your creativity is a must-have for the writer in your life (or any creative person, really). This is a book that your writer will keep on their desk for years to come, quote incessantly, and love through and through. It may also help them form some New Year's writing resolutions as 2016 comes upon us.
A book that dives into the power and function of storytelling itself, your English major will be enthralled on every level. Written in a unique collaboration with the workers at a Jumex juice factory/art gallery in Mexico, this multi-layered book is centered around Highway, an enthusiastic auctioneer who prizes his collection of the teeth of the "notorious infamous," including Plato, Petrarch, and Virginia Woolf. Literary and philosophy giants make plenty of cameos in this magnificently original work.
It began with a blog and is now a sensation. Slaughterhouse 90210 pairs literary moments with pop culture stills, finding fresh connections across all mediums. This book will light up the synapses of you pop culture guru's brain like a pinball machine. They won't be able to put it down.
From Beyoncé to Bon Jovi, this collection translates popular music into brilliant Shakespearean verse. Any fan of Shakespeare and music will delight in seeing how "If you liked it, then you should have put a ring on it." becomes "If truly you did wish to win my hand, you should have graced it with a wedding band." This book will get passed around the gift-exchange like wild-fire, and everyone will have their own favorite poem.
A must-read for your friend who loves gender and queer theory. In this fierce work of "autotheory," Maggie Nelson combines personal memoir with intellectual exploration, asking questions about identity, desire, and the limitations of love and language. Nelson recounts her romance with fluidly gendered artist Harry Dodge, taking readers through her pregnancy journey and the experience of queer family making, delivering a book that is fresh and uncompromising to the core.
The vibrant story of a Bangladeshi family who live in Brooklyn during a turbulent summer in the early 2000s, this book is filled with hallucinations, secrets, sexual exploration, questions of gender identity, and familial love. Adoptive sisters Ella and Charu are struggling to define who they are in the world, while their parents, Anwar and Hashi, deal with their own set of struggles. As the family is pulled in every direction, each member fights to hold power over desire and temptation.
8. For Your Brother: Welcome to Night Vale by Joseph Fink and Jeffrey Cranor
This is an especially great pick for anyone who's a fan of the Welcome to Nightvale podcast. "Weird" doesn't begin to cover the goings-on of the township of Night Vale. Inter-dimensional portals, ghosts, and government conspiracies are daily routine. Bizarrely funny and wickedly strange, he won't be able to stop talking about this topsy-turvy world.
The Turners have lived on Yarrow Street for over 50 years. The house has stood through 13 children, the coming of grandchildren, the fall of Detroit's East Side, the loss of a father, and more. But when Viola is forced to move in with her eldest son and they learn that the house is worth a tenth of its mortgage, the family is forced to face both the past and future head-on. An enthralling debut novel about the deep roots of family — your mom will be fascinated and moved all at once.
If your dad's anything like mine is, he'll by drawn in at the outset by the fact that this debut novel got a $2 million advance. (Cha-CHING!) Set in post-Vietnam New York, this roaring book follows Regan and William Hamilton-Sweeney (the heirs to an enormous fortune), Keith and Mercer (the men who love them), Long Island punk-rock teenagers Charlie and Sam, an obsessive magazine reporter, the reporter's neighbor, and the detective investigating their connection to a shooting in Central Park. When the infamous blackout of July 13, 1977 plunges them all into darkness, their lives are changed forever. Nostalgia and intrigue will push your dad through these pages.
In this sequel to the book based off the blog, photographer Brandon Stanton delivers another round of stunning images taken of people straight off the streets of New York City. This time, though, Stanton has included his in-depth interviews with the subjects, revealing the amazing, real-life stories they've told him about their lives. A heart-wrenching look into the true human experience and the colorful pantheon of people who have come to NYC.
The true account of Alex Mar's foray into the world of present-day witchcraft, in which she finds herself transformed from skeptic to practitioner. Mar guides you through her trip into Paganism and the occult, taking you along on rituals across the country. Pushed forward by questions about what belief is and where it comes from, Witches of America is a personal and witty dive into an often-overlooked and misrepresented faith.
In this collection of essays, Ryan Britt digs deep into the geeky life. Any self-proclaimed nerd will find themselves belting out a "YAAAAAS" as they read these fun, personal, and introspective essays about what geekdom means. From Star Wars to Sherlock Holmes, Britt's got every fandom covered, diving into unique perspectives that will give your geek plenty of food for thought.
This is one of those books that climbs into your head and starts tinkering with you from the inside. A must-read short story collection for any bibliophile, but especially those who like to be thrown through twists of violence and visceral emotion. It's dizzying, it's breathtaking, it's death-defying.
We all know someone who's head-over-heels for David Foster Wallace, Thomas Pynchon, Don DeLillo, and that whole crew. (I sure am!) From debut novelist Alexandra Kleeman, this stunning book is the perfect find and a fresh voice for any reader. Described as a "missing-person mystery told from the point of view of the missing person," body dysmorphia, reality television, and hyper-consumerism all have their parts to play in this mind-shattering plunge into modern womanhood.
Literary legend Salman Rushdie spins another enchanting tale in this magnificent dream of a book. Blending myth, history, and modern times as only Rushdie can, Two Years is told from the point-of-view of our descendants 1,000 years from now, recounting "The War of the Worlds" that began with a series of strange occurances. When a storm hits New York so hard that it makes a crack in the universe, the destructive djinns of myth (as well as some graphic superheroes) are let into our realm. One djinn sets out to save us, embarking on a battle that lasts 1,001 nights (or, two years, eight months, and 28 nights).
If your person went gaga for Danielowski's House of Leaves, this is the perfect choice. The best way to really grasp the complicated design of this novel is to watch the compelling book trailer. The book was hand-designed to mimic documents and drawings that piece together to tell a story spanning between 19th century and post-apocalyptic Texas, drawn together by a mysterious and vital letter. The letter itself is in the back of the book, in an envelope marked "Do Not Open." Here's the trick: Does the reader have the self-control to leave the letter unopened until the time comes?
As history goes, in 1842 Charles Babbage made plans for an enormous mechanical calculating machine, and his accomplice Ada, Countess of Lovelace's notes created the basis of computer theory — yet neither of them went on to actually build the computer. But in this thrilling graphic novel, Lovelace and Babbage succeed in building the Difference Engine and put it to use in a series of wild adventures.
From the beloved author of The Five People You Meet in Heaven and Tuesdays with Morrie, Mitch Albom's done it again in this beautiful novel, partially told from the point-of-view of Music itself. This is the story of Frankie Presto, the greatest guitarist who ever lived, and the six lives he changed through his music. A read that will warm the heart of any musician in your life.
The Freakonomics guys are back, and they've got a lot of questions. Why don't flight attendants get tipped? If you were a terrorist, how would you attack? And why does KFC always run out of fried chicken? Discovering the answers through economics and sheer brilliance, this book gives intellectual thought and analysis to everything under the sun.
The true story of what happens when, after her father's sudden death, falconer Helen Macdonald decides to train one of the deadliest predators, the goshawk. Seeing her own grief mirrored in the goshawk's fierce personality, she finds guidance in T.H. White's The Goshawk and continually discovers new dimensions to the hawk's character. As her training journey progresses and her connection with the hawk strengthens, she finds herself testing the very limits of her own humanity.
This is a piece of YA gold. The story of not-so-openly gay 16-year-old Simon who finds himself blackmailed. He must play wingman for the class clown, Martin, or else his sexual identity will be outed, as well as the privacy of Blue, the boy with whom he's been flirtatiously e-mailing. As Simon's life gets continuously more complicated, he must find a way to step out of his comfort zone, at risk of losing his friends and the attention of the ever-anonymous Blue.
Originally a web comic, Noelle Stevenson's debut graphic novel, Nimona was a National Book Award finalist, won Slate's Studio Cartoonist Prize and was nominated for a Goodreads Choice Award. Nimona is a young, bloodthirsty shapeshifter. She elects herself the sidekick of the not-so-villainous villain Lord Blackheart and tries to push him toward maliciousness. In a world of mischief-making that includes dragons, kittens, science, and everything in-between, larger questions and charming wit unfold. With unique artwork and a touchingly original story, this is a must-read for any graphic novel nerd.
This fresh and beautiful collection of poetry will take the breath of any poetry-minded loved one. Steeped in nature, Gay's work is as vulnerable as it is strong, as giving as it is personal. A collection that paints images of joy, hope, curiosity, and the elements large and small that bring life into bloom.
Sarah Vowell has a knack for bringing a fresh eye and witty candor to history. She's done it again in this account of the adventures of Marquis de Lafayette, the Frenchman who had a heavy hand in the birth of our nation. Great for fans of Hamilton and good old-fashioned history nerds alike, this book is as enchanting as it is informative.
Images: JD Hancock/Flickr