20 Gift Ideas For Your Squad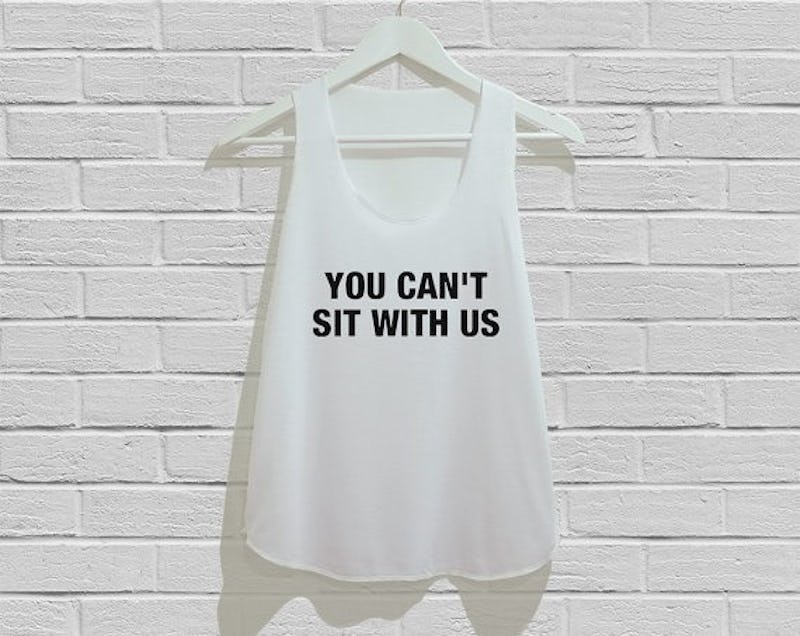 The most fun you'll probably have gift shopping this season is picking up those special somethings for your group of girlfriends. To streamline the searching process, and open up your schedule to actually spending time with your girl gang, here's a roundup of 20 squad gift ideas your best friends will love.
You live your best life with your close-knit group of ladies, and you want to give gifts that celebrate that. You know them better than anyone, and they deserve the best. So while it might be easy to determine what they'd like, the pressure is on to make sure it's something they'll love, and also great enough to embody the bond you all share. Pay tribute to just how kickass they are in the workplace with office accessories made for a Girl Boss. Commemorate your dollar pizza or Sunday brunch habits with mementos they'll hold onto forever. This gift lineup promises to bring love, light, and laughter to your squad this holiday season by way of sassy accessories, brazen one-liners, and of course some beautiful bottle openers and edible '90s paraphernalia. Because your squad is your family, and if you're making personalized candy mix-tapes for anyone, it's for them. So without wasting anymore time, get your gal pals the gifts that will bring you guys even closer together, and show the world just how inseparable you are.
Deborah Lippmann 5 Piece Nail Lacquer Gift Set, $45, Revolve
Give your squad five electric hot nail lacquers for full-throttle fierceness while they're out there running the world. With names like Hollaback Girl, It Girl, and I Kissed A Girl, these sassy shades are sure to shock and awe in the best way.
Bottle Opener Ring , $2, Amazon
Think of your squad as the Planeteers, and these little gadgets as your magic rings to save the day. When the powers combine, they summon the greatest time you and your squad have ever had, involving a few beers.
3. For the music lovers (with sweet tooths)
Candy Mix-Tape, $30, Sweet Saba
Mix it up with these customizable cane sugar candy mix-tapes. Each girl can get her own personalized "playlist" title and color combo. Even without actual tracks, the experience will be pretty sweet.
Latitude Longitude Bracelet, $19, Etsy
If adulting has separated you from your favorite females, let these pretty bracelets bring you back to the place where you were all together. The gold bands can be engraved with the coordinates of your hometown, college campus, or wherever else you and your girls hold dear in your hearts.
Dot Monogram Flameless Candle, $22, Nordstrom
Let it glow this holiday season with flameless candles that make for the perfect personalized accent piece.
You Can't Sit With Us Tank Top, $12, Etsy
Keep bystanders in check with these sassy tanks that tell it like it is. Great for your next group adventure, pajama party, or simply to wear as a camisole on days you need that extra squad support.
7. For the brunchers
I Attend Brunch Every Sunday Mug, $16, Nylon
Give your girls a meaningful mug they can enjoy their cup-a-joe in on mornings (and afternoons) when you aren't together brunching.
Dollar Sign Gold Finish Money Clip, $26, Zazzle
Keep your squad's cash money secure with this sleek clip. Not only does it also come in silver and gunmetal, but the background color and text are completely customizable.
MacBook Air Compact Mirror, $8, Amazon
Here's the perfect "tech" gift for those quick touch-ups at the office. Switching screens has never been so fun.
Girl Boss Desk Plate , $12, Amazon
Whether they're still breaking into their field or climbing that corporate ladder, give your girls the vote of confidence they deserve. The assertive desk plates also comes in variations like, "I'm not bossy, I am the boss" and "Talented Motherf*cker."
Talented Motherf*cker Desk Plate, $30, Nasty Gal
Various Projects Keychain , $15, Urban Outfitters
Give each of your besties a colorful key chain that speaks to their personality. A few of the other winning one-liners include "Rarely Sorry," "I Can't Even," and "Everything's Better With Tacos."
Everything's Better With Tacos Keychain, $15, Urban Outfitters
12. For your squad to keep together
Best Friends Acrylic Key Chain Set, $32.00, Bauble Bar
For a more in sync key chain game, let your inner middle schooler shine (and sparkle). These matching acrylic key chains will show the world you're best friends for life, and keep you from losing your keys.
4 Pairs Earrings, $13, H&M
With this statement earring set, each girl can rock her own rocks. The oversized stones are perfect for all the holiday soirées you'll be crashing together.
Girls Just Wanna Have Fun 3-piece 1" Emoji Pin Pack, $4, Etsy
You and your friends can bring back flair in a relevant way with these emoji buttons. The Girls Just Wanna Have Fun pack says mani-pedis and a strong dance floor session are in your squad's future.
Texting Gloves, $14, Urban Outfitters
As we head into winter and your besties bundle up to brave the cold, make sure they can still chime in on your group text. With these texting gloves they'll never miss another opportunity to send the perfect GIF comeback.
Tiffany Ping Pong Paddle, $33, Zazzle
If some squad members are on leaves of absence from your group activities because of adult things like getting engaged, be a good sport and pass time with some ping pong — with a four-carat Tiffany touch.
Nikki Tattoos, $22, Flash Tattoos
Your friendship will last forever, but that doesn't mean you have to declare it permanently just yet. Play around with matching tats that last only as long as you still want silver stars on your shoulder before you can all switch it up for black and gold arm bands.
Pizza Friendship Necklace, $8, Etsy
Up your friendship necklace game with these pepperoni beauties your whole squad will love. Each girl can sport a delicious slice solo, but when you come together prepare for pizza pie perfection.
Throwback Thursday Glitter Picture Frame, $8, Urban Outfitters
Immortalize your history together with these glitter frames completely worthy of your most-liked Insta #tbt.
Squad Sweatshirt, $19, Etsy
To leave nothing to question, get these cozy crewnecks for your lovely ladies to declare you're all a part of the same club.
Looking for more holiday cheer? Check out Bustle on YouTube.
Images: Nylon, Revolve, Urban Outfitters (4), Sweet Saba, Etsy (5), Nordstrom, Zazzle (2), Fancy, NastyGal, Bauble Bar , H&M, Flash Tattoos