Josh Duggar Is Being Sued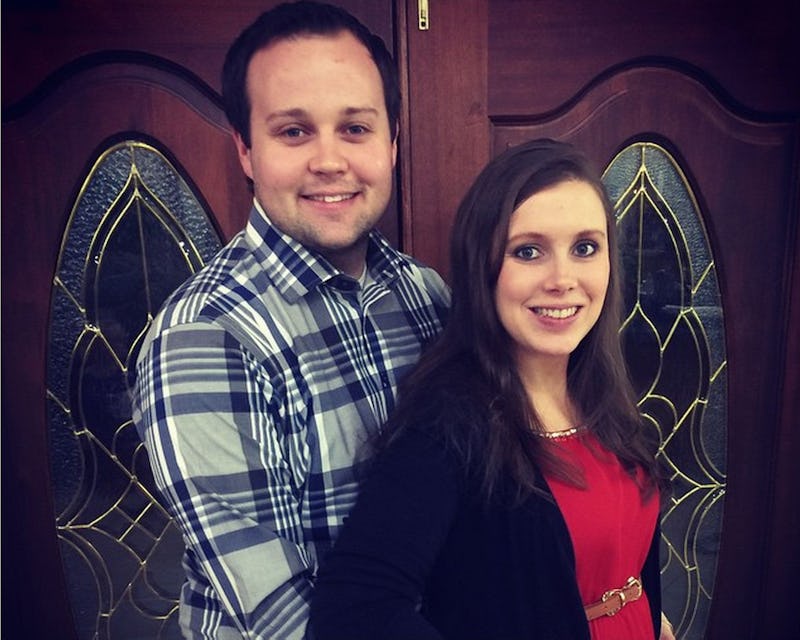 The scandals surrounding the Duggars won't stop. People reported Wednesday that Josh Duggar is being sued for alleged assault and battery by adult film actress and model Danica Dillon (real name: Ashley Stamm-Northup). According to court documents obtained by People, Dillion claims Duggar "assaulted her to the point of causing her physical and emotional injuries" in March at a Philadelphia strip club, while they were allegedly having consensual sex. Dillon is seeking $500,000 in emotional and physical damages following the alleged incident, which she claims caused her to seek treatment for anxiety. Bustle reached out to Duggar's rep regarding Dillon's allegations, but did not hear back at time of publication.
Dillon claims that Duggar paid around $600 for lap dances from her and $1,500 "for her company." She also alleged that Duggar asked her to come back to his hotel room, where they allegedly had consensual sex, but Dillon claims Duggar then "manhandled" her. In a previous interview with Dillon that Entertainment Tonight conducted in September 2015, Dillon made claims of similar details regarding her encounter with Duggar. She claimed, "He threw me on the bed and, in all honesty, though it was consensual it more or less felt like I was being raped."
According to Dillon's allegations, Duggar allegedly showed up at a different club the following month to apologize. As she claimed to Entertainment Tonight, "He walked up to me and he said, 'I am so sorry for the things that I did to you, I am not that type of person.' And I believed him, you know? It was a sincere apology. But to be honest with you I shouldn't have probably." Soon after, Dillon claims that she and Duggar had sex again in her hotel room. People's report also includes Dillon's claims that Duggar assaulted her the second time they allegedly had sex, too.
Dillon first came forward with her allegations around the same time Duggar publicly admitted to cheating on his wife, Anna Duggar. Entertainment Tonight reported in August that Dillon allegedly had sex with Duggar during his wife's fourth pregnancy. Duggar released the following statement regarding his sex outside of his marriage in August on his family's website:
I have been the biggest hypocrite ever. While espousing faith and family values, I have secretly over the last several years been viewing pornography on the internet and this became a secret addiction and I became unfaithful to my wife. I am so ashamed of the double life that I have been living and am grieved for the hurt, pain and disgrace my sin has caused my wife and family, and most of all Jesus and all those who profess faith in Him.
Image: annaduggar/Instagram