5 Pizza Places Like The One In 'Toy Story'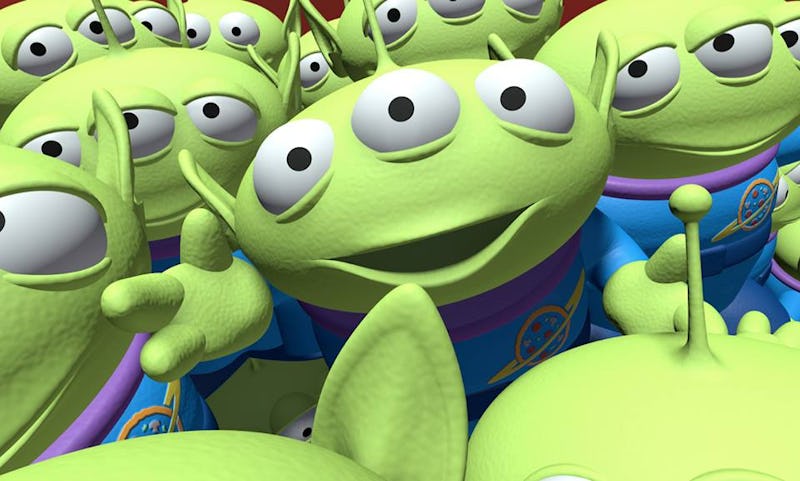 In the Disney Pixar classic Toy Story, pizza plays a pivotal role — Pizza Planet, that is. The sci-fi spaced theme restaurant hosted an arcade, cheesy goodness, and lots of craziness for Buzz Lightyear and Woody to get themselves into. To commemorate the animated movie's 20th anniversary, I found five pizza restaurants that'll remind you of Toy Story 's Pizza Planet and you can actually visit them! And yup, some of these places even have an arcade and spaceships to go with all of your delicious and cheesy pizza pies.
The Toy Story films aren't the only Pixar properties to feature the pizza restaurant and its logo. Pizza Planet — or its iconic truck and logo — makes cameo appearances in every Toy Story movie and pretty much all of the other Pixar movies, except for The Incredibles. You can definitely spot the truck in A Bug's Life, Monsters Inc., Finding Nemo, Cars, WALL-E, Ratatouille and even Brave, which takes place in the Scottish Highlands. "Try to find the Pizza Planet truck there," Pixar chief creative officer John Lasseter said in this video from 2011. "It's there, but we're not telling you where. It happens totally organically."
So what if you wanna get your Pizza Planet on without going to the movies? Get hungry for some space-themed pizza joints below.
1. Mellow Mushroom in Various Locations
Confession: Mellow Mushroom is one of my favorite pizza chains ever. They've got a cool vibe, creative pizzas, and good beers. A few of the locations in Memphis, Lakeland, Fla., and South Carolina have sci-fi themes and are decorated with that as an inspiration. No arcade, but some locations have trivia nights and all around good times.
2. Flying Saucer Pizza Company in Massachusetts
The Salem-based sci-fi and B-movie themed pizza joint offers pizza pies, slices, and a whole lotta nerdiness with pizzas that have pop-culture inspired names "We're wacky, nerdy, and downright nutty, and we wouldn't have it any other way!" the website declares. Flying Saucer Pizza Company also has a very cute mascot in Charlie the Space Pug.
3. Space Aliens Grill & Bar In North Dakota & Minnesota
Aliens in the Midwest? You better believe it. This otherworldly restaurant has locations in Bismarck, ND; Fargo, ND; Albertville, Minnesota, and Waite Park, Minn. The extraterrestrial-themed eatery serves up steaks, BBQ, chicken dinners, sandwiches, wraps, and — of course — fire-roasted pizza.
4. The Cosmos In Michigan
This sci-fi themed restaurant in Lansing boasts "Galactic-super-hyper-thermo wood-fire-scorched mind-erasingly good pies," according to its official website — and yes, that means pizza pies! The menu also features duck fat fries, cosmic deviled eggs and more. No arcade games, but there's free truffle popcorn during happy hour.
5. Action Burger in Brooklyn
This Graham Avenue restaurant and arcade claims to be the first American comic book and science fiction themed eatery. Action Burger boasts beer, liquor milkshakes, comic boojs,and more than 250 old school video games on the premises, in addition to awesome burgers.
Image: Disney Pixar