19 Most Memorable Quotes From Harry Potter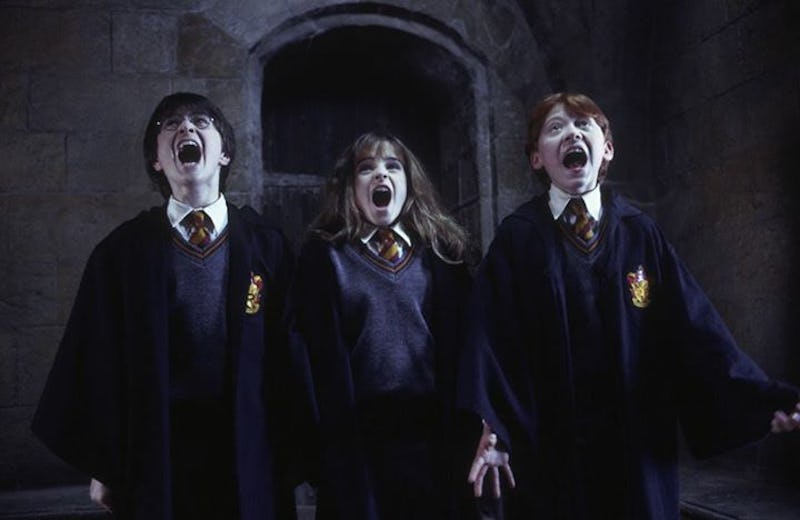 I have friends who remember exactly where they were on that fateful day when they first found out that Santa Claus isn't real. Me? I remember exactly where I was on the day that I discovered that those dreams Harry Potter had been having about flying motorbikes did mean something after all, and that magic really does exist in the world — even if you can only access it while you're curled up in a chair and reading.
Chances are if you're literate and living on Earth, you too can call to mind some fateful hour associated with J.K. Rowling's epic seven-part series. After all, Harry Potter is more than just one of the greatest literary accomplishments of all time — Harry Potter is a global phenomenon, and whether you waited in line in full wizard regalia at midnight on the night of each new release (guilty) or just watched the movies once they made their way to DVD, there must have been at least a few moments that touched your soul.
So, if you're looking for way to access a little pinch of that pure Potter magic, I proudly present to you 17 of the most memorable Harry Potter quotes of all time.
1. "Help will always be given at Hogwarts to those who ask for it"
— Albus Dumbledore, Harry Potter and the Deathly Hallows
2. "Nothing like a nighttime stroll to give you ideas"
— Mad-Eye Moody, Harry Potter and the Goblet of Fire
3. "Not my daughter, you bitch!"
— Molly Weasley, Harry Potter and the Deathly Hallows
4. "If you want to know what a man's like, take a good look at how he treats his inferiors, not his equals"
— Albus Dumbledore, Harry Potter and the Goblet of Fire
5. "Never trust anything that can think for itself if you can't see where it keeps its brain"
— Arthur Weasley, Harry Potter and the Chamber of Secrets
6. "We did it, we bashed them, wee Potter's the one, and Voldy's gone moldy, so now let's have fun!"
— Peeves, Harry Potter and the Deathly Hallows
7. "To the well-organized mind, death is but the next great adventure"
— Albus Dumbledore, Harry Potter and the Sorcerer's Stone
8. "It takes a great deal of bravery to stand up to our enemies, but just as much to stand up to our friends"
— Albus Dumbledore, Harry Potter and the Sorcerer's Stone
9. "Fear of a name increases fear of the thing itself"
— Albus Dumbledore, Harry Potter and the Sorcerer's Stone
10. "Hearing voices no one else can hear isn't a good sign, even in the wizarding world"
— Ron Weasley, Harry Potter and the Chamber of Secrets
11. "It is our choices… that show what we truly are, far more than our abilities"
— Albus Dumbledore, Harry Potter and the Chamber of Secrets
12. "Just because you've got the emotional range of a teaspoon doesn't mean we all have"
— Hermione Granger, Harry Potter and the Order of the Phoenix
13. "It does not do to dwell on dreams and forget to live"
— Albus Dumbledore, Harry Potter and the Sorcerer's Stone
14. "Twitchy little ferret, aren't you"
— Hermione Granger, Harry Potter and the Goblet of Fire
15. "Books! And Cleverness! There are more important things — friendship and bravery"
— Hermione Granger, Harry Potter and the Sorcerer's Stone
16. "Of course it is happening inside your head, Harry, but why on earth should that mean that it is not real?"
— Albus Dumbledore, Harry Potter and the Deathly Hallows
17. "Numbing the pain for a while will make it worse when you finally feel it"
— Albus Dumbledore, Harry Potter and the Goblet of Fire
18. "If you are holding out for universal popularity, I'm afraid you will be in this cabin for a very long time"
— Albus Dumbledore, Harry Potter and the Goblet of Fire
19. "It is the unknown we fear when we look upon death and darkness, nothing more"
— Albus Dumbledore, Harry Potter and the Half-Blood Prince
Image: Warner Bros.; Giphy (19)