Golden Globes 2014 Worst Dressed Stars Get Hypothetical Makeovers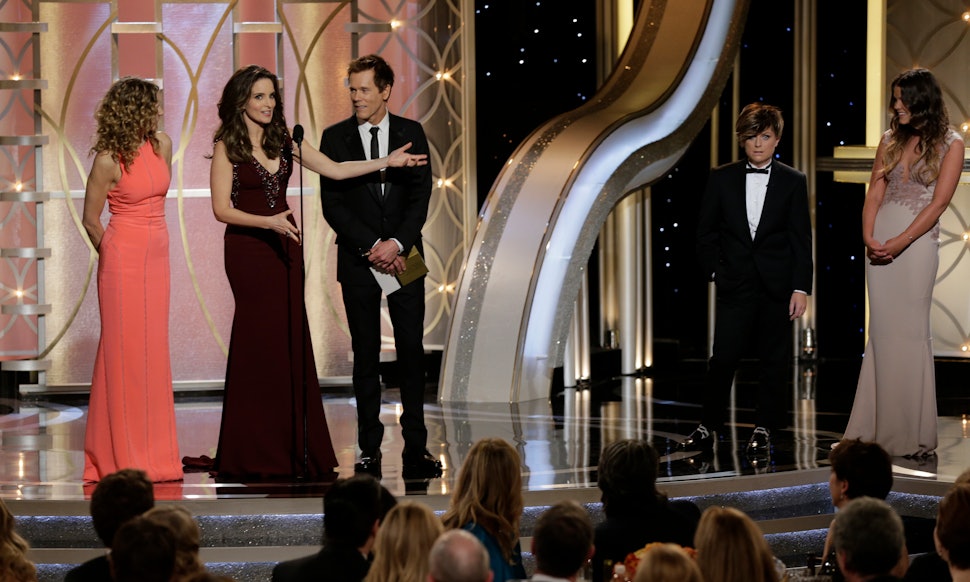 Handout/Getty Images Entertainment/Getty Images
In the spirit of our New Year's Resolutions to, uh, be nicer and, uh, not criticize what people are wearing — fine, that wasn't a real resolution of ours and our inner Fashion Police will be gabbing with each other till the day we die — we've decided to offer constructive criticism, instead of blanket dismissal, to those Golden Globe dames who wore what some might term a "miss." To err sartorially is human, but to rush onto that red carpet with hair dye, spare makeup, and scissors without getting arrested? That's divine.
Images: Getty Images
Zosia Mamet
Okay, so Zosia cut off her hair — something every budding fashionista must do at least once. But when a young lady chooses a hairstyle that's often associated with moms in mini vans, SHE MUST NOT PAIR IT WITH A HIGH-NECKLINED, STUFFILY FLORAL GOWN. That's Emily Post right there, capslock included.
The Makeover: We're giving Mamet messier hair altogether (think "overdosing on surf spray" and not "PTA meeting"). We're swiping on some edgy mauve blush to wake up her complexion. And excuse us, pardon us, we're just going to take these scissors and chop off that dress into a mid-calf hemline, handing Mamet some killer heels to remind everyone that she's young, she's free, she's SHOSHANNA.
Emma Watson
"We don't have enough fabric to finish out the back of this dress!" cried designers at Dior, mere seconds before the dress was due at chez Watson. "Eureka," screamed one particularly brilliant intern, "Just tell her these pants are designed to go under it!" The intern was promoted, the dress was delivered, and an unsuspecting Watson arrived at the Golden Globes in something one can only term a reverse dress mullet.
The Makeover: A bigger slit in the front, please. It's very coy to be like "This is just a dress —" *turns around* "— or is it?!" but it's also kind of cheesy and strange. Don't play with us, Emma. Show a little (front) leg.
Heidi Klum
Kindness be damned — Ms. Klum has been quickly dropping in our sartorial good graces lately. The 90's are not actually "back," Heidi, they're just being used as inspiration. The Makeover: We're wrenching that necklace away from Klum and we don't care how priceless it is. As we sprint the wrong way down the red carpet, chased by security from Lorraine Schwartz, we try to yell, as kindly as possible, that those emo bangs and clingy black florals look like something Avril Lavingne would get married in.
Hayden Panettiere
Yikes, the delicate straps and the slicked-back, mullet-inspired hair are just not working together. We're not traditionalists, but punk hairdos call for something a little meatier.
The Makeover: We're turning this dress into a strapless one (snip!) and handing Panettiere a chunky, studded necklace, the way red carpet punk-lite is supposed to be done.
Julia Roberts
Why do we suddenly feel an overwhelming need to turn in our homework? Maybe it's because Julia Roberts looks like the pretty-but-lonely English teacher who's chaperoning the school dance while making shy eyes at the handsome principal.
The Makeover: We're losing the side bangs and that dated poofy updo. Since time is of the essence here, we'll just have to go simple: take off the belt and tear out that weird white shirt thing. Voilà! It's Julia Roberts, hair in waves, wearing a black strapless number. It's been seen before, but it works.
Rashida Jones
Something about the bangs, the belt, and the PALM TREES turn this look into something more appropriate for a "romantic" (tacky) dinner at Sandals Resort. Rashida Jones is way too cool for this.
The Makeover: We're taking her hair down and drowning those bangs in dry shampoo. Then we're taking off the belt, burning it, and giving her an accessory that no middle-aged tourist would ever wear: an ironic Urban Outfitters fanny pack. Just kidding: an ear cuff. And a tattoo in a really visible place.
Joanna Newsom
Why is Joanna Newsom dressed like Scarlett O'Hara? And why is her hair styled to mimic her dress? Sometimes, the scariest questions are the ones that have no answer.
The Makeover: We're shearing off the sleeves and the two outermost layers of ruffles on the skirts. Then we're cutting off a foot off the bottom of the dress and giving her a pair of contrasting pumps — in royal blue, don't you think? Oh, it cost ten zillion dollars? Do we look like we care? We're also removing that droopy necklace, yanking out those matchy-matchy earrings, replacing them with a pair of structural silver ones, and scooping her hair in a casual chignon. Sigh of relief.
Sofia Vergara
What do you get when you pair a statement necklace, a statement dress, and statement hair together? Us, crying in the corner and refusing to look.
The Makeover: Call security again, because we're stealing that necklace, too, and stuffing it into the nearest trash can. We're also giving Vergara some quick low-lights, because her hair color isn't doing anything for her complexion. Then we're sending her back onto the red carpet, smelling of cheap Walgreens hair dye and looking a million times better.
Zoe Saldana
Points to Saldana for taking risks with shape and choosing a neutral palette that still remains visually interesting. But we're sorry to have to smite her with this Coco Chanel quote: "Before you leave the house, look in the mirror and take one thing off."
The Makeover: We're snipping off those romance novel-inspired "sleeves," leaving the gown strapless and immediately more modern. We're also adding a bit more volume to Saldana's updo and swiping on a brighter lip color.
Tina Fey's first hair look
We love Tina Fey, except… the busy print plus the hair on the neck are creating this sort of stultifying effect that we just… need to… reach out and…
The Makeover: …scoop her hair back into a low ponytail. Ah, there we go. And she never even noticed!