This Feminist T-Shirt Has A Long History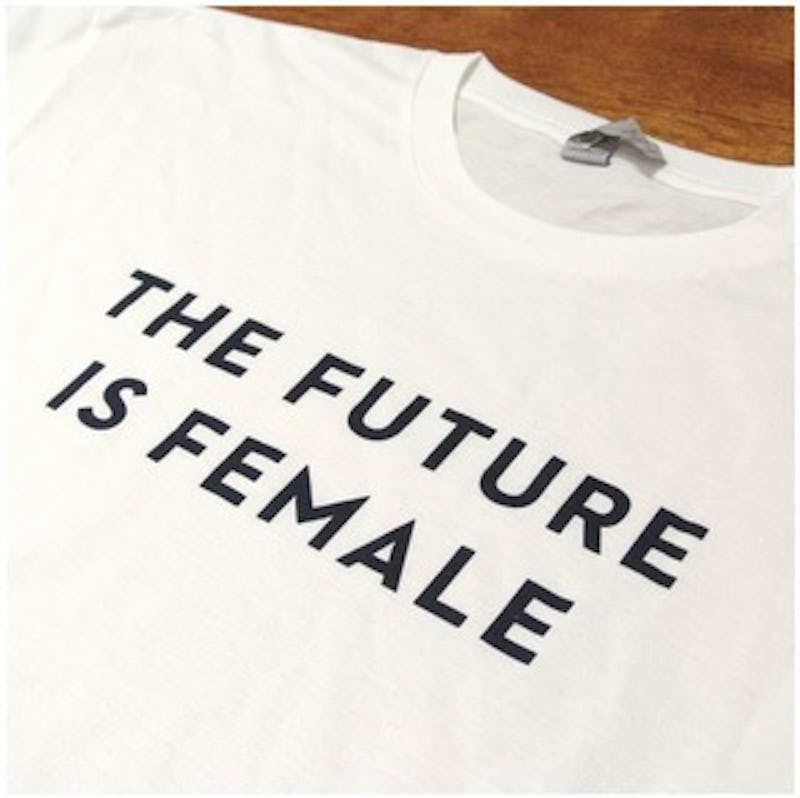 Admit it: You can't not read every single t-shirt that walks by you on a crowded sidewalk. Luckily, this iconic t-shirt from the 1970's that, according to the New York Times is making a celebrity-fueled comeback right now has an awesome message to spread. "The Future Is Female" t-shirt and sweatshirt have been spotted on Cara Delevingne, who wore hers in Paris under a black leather jacket and topped with a black beanie. Her girlfriend, Annie Clark of St. Vincent, also wore the shirt out in LA. Sidebar: I can't think of two kick-ass women who's closets I'd more like to raid than these two.
The slogan is now available as a t-shirt ($30), sweatshirt ($50), and baby onesie through LA-based shop and graphic design studio Otherwild. The best part? Otherwild donates 25 percent of the shirt sales to Planned Parenthood. Although it's now ubiquitous on Instagram, Tumblr and beyond, the slogan is rooted in feminist movements from the '70s, namely lesbian separatism, according to Rachel Berks, who owns Otherwild. "The shirt is about a reaction to a misogynist and patriarchal culture that affects a lot of people," she told NYT. In fact, it was first spotted in 1975 and immortalized in a photograph that artist Liza Cowan took of her girlfriend Alix Dobkin.
Otherwild has already produced several runs of the tees and sweatshirts — the first batch sold out pretty quickly, and the boost from Delevingne and Clark, as well as a big shout-out from NYT this week has really helped spread the message.
That said, this is about more than a t-shirt, and more than a celebrity endorsement, however valuable that may be in getting crucial visibility for a really important cause. Here's what Otherwild has to say about "The Future Is Female" on the brand's website.
This slogan has lasted through the decades and is reemerging as an empowering statement for all, as female-identified bodies and rights remain under attack. Inflexibile and compulsory sexual and gender binaries are used to oppress and deny people their humanity and agency. Otherwild believes in an inclusive, expanded and fluid notion of gender expression, identities and feminisms. We support liberation, embrace our trans sisters, and call for the end of patriarchal ideology, domination, oppression and violence. We believe that "The Future is Female" is the past, the present and the future, and is language that resonates.
The Future Is Female Sweatshirt, $50, otherwild.com
The Future Is Female Kids Tee, $25, otherwild.com
The Future Is Female Tee, $30, otherwild.com
The Future Is Female Pin, $12, otherwild.com
Want more feminist fashion? Check out the video below, and be sure to subscribe to Bustle's YouTube page for more hacks and tricks!
Images: Otherwild