25 Food Gifts For People Who Love To Eat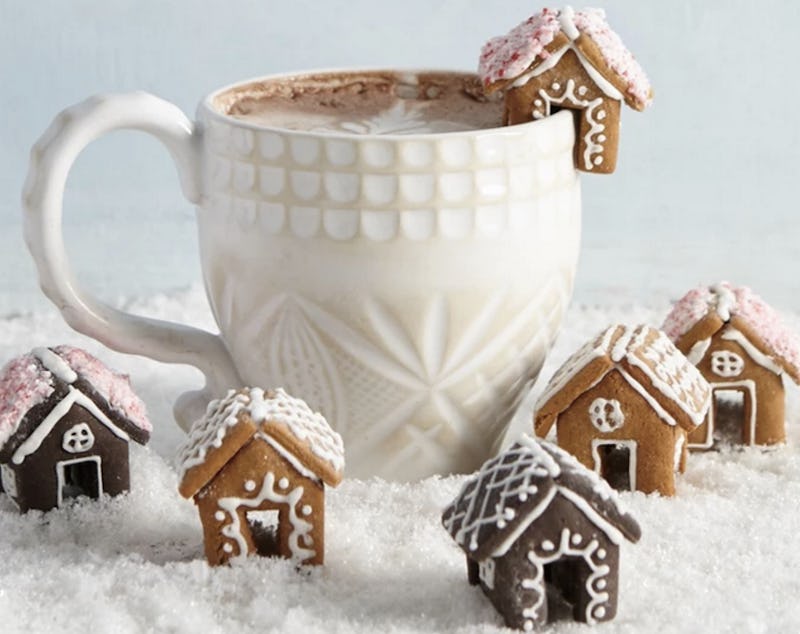 What to get the friend who loves to eat everything? If you're not sure, I've compiled the best food gift ideas to help you in your endeavors. Foodies often make the best of companions. They're always down to try out that new restaurant that's opening over the weekend, spend the evening going to the specialty grocery store, and cooking up very special creations at home if you feel like having a night in. Like I said, they are the best of companions — so treat them right this Christmas!
Collected below are gifts that range from must-have prepared specialty items to kitchen gizmos and gadgets that every foodie needs to have in her home. Invest in one special gift, or mix and match some of the more affordable items to truly create the perfect present. I bet if you're extra nice to your foodie friend, she might even share a bite of whatever you're giving her with you after she's opened it (and in the case of Mast Brothers chocolate bars and Salty Road saltwater taffy, that's not something you'll want to miss out on).
Give, give, give this season. I promise it will make you the happiest you can be. And foodies really are the most fun to shop for anyway — who else can you spend hours "sampling" gifts for during the holidays?
'Thug Kitchen: The Official Cookbook,' $15, Amazon
Gwyneth Paltrow loves this book, therefore everyone else in the world will too. Isn't that how that works? Regardless, it's an amazing vegan (yes, vegan!) cookbook that demonstrates the power of vegetables when it comes to amping up flavor.
Homemade Hot Sauce Making Kit, $40, Amazon
How could somebody not be excited about making their own hot sauce? Everything's included, so gift receivers can immediately open and start creating!
Ambessa The Earl of Harlem Tea, $20, Amazon
For just under a dollar per tea sachet, you'd better believe this is the good stuff. Uniquely flavored and strong, there's something to be said about this tea.
Slate Cheese Boards with Soapstone Chalk, $16, Amazon
So when your foodie friend has guests over, he or she doesn't have to spend all night repeating what the appetizers are. Plus, anything cheese-related is always a good gift idea.
Black+Decker 4-Quart Slow Cooker, $31, Amazon
If you know a foodie who doesn't yet own a slow cooker, that's just not OK. You can make just about anything in a slow cooker, from breakfast to dessert. It's not only a fun gift, but really, it's a smart gift — plus you can invite yourself over for Crock-Pot cookouts on the regular.
Pumpkin Keg Tapping Kit, $34, Amazon
Yes, you really can make a keg out of a pumpkin. Amazing, right?
Dr. Lucy's Ginger Snap Cookies, $4, Amazon
These ginger snaps are the real deal, made with actual ginger, lemon, and a hint of chipotle spice to really up the ante. They're also great for foodie friends who have to deal with allergies, because they're peanut, tree nut, milk, egg, and gluten-free!
Stovetop Popcorn Popper Red, $30, Amazon
Popcorn should never be made in the microwave, and if you don't believe me, then you've clearly never had stovetop popcorn before. It's not just about the taste (though, that's obviously key), it's also about the experience.
Atlas Marcato Pasta Machine, $65, Amazon
Making your own pasta noodles is a must-have experience for people who really love the whole process of crafting and eating their own food.
Cookie Shot Maker, $18, Amazon
Yes, yes, yes, and yes. Pair it with a bottle of milk to officially complete the gift.
11. Face Mug
Face Mug, $13, Amazon
Every foodie knows that you can't just eat a cookie by itself. Cookies were made to be dunked. Let this face mug help out.
Salty Road Saltwater Taffy, $6, Uncommon Goods
Just read the description: "a strong peppermint kick and our signature sea salt crunch." Do you really have any more questions? (And yes, I definitely suggest getting a box for yourself too).
13. Farm To People Spicy Pear Jam
Farm to People Spicy Pear Jam, $8, Farm to People
Jams just seem like the perfect gift to give around the holidays, and this smoky, spicy pear jam is absolutely no exception.
14. Lillie's Q Six-Bottle Gift Set
Lillie's Q 6-Bottle Gift Set, $60, Lillie's Q
Foodies love sauces, that's just a fact of life. This awesome assortment of house-made grill goodies is one that is sure to impress.
15. Mast Brothers Chocolate Bars
Mast Brothers Chocolate Bars, $5+, Mast Brothers
Mast Brothers chocolate bars are as good as it gets in the world of chocolate. Choose between olive oil, sea salt, almond, coffee, and goat milk flavors amongst many more.
16. Green Blender Subscription
Green Blender subscription, Green Blender
For a gift that will actually stretch into the new year, sign your foodie friend up for a Green Blender subscription, which includes five new recipes a week along with all the materials and ingredients you need to make 10 smoothies. Sounds pretty delicious, right?
17. Bruschetta Board
Ruffino Bruschetta Board, $175, Noblegoods
Turn your foodie's favorite appetizer into an Instagram-worthy work of art with this hand-crafted bruschetta board. Made with environmentally-sourced walnut, it's a gorgeous piece to add to any foodie collection.
Krispops, 20 for $38, Public Lives, Secret Recipes
Move over cake pops — these Rice Krispie treat-inspired Krispops are the new dessert you're gonna obsess over. Choose holiday flavors like peppermint hot chocolate, or go for something a little more classic like birthday cake or cookies and cream.
Momofuku Milk Bar Confetti Cookie Mix, $16, Birchbox
Foodies need only to add the canola oil, butter, and egg to have Momofuku Milk Bar cookies baking in their very own oven.
20. Hot Cakes Molten Chocolate Jar Cakes
Hot Cakes Molten Chocolate Cake 4-Pack, $36, Getyourhotcakes
No one can say no to gooey, rich, molten chocolate cake, and when that cake comes pre-made in an adorable mason jar you just have to pop in the oven? Pure bliss. Get your friend a four-pack of these decadent treats.
Ruffino Prosecco, $12, Target
High quality bubbly tops off light snacking better than anything else. With notes of peach, pear, citrus, and apple, Ruffino Prosecco is a remarkably sophisticated option for a great price.
Hella Bitter Old Fashioned Sugar Cubes, $15, Sur la Table
Made with a hint of molasses, these tasty sugar cubes are an excellent addition to any hot cup of coffee, tea, or even cocktail.
23. Rye Whiskey Caramel
Rye Whiskey Caramel, $25, Hot Cakes
This caramel sauce is more delightful than you'd ever imagine. Top off your ice cream, pancakes, oatmeal, or even hot toddies with this delicious sauce.
Fatty Sunday's Gourmet Chocolate-Covered Pretzel Collection, $35, Birchbox
This collection is made up of 25 pieces of pure bliss. Pecan pumpkin and PB + J chocolate-covered pretzel flavors are not something to be forgotten easily.
Home Sweet Home Mug Toppers, $10, Anthropologie
These edible cookie houses are the greatest thing that's happened to hot chocolate since the marshmallow.
For more holiday food ideas, check out Bustle on YouTube.