'PLL' Season 6B Should Give A Paily Update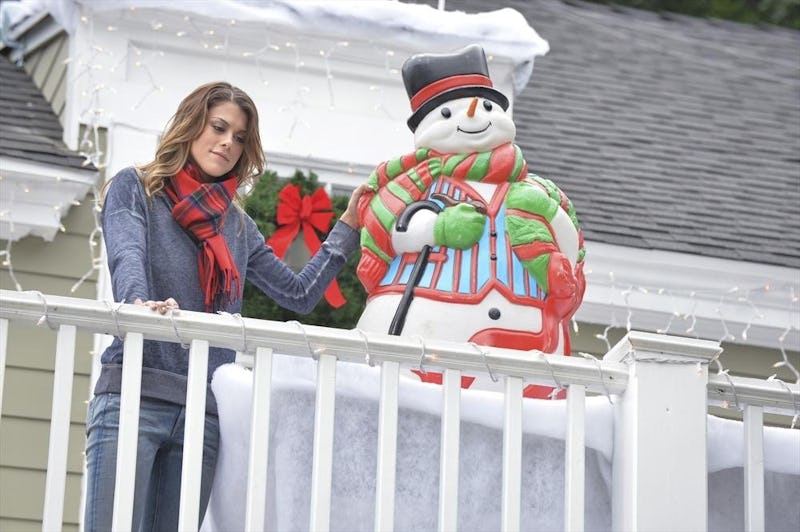 Poor Emily Fields. Pretty Little Liars' resident serial monogamist hasn't had much luck in the love department as of late. After finally reuniting with Paige in Season 5, Emily and her girlfriend said goodbye to one another so that Paige could escape the A madness to California. After a bout of betrayal at the hands of new love interest Sara Harvey, Emily's romance prospects look pretty bleak — but perhaps they won't for long. Could Paige return for Pretty Little Liars Season 6B? The five-year time jump opens up the door for plenty of possibilities, especially for Emily, the Liar who really deserves a happy ending after all of the trouble the past six seasons have put her through.
While there are plenty of people who want Emily and Alison to get together, I have a bit of a soft spot for Paige and Emily, especially now that they have verged into star-crossed lovers territory. The first half of Season 6 was so packed with twists, turns, and reveals that it was hard to add much romance to the Liars' storylines. If you need a refresher on all of that drama, check out the (drunk) Pretty Little Liars recap video below.
Still, many people assumed that they would see Paige at some point in Season 6 after the girls escaped the dollhouse, due to this tweet from showrunner I. Marlene King:
When Paige didn't show up in Season 6A — and the show made Sara her main love interest — Paily fans were wildly unhappy. Some even took their frustration to Twitter, where they vented their disappointment. Despite 'shippers accusing King of not liking Paily, it turned out, that wasn't the case at all. In fact, King hinted that Paige may have been back a while ago had the actress who portrayed her, Lindsey Shaw, become available to film:
The fact is, no matter how awesome a romantic storyline or how perfect a certain television couple is together, if the actors' schedules don't work out, the show needs to go in another direction. It seems that the reason why Paige left for California might have had a lot more to do with Shaw's own schedule than Paige's, which is sometimes just how the world works, even though it means missing out on moments like this:
The good news? We might see more Paige before the end of the series. In an August interview with Zap2It, King hinted that seeing Paige again isn't completely off the table:
There's always a chance we're going to see Paige. You know, Emily has not had a lot of success with women so far, so we'll see how she does after the time jump, if she's been able to find a better group of gals to hang out with.
Unfortunately, that might be the biggest clue we get about Paige for a while, but that can't stop Paily 'shippers from hoping she returns to Rosewood, five years after the Liars made their own exits. For more on the 'ships, time jump, and everything Pretty Little Liars, check out Bustle's podcast Taking This One To The Grave.
Images: Eric McCandless/ABC Family; Giphy