Lululemon Is Celebrating Black Friday In A New Way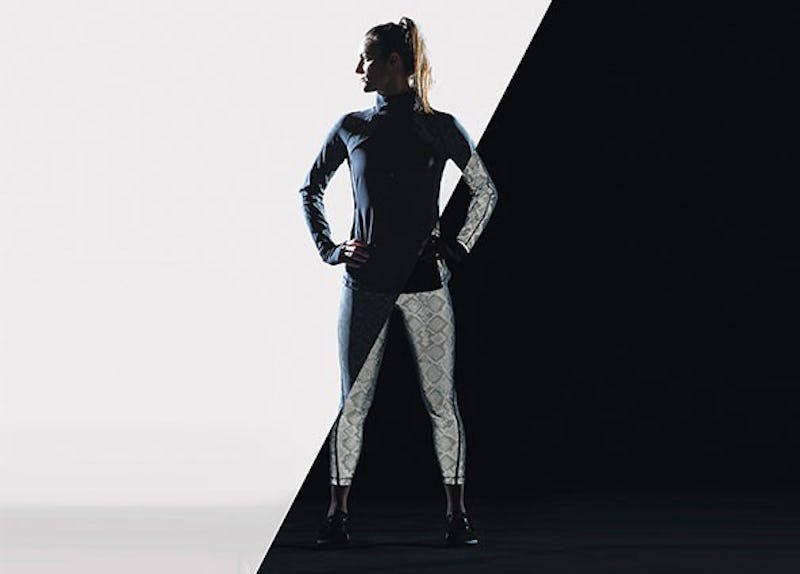 It's the most wonderful time of the year — sale time! While many stores are offering up insane post-Thanksgiving deals, one activewear line is doing things a little differently. Lululemon is launching a Black Friday capsule collection that interprets things quite literally. Although the collection won't be slashed in price, the eight-piece range will be all black — and definitely deserves to be put on your shopping list.
If you're looking for a twist on basic black, then this athletic line is for you. Featuring everything from ear-warmers to running pants, the limited-edition collection is made with 360 degree high-impact reflectivity, so your holiday season can truly be merry and bright — even while you're working out. The pieces will be available in-store, online, and in the brand's New York flagship store on November 27th and range in price from $38 for accessories to $298 for running pants.
This might not be your typical Black Friday special, but if it's anything like last year's collection, it will be totally worth the price. Last year Lululemon released a similar limited-edition line with a handful of glittery pieces. The sequined sports bras and high waisted running pants were absolutely fabulous, and although this year's line is more subdued, there's no doubt that it's just as worth your money.
Not only is this collection super trendy, but it's fabric is perfect for the winter season. With the days getting shorter, cold weather often means working out in the dark. Thanks to Lululemon, you'll be safe to get out there for a late-night run, because everyone will see you coming. Of course, the clothing is great for everyday wear as well. Check out the other athleisure looks below.
You can't be missed in this head-to-toe reflective gear.
Stand out with a subtle strip of brightness to spice up your basic black.
Or go all-out with these cropped running pants.
It doesn't get much more stand-out than this.
I can't think of a better way to dress for a sweat sesh.
Want more style tips? Check out the video below, and be sure to subscribe to Bustle's YouTube page for more hacks and tricks!
Images: Lululemon (6)