Kohl's Commercial Boasts Stylish, Same-Sex Couple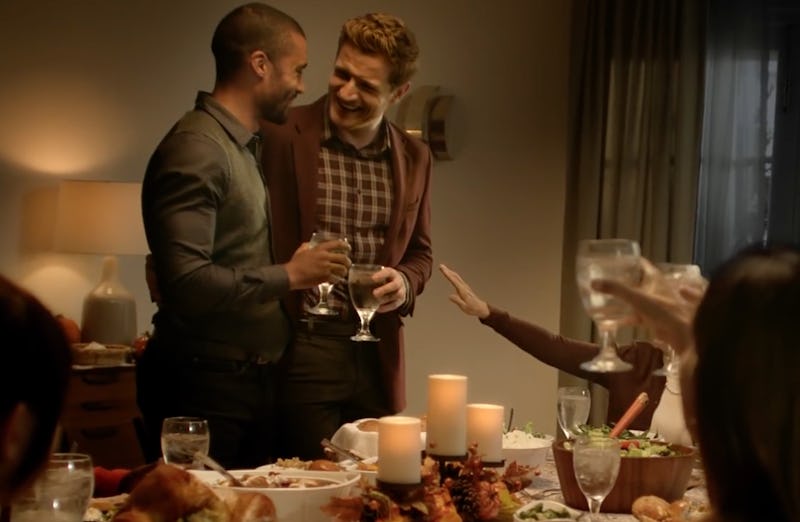 Once again, a discount, fast fashion retailer has demonstrated its progressive, forward thinking nature. Kohl's #AllTogetherNow commercial features a same-sex couple, looking happy, festive, and dapper in a stylish shirts as they enjoy the holidays. The spot actually promotes double the diversity, as the same-sex pair is also interracial.
So let's take a second and give Kohl's a big standing "O" for its commitment to supporting and celebrating diversity and to thinking and acting outside of the box.
The commercial certainly captures the euphoria of the holidays and of reconnecting with friends, family, and loved ones.
It surely gets me in the gift-wrapping spirit!
It's worth nothing that Kohl's has worked to establish itself as a different kind of fast fashion retailer, as well. The company recently teamed up with Reed Krakoff, formerly of Coach, for a fashion collection.
Also, cool and cult cosmetics brands like Cargo, Lorac, and theBALM have found new homes in the Kohl's makeup section, which feels like a beauty boutique within the overall store.
Jennifer Lopez, Vera Wang, and Lauren Conrad are all several seasons deep into their fashion collabos with Kohl's, while Juicy Couture and Rock and Republic have been given new leases on life at Kohl's.
Variety rules at Kohl's. Watch the #AllTogetherNow spot below.
It really does spotlight diversity in a heartwarming way. Nice work, Kohl's.
But Kohl's isn't the sole brand to honor diversity. The Moschino Barbie commercial isn't solely celebrating the Moschino-dressed doll's fabulous sense of style or how good she looks in black leather embellished with gold, Moschino-branded hardware.
There are black and white versions of Barbie. But that's not all. An adorbs boy also points out her fierceness; his pompadour is totally aces, BTW. All three of the kids playing with the doll are of different sexes and ethnicities, too. So it's triple the diversity! Watch it below.
ICYMI earlier this year: Tiffany & Co. created a tearjerker commercial that features a same-sex pair and other diverse duos deciding to spend their lives together based on really sweet and simple connections. Allow your heartstrings to be tugged by watching the spot below.
Doesn't it warm your heart to see such major brands doing their part to highlight the differences that make us all special? Fashion is wonderful in how it also embraces differences.
Image: YouTube (1)