Cleaning Supplies Everyone Should Have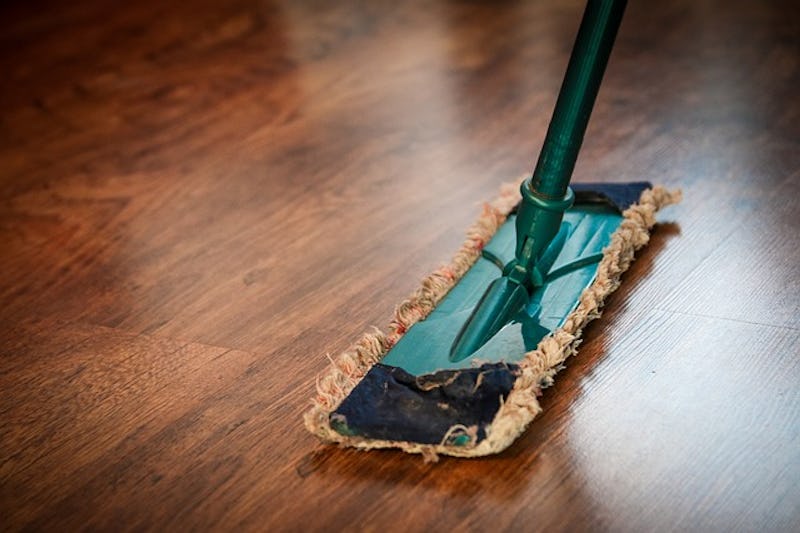 A clean home isn't always about just taking the time to clean; it's also about having the right basic supplies. It's why simply owning a few must-have cleaning products can seriously revolutionize your life and your attitude about an annoying cleaning task. I mean, has anyone else ever tried to clean shower mildew with a washcloth, only to admit defeat halfway through? Just me? OK.
I used to just keep the bare minimum around when it came to cleaning supplies — some spray disinfectant, windex, a mop, extra sponges, and a broom, and that was about it. I would then end up scrubbing a surface until my arms hurt, or go through a stack of sponges in an hour that should have theoretically lasted me about four months.
And for the longest time I just chalked it up to the fact that cleaning sucks and it's hard. It wasn't until I went home for the holidays and took a good look at what was in my house back home that I realized half my problem when it came to cleaning was that I just didn't have the right stuff. There's a reason your parent's cleaning supply shelf is probably so extensive; they've lived a long time and they know what's up.
If you're tired of never feeling like things seem to get clean enough in your house, or just feel like your current methods are inefficient and take up too much time, here are eight unexpected cleaning supplies you should always have on hand to help get the job done.
1. Daily Shower Cleaner
Daily Shower Cleaner, $5, Jet
A compilation piece on must-have cleaning supplies from Apartment Therapy recommended this as a game-changer, especially if you have a shower that is prone to mold and mildew buildup. Just spray it after you shower as part of your daily routine to keep your shower cleaner way longer. It will save you hours in scrubbing in the long run.
2. Mr. Clean Magic Erasers
Magic Eraser Kitchen Scrubber, $4, Amazon
This is another one recommended in the Apartment Therapy compilation, and I can personally vouch for their awesomeness. I don't know how they work exactly, but they pick up so much more dirt and grime than the average sponge and are perfect for white surfaces that really show the grime.
3. Goo Gone
This is a personal tip that pretty much changed my life when I discovered it. It's especially helpful for removing candle wax or gooey glue stains on glass. I love scented candles and often use stick-on window decorations for the holidays, so this definitely comes in handy, plus lasts a really long time since it's not necessarily needed for everyday use.
4. Baking Soda
Arm & Hammer Baking Soda, $6, Amazon
In a piece on her site on natural home cleaning supplies, Katie, "The Wellness Mama," strongly recommended having a box of baking soda at all times for a super useful and low-toxicity cleaning supply. She specifically suggests it for a highly effective oven cleaner, as well as a tool for odor-absorption in the refrigerator or at the base of a trash cans.
5. Microfiber Cloths
Zwipes Microfiber Cleaning Cloths, $9, Amazon
The Wellness Mama also sang the praises of microfiber cloths as an incredibly absorbent cleaning tool that will pick up a ton of dirt and grime — no harsh cleaning solutions needed. And the cloths are reusable, so you only have to buy a few to last you the year.
6. Vinegar
Heinz Distilled White Vinegar, $10, Walmart
In an article for Good Housekeeping on the dos and don't of vinegar for household cleaning, Senior Editor Lauren Piro said that vinegar is a super helpful weapon in your cleaning arsenal. "It's great at lifting stains, freshening laundry, cleaning windows, and much more. Plus, it's inexpensive and all-natural." However, she also noted that because it's acidic you don't want to use it on surfaces like granite or marble table tops.
7. Multi-Purpose Spray Bottles
Spray Bottle In Blue, $2, Bed Bath & Beyond
On her website, health and lifestyle blogger Heather Dessinger, or "The Mommypotamus," highly recommended keeping multi-purpose spray bottles on hand, as you'll almost always find a use for them — especially if you're using homemade cleaners like vinegar and lemon solutions, or just want a quick way to disinfect with rubbing alcohol. And quick tip, I also keep one of these filled with water on my dresser so that I can use if I ever need to reshape my hair but don't want to hop in the shower.
Spay Bottle In Blue, $1.99, Bedbathandbeyond.com
8. Wire Sponges
Stainless Steel Scrubber, $12, Webstaurantstore
This is another personal tip that six years of living on my own has taught me. Sometimes you'll come up against a foe that is just too tough for a regular old sponge or cloth, and in these situations a durable wire sponge is irreplaceable. I've ruined many a good regular sponge trying to use it on grime that really required something more heavy-duty.
Cleaning is definitely a chore, but don't make it more of a chore than it has to be by not having the proper cleaning products on hand. Keep a few of these items on hand and you'll seriously wonder how you every lived without them.
Images: Pixabay; Courtesy Brands