The One Face Mask You Need To DIY For Winter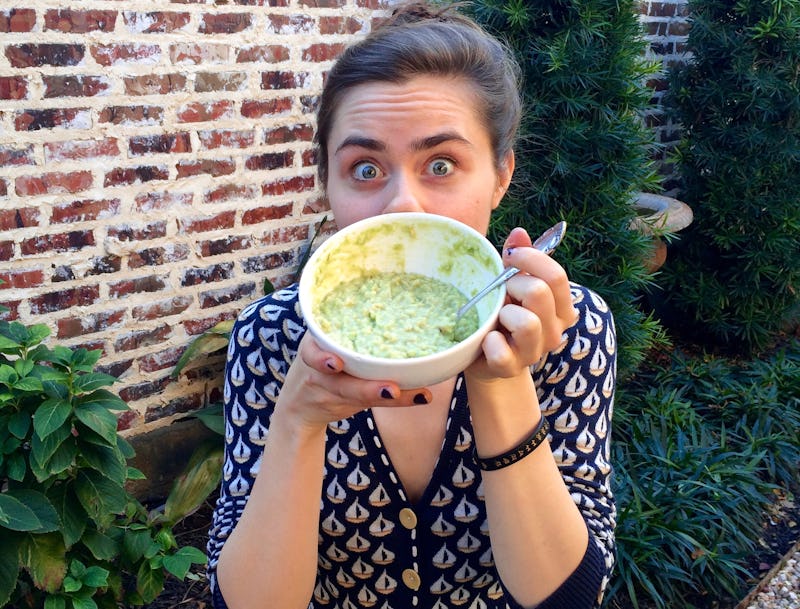 I love everything about the holiday season except how much I notice my skin getting suddenly drier, itchier, and flaky. If you're in the same winter-induced dry skin boat as me, you've got to try the one face mask you need to DIY for winter. I'll admit it's not the prettiest mask, but it's super cheap and gets the job done! All you need is dry oatmeal and and a ripe avocado.
While it's sad to sacrifice a perfect avocado for beauty instead of food purposes, this mask makes it well worth it. As noted in HealthiestFoods, avocado is a beast when it comes to moisturizing skin thanks to its "high oleic acid content." Avocados are rich with "monounsaturated fatty acid" which "maintains moisture in the epidermal layer of your skin, helping to make it soft and hydrated." Sounds legit to me.
On top of that, oatmeal is also a beauty superstar, too. Board-certified dermatologist Dr. Susan Stuart told Huffington Post, "Oatmeal contains both anti-inflammatory and antioxidant properties and as such is ideal for sensitive skin and to treat a variety of skin disorders." Combine the powers of avocado and oatmeal and you've got yourself one heck of a soothing face mask for winter.
Follow the simple instructions below to treat yourself to this simple face mask!
Avocado Oatmeal Hydrating Face Mask
You'll need:
1/2 cup instant oats (not flavored. you want a 1/2 cup of straight up plain oats)
1/2 a ripe avocado
Here are your instructions:
1. Cook Your Oatmeal
Follow package instructions to cook 1/2 cup of oatmeal using filtered water.
2. Work On Your Avocado
While oatmeal is cooking, remove pit from avocado and scoop out flesh into a medium-sized bowl and mash.
3. Mix It All Together
Let oatmeal cool for about five minutes, and then mix together oatmeal with avocado.
4. Slather It On
Apply the mask to your face and leave for fifteen minutes.
5. Rinse It Off!
Rinse your face with cool water. That's it!
I guarantee your skin will feel as smooth, soft, and hydrated as ever. Consider it an early gift to yourself!
Images: Author's Own