Sarah Jessica Parker's Shoe Line Hits Nordstrom Next —Where Would Carrie Bradshaw Wear Each Style?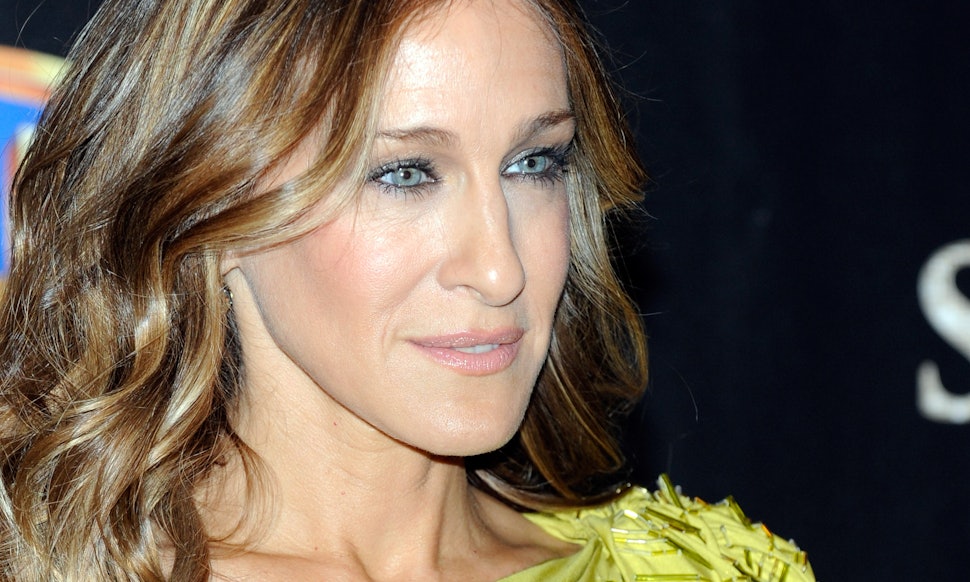 Ethan Miller/Getty Images Entertainment/Getty Images
Ten thousand years (in Internet time) after Carrie Bradshaw found her fairytale ending in Paris, Sarah Jessica Parker has finally designed a line of Carrie-worthy shoes. The collection launches February 28, exclusively in Nordstrom stores and on nordstrom.com, but images have been creeping across the Web like so many ghostly footprints in the snow.
As we wait for the full line to be revealed, we couldn't help but wonder: Where would Carrie wear these shoes today?
Image: Getty
"Lady"
While thrifting in the East Village, Carrie unexpectedly runs into Mr. Big — with a 16-year-old girl clinging to his arm. Enraged, Carrie yanks off one of her beloved poppy-colored pumps and throws it at Big's head, eliciting a drop of blood that sends her into guilty hysterics. Later in the episode she discovers, to her great chagrin, that Big was merely escorting an orphaned teenager to the soup kitchen. "Thank goodness your blood was the same color as my shoe," she tells him, only half joking.
Image: @SJPcollection/Instagram
"Jayne"
At hangover brunch with the girls, Carrie is wearing nothing but a floor-length ball gown and the gold-and-purple version of this comfortable slip-on. When questioned about her sartorial choices by Miranda, Carrie mutters something about "high-low mixing" under her breath. Still, her friends are suspicious. "You never wear Mom shoes," says Charlotte. Carrie storms out.
Image: @SJPcollection/Instagram
"Diana"
As she heads through airport security to begin the first leg of her book tour, Carrie is shocked and dismayed to find out that passengers must take off their shoes to pass through security. A barefoot and hysterical Carrie is escorted into a back room by TSA agents after screaming threats at the x-ray machine, which, for unknown reasons, she has termed "The Shoe-minator."
Image: @neidrajstyles/Instagram
"Jill" and "Brigitte"
A wily Carrie shows up for a disastrous date with Aiden wearing two different pairs of strappy sandals. When he doesn't notice, she questions his dedication to their relationship.
Image: @SJPcollection/Instagram
"Fawn"
Charlotte insists that Carrie come spelunking with her (the latest New York workout craze), emphasizing the necessity for "sensible, closed-toe footwear." But at the last minute, Carrie abandons her "hideous" non-slip shoes for a high-heeled pump in sky blue. "I'll be damned if I see my first stalactite in anything but a heel," she tells a skeptical but resigned Charlotte.
Image: @SJPcollection/Instagram
"Wallace"
The girls buy Carrie a pair of flats as a gag gift for her 35th birthday, never dreaming that she'd fall in love. After a full week of listening to Carrie proclaim, "I never knew walking didn't have to hurt!" and "For the first time in my life, I'm not thinking about arch support," Samantha tackles Carrie and forcibly takes the flats away. "You're not acting like yourself," Samantha whispers firmly but tenderly, as Carrie weeps and gnashes her teeth.
Image: @SJPcollection/Instagram
"Carrie"
It's been a while since Carrie and Big have seen each other, and Carrie is panicking about her outfit. After purchasing and rejecting fifteen different pairs of heels via Amazon Prime, Carrie decides to go with a classic t-strap pump, telling a stoic Miranda that "at least I'll feel like myself, and that's who he fell in love with, anyway. Right? Right?!" Despite rumors of a Polar Vortex, she refuses to wear tights. The episode ends with a long shot of her tottering through the snow, clinging to Big's arm, her feet nearly blue — but a contented smile on her face.
Image: @SJPcollection/Instagram