Mike & Scheana Are The 'Vanderpump' OTP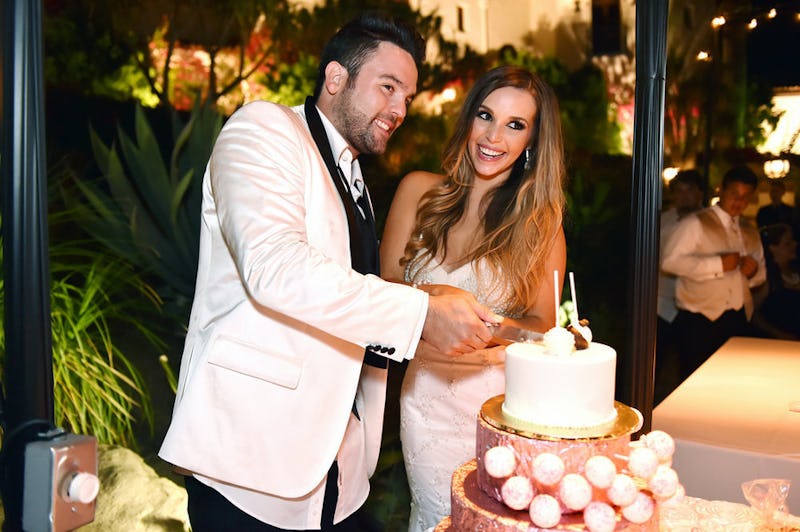 Relationships don't seem to go all that smoothly on Vanderpump Rules. The show has had more make-ups, break ups, and drama than you can shake a Pumptini at. Seasons 1 and 2 were mostly about Jax and Stassi and their crazy-dysfunctional relationship; Season 3 was about Kristen's inability to get over Tom Sandoval and her incessant need to "drop by" their old apartment; and Season 4 (so far, at least), seems to be about Scheana and Shay's marital troubles. They haven't been married all that long, but claims of alleged drug use, cheating, and alcoholism plague conversations about this Vanderpump relationship, which is totally upsetting.
But let's back it up a little bit before we dive into their relationship. To recap, Scheana was first introduced into the Real Housewives realm because she had had a relationship with Eddie Cibrian, who was then the husband to Real Housewives Of Beverly Hills star Brandi Glanville. Dating a married man is never a good look, but we all make mistakes, and Scheana was really raked over the coals for it on both Bravo shows. Brandi confronted Scheana on Real Housewives, and Stassi made it her mission to destroy Scheana on Vanderpump Rules when she found out about Scheana's former relationship. What about Eddie, you guys? Maybe he shouldn't have cheated on his wife a thousand times. Takes two to tango. But, as usual, I digress. After that whole thing with Eddie, I was just glad that Scheana seemed to have found her match in Shay. Let's take a look at their relationship timeline.
2010-2013: Scheana & Shay Start Dating
According to Bravo, Scheana and Mike have actually known each other since high school, though they didn't enter into a romantic relationship until about 2010, way after these crazy kids had graduated. Nothing like realizing the boy you had a crush on in high school is super hot as an adult, right? Scheana and Shay always seemed so cute together, especially in the earlier seasons of Vanderpump Rules.
2013: Scheana & Shay Get Engaged
After three years of dating, Shay popped the question to Scheana in 2013. As for her engagement, Scheana told OK! Magazine that it was "the happiest moment" of her life. Mike told E! News that he proposed to Scheana at Lisa Vanderpump's palatial estate after convincing Scheana that that's where a SUR photo shoot was happening and obviously tricking her in the process. Always adorable, Mike said of the engagement, "I got on my knee and told her how much I love her and then asked her… I was super nervous. I was about to propose and you get one shot to do this." Pretty cute.
2014: Scheana & Shay Get Married
The big day! If you're a Vanderpump die hard like I am, you saw all of the details that went into making Scheana's wedding the one that she's dreamed about since she was a little girl. On the show, it was said that the wedding reportedly cost $100,000, but I'm not sure about that, since Scheana and her friends were the cleanup crew the morning after. Hollywood Life reported that the Shays got married on July 27, 2014 at the Hummingbird Nest Ranch in Santa Susana, California, and the party was attended by all of the Vanderpump Rules crew — James, Kristen, Jax, the Toms, Katie, Ariana, and, of course, Lisa and Ken.
2015: Scheana & Shay In Trouble?
The engagement and wedding were a fairy tale, but, according to what we've seen so far on Vanderpump Rules Season 4, Mike is having some real problems. Recently, Scheana claimed to Lisa that Mike has allegedly been abusing prescription pills and alcohol, and that he'd allegedly developed a habit of not coming home and staying with his parents instead. Shortly after the episode aired, Mike posted an Instagram that appeared to be a response to the Vanderpump storyline:
In addition to the Instagram, Scheana and Mike have been photographed together in recent months. They are clearly working through their issues, but it's always sad to see a couple as good as Mike and Scheana falter in the face of addiction. Hopefully, their strong foundation will get them through this tough time, as well as many other years to come.
Image: Nicole Weingart/Bravo