How To Curl Asian Hair & Make It Stay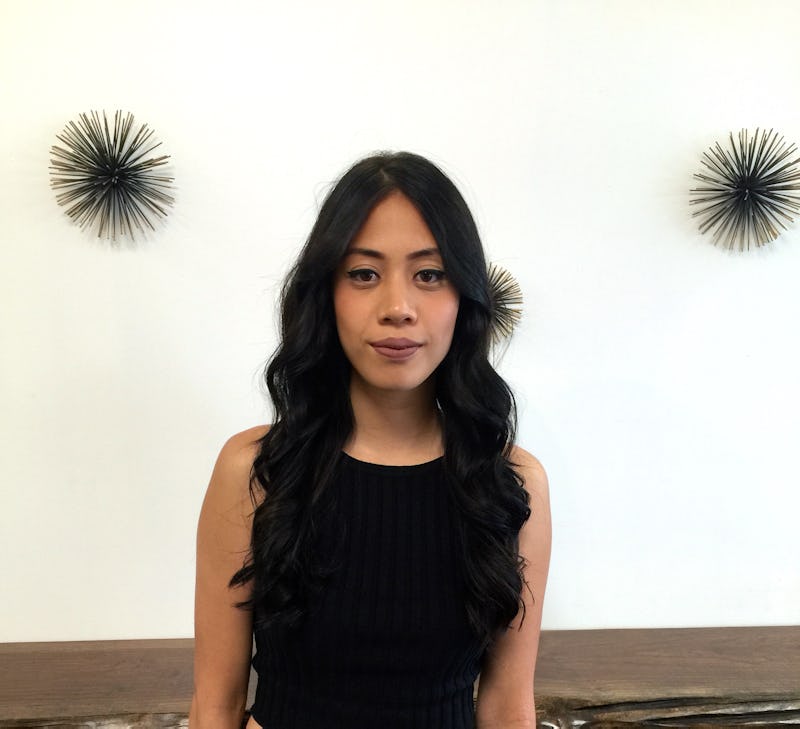 Thanks to my Asian descent, my hair has been pin straight my entire life. I've consistently had a problem learning how to curl my Asian hair and actually try to make it stay. Thankfully though, with the help of some of my friends and family who've had the same problem, I've gathered all the tips you need to know to keep your Asian curls on point over family holiday celebrations.
This is usually how my family gatherings go: We all get together, eat a lot, sing a whole lot of karaoke, and then one of my aunties will say, "Danelle, your hair is so flat!" Of course, as a 14-year-old girl, I would think great, here we go, another lecture from my aunt. But it wasn't until later that I realized that the advice I would get from her would be the secret to saving my hair game.
Don't get me wrong — I absolutely love having straight hair, because trying to keep your curls in tact all day can be quite the struggle. And when you've got important things to go to and little time to do them, the last thing you want to do is touch up your curls every five minutes.
If you've tried tirelessly to curl your Asian hair, but have only experienced failure in the past, don't give up. It is possible to keep those curls intact! Here's how to curl your Asian hair and actually make it stay, courtesy of me and my aunt. You're welcome:
Wash Your Hair The Night Before
Shiseido Tsubaki Shining Shampoo, $29, Amazon; Shiseido Tsubaki Shining Treatment, $18, Amazon; Shiseido Tsubaki Shining Conditioner, $23, Amazon
This is an extremely helpful tip to remember. Instead of washing your hair before you curl, it's much better to curl your hair the night before or at least 12 hours before you start curling. I've found that my hair is super thin, but there is a lot of it, so when it's not completely dry, my curls won't stay in as long. You can always use a blow dryer to dry, of course, but I've found that blowdrying and natural air dry keeps my curls in tact all day. I also recommend using a shampoo and conditioner specifically catered to Asian Hair.
TIGI Bed Head Superstar Queen For a Day Thickening Spray, $13, Amazon
Even though my hair is really thin, I still have a lot of it, which contributes to my curls falling flat and feeling heavy. I know that I'm not alone in this — many Asian women have gorgeous thick hair, but as a result, it cannot hold a curl as well as light and bouncy tresses. Here's how I deal - I really like to use a thickening spray beforehand to give my hair an extra lift and more volume. Your curls will last much longer and have more shape with a thickening spray.
Tool Structure Jumbo Rake Comb, $8, Amazon
After applying the thickening spray, make sure to brush your hair with a wide-tooth comb to get all the tangles out. This way, your hair will be smooth enough to curl for that flowy look. Sometimes, fine asian hair can become a tangled mess. Make sure to divide your hair in small sections so that each curl gets the right and proper amount of heat.
Giovanni Organic Styling Mist, L.A. Hold Hair Spritz, $8, Amazon
This is another secret my aunt passed along to me that is super important. Before you curl each section of hair, make sure to dab a little bit of hairspray on it. Give it a second after you spray, and then curl. After you let your curl loose, add another spritz of hairspray. I know it might seem like a lot of product, but it definitely works! You can also choose a hairspray that is light with a flexible hold, but in order to really keep your curls intact, you might want to reach for the kind with the strongest hold.
Hair Bling High Shine, $19, Original Moxie
The last step in making sure your curls last is to apply pomade at the end of your curling process. This will not only be the finishing touch to keep your curls intact, but it will also give your locks a shiny finish all day.
Still not sure how to curl your Asian hair? Follow this YouTube tutorial from vlogger Hollyannaree:
See, it's not impossible to make your curls last all day with Asian hair. Trust.
Want more beauty tips? Check out the video below, and be sure to subscribe to Bustle's YouTube page for more hacks and tricks!
Images: Courtesy of Brands