6 Partner Sex Toys to Get Your Partner for Valentine's Day, Because (Kinky) Sharing Is (Kinky) Caring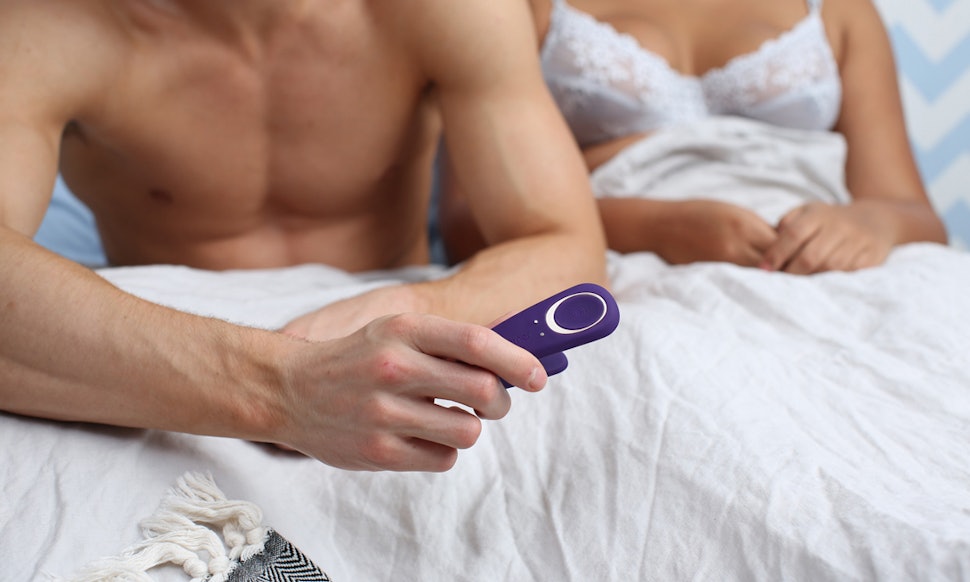 Look. I am not trying to make anyone feel inadequate here. I am sure that you are great in bed, and I am sure that your current partner is great in bed. But unless either of you are battery-operated vibrators, the two of you alone are not as good as it gets. So until the robot revolution is complete, here's are six of of the most bed-rocking, spine-tingling partner sex toys on the market to add to your Valentine's wish list. Go get 'em, tiger.
Image: Bustle Stock Photo
OhMiBod blueMotion
Listen up, randy tech nerds. As you may have fathomed from its name, OhMiBod's wearable blueMotion vibe ($129) uses Bluetooth technology to transform your cell phone into an orgasm remote, enabling you to get off on everything from Beyoncé (oh, like you haven't already) to your latest hookup's voice. You'll have to wait till March to buy this, but once you do, you're basically guaranteed to never have shitty phone sex again. Ever.
Tantus Plunge Paddle Dildo
I don't know about you guys, but my apartment? Is small. So I like a good multitasking sex product, like the Tantus Plunge ($45) paddle-cum-dildo (that's right, slutty Latin time). It takes up less drawer space then a paddle AND a dildo would, and it's dishwasher safe, for you Vanderbilts who actually own dishwashers. Tip: have the paddler give him/herself a cursory test-spank first — your butt's too cute for welts.
SpareParts HardWear Sasha
It's disturbingly easy to write like a heteronormative jerk when one's beat is sex and relationships. (Just know that every time I write "your guy/girl," I'm cringing — not just because it looks clunky, but because I know I'm excluding people who prefer not to identify as either.) One big mistake of mine? I've literally never recommended a harness or a strap-on. That changes now, because SpareParts HardWear's Sasha harness ($150) is THE sexiest one I've ever seen. Pick your dildo of choice and get going.
Hot Octopuss Pulse
The Batman movies are my boyfriend's favorite, so HAPPY EARLY BIRTHDAY, honey! I just got you this thing that can turn your dick into Batman!! Hot Octopuss's Pulse ($99) is essentially a cock ring on steroids, and believe me when I say it's fucking titillating for everyone involved. Plus, it doubles as a neck massager. Foreplay! Play! Post-play!
Jimmyjane Hello Touch
There's sex, and then there's steamy sci-fi REPLICANT sex. I, for one, am always looking to get my Bladerunner bone on (am I?) (sort of), and for that, I turn to Jimmyjane's Hello Touch ($65). If you thought your partner's touch made you shiver before, wait till you feel their vibrator-padded fingers on your body, headed to exactly the right spot.
California Exotic Novelties Playful Lovers Ensemble
Look, I'm no idiot. I know you will all cheerfully beat me to death if I don't include at least one sex toy that costs significantly less than Broadway tickets/your monthly car payment/three weeks' worth of Seamless. So here's a couple's toy as cost-effective as it is stimulating: the Playful Lovers Ensemble ($13), which is a terribly named but terrific vibrator/anal bead kit. The vibrator's no jackhammer or anything, but it's the light touch that the, uh, bead-receiving area (THERE ARE NO GOOD EUPHEMISMS) demands.