A Little Hero Boy Epically Stood Up To Catcallers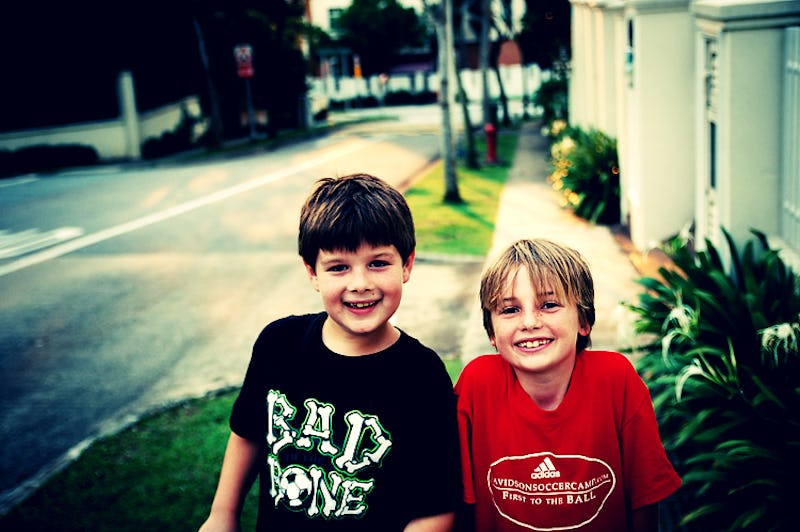 We talk about street harassment a lot on Bustle. We keep bringing it up again and again and again, because it's still such a huge problem — and an extremely disheartening one. But every so often, you get stories like the one about this brave little kid who stood up to street harassment when he witnessed it happening, which makes you think, gee, maybe it's not all terrible after all. Yes, we've covered the best responses to catcalling (even though you don't actually have to respond at all), but this kid showed us all exactly what bystanders can do to help — because even if it's not happening to you, you can still take steps to help prevent it from happening to someone else.
Will this story shame the street harasser douchebags so much that they'll have to at least think before they do it again in the future? Maybe that task is a lot to ask of a prepubescent child — but this exact scenario seemed to work well for Julia Price, a New Yorker who was jogging last week when an older man tried to first pick her up before turning on her (isn't that always the case?).
Price was about to answer back when a nearby little kid walking with his mother and sister intervened. What he said is really sweet and brave — and when Price hugged him after, the boy, whose name was James, said, "Well I just wanted to make sure your heart was okay." HE JUST WANTED TO MAKE SURE HER HEART WAS OKAY. I'm melting. It's proof that kids in general are sometimes awesome — but James, of course, in particular. Three cheers for child heroes!
Price shared a Facebook post about the littlest Good Smaritan after the fact, and of course it's going viral. Here's what it says:
Bustle reached out to Price for comment, but did not hear back by publication. Even so, though, I highly suggest clicking "See More" so you can read the full post. What a perfect little kid — and three cheers to his parental figures for teaching him to be this magnificent.
Images: Sherman Geronimo-Tan/Flickr; Giphy; Julia Price/Facebook