4 Sex Positions No One Can Actually Do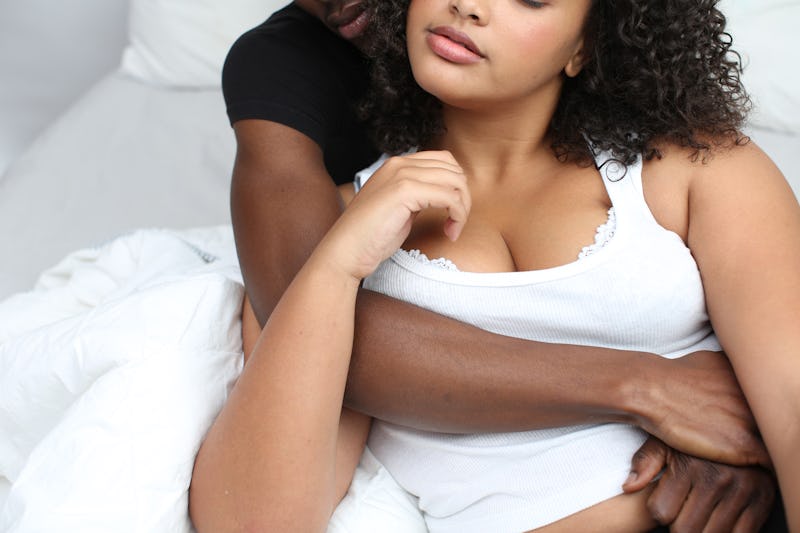 Hey, I like a good, creative bedfest as much as the next girl, and I respect that people like to up their Valentine's Day game. Nothing makes me cold like a dude who's all, "Missionary. Missionary. Girl on top. MISSIONARY!" Plus, I've been reading sexy sex tips since it was blatantly precocious for me to do so, and impressionable minds retain way too much information. (Not information on social studies, mind you, but I've got my erogenous zones game on lock.)
That said? There are some positions that just keep letting me down. And no matter how much I'm like, "All right, Pile Driver, make it work," it just...doesn't. Or, if it does, it comes at such a high risk that it's sooo not even worth it (like, we're talking broken-penis high-risk here). Frankly, sex should not feel like playing the goddamned hunger games, so I've compiled a list of sex positions you can just stop attempting. I forgive you, OK? Now it's time to forgive yourself.
1. The Erotic Accordion
Directions, courtesy of Cosmo :
Your lover lies on his back and lifts his knees toward his chest. Facing him, you squat down and straddle his legs so your thighs are hugging his.
You are then supposed to somehow figure out a way to get this dude's penis in contact with your vagina — I assume magnets must be involved? — and rock back and forth, not unlike the way I assume you are rocking back and forth in horror in front of your laptop screen right now. Look, I slammed my own hand in a cab door last week. I routinely walk into door frames. I broke a dish this morning, and I wasn't even using dishes at the time. I do not have what it takes to make sweet, sweet thigh music with my beloved. I DO NOT.
2. The Girl-On-Top Squat
This move has sexier monikers, but I'm gonna call it like I see it. Anyway. Many janky online sources will reassure you that squatting over your partner's penis a) gives him a great view of all your prettiest bits, and b) allows you to control the pace and depth of le bang. Which, sure, it totally does — for the three seconds before your thighs start burning and cramping and give out and you emit a horrible screechy yelp because coital Charlie horse and catapult down on his dick in a way that is either deeply satisfying for him or very, very painful. And there's really no way to know which way you're gonna catapult, babes. Have you EVER seen someone do a happy wall-sit? No? SO STOP TRYING TO MAKE SQUAT HAPPEN.
3. The Pile Driver
Oh, what, you thought I was making up the Pile Driver? Do you really think I'm that creative? Here's Urban Dictionary on this feels-as-bad-as-it-sounds move (also: sic, sic, sic, all of the sics):
[The Pile Driver is a] sexual position when the woman is leaned on her bed to as where her shoulders are the only thing on the bed, the male can either sit on her or stand up and vertically penetrate the woman's anus or vagina many times.
Cool, that thing I cannot stand to do in yoga, plus "many times"-worth of penetration. This sounds like a really comfortable and not even remotely dude-serving sex position. It will probably give you eleven orgasms. Just Kidding.
4. The Propeller
Well, you know it's going to be bad when the actual description of the move begins, "This one's unusual." But WeWomen.com forges bravely ahead nonetheless:
The Propeller sex position requires the woman to lie on her back—legs outstretched and together. The man lies on top of her but back-to-front so he's facing her feet. Once he's got himself inside he can make circular motions with his hips.
WHOA, THERE, REVERSE DUDE-ON-TOP COWBOY. Does this move operate under the pretense that your male partner's schlong is already broken irrevocably from that time you Tilt-A-Whirl'ed out of your terribly uncomfortable straddle-squat? I have seen some penises in my day, but never one that bent at so disturbing an angle. You may as well call this "boom-boomerang."
In conclusion: experimentation in bed is super fun if and only if it respects the natural limitations and, uh, contours of the human body. If you're not sure a penis is meant to go that way, it probably isn't. Penises, like many of the people who own them, are fairly straightforward... unless, that is, they are capable of performing The Propeller.
Image: Bustle Stock Photo