10 Cranberry Sauce Ideas You Need For Thanksgiving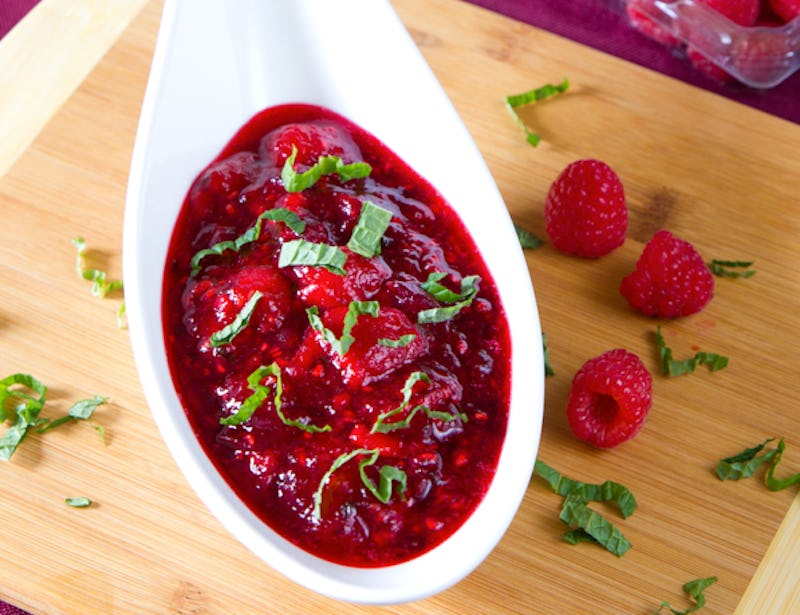 Close your eyes, and picture a side of cranberry sauce on your Thanksgiving table. The hilarious truth is that a lot of you are probably picturing a gelatinous can-shaped blob, plopped onto a plate and served as-is. That jello-fabulous substance that has interrupted our culinary imagination is actually pretty new, so let's all treat this Thanksgiving as a sort of #ThrowbackThursday and check out these Thanksgiving cranberry sauce recipes that are made from fresh berries, because the extra couple of minutes of prep is oh-so worth it.
In the 1930s, cranberry farmers began using a quicker and less expensive method of harvesting called wet harvesting, where water (obviously) is used to flood bogs where the cranberries grow, detaching the berries from their vines and floating them along to be rounded up by a machine. During this process, berries that are bruised, unripe, or otherwise unfit to be sold on the fresh market are harvested unintentionally, which low and behold, feeds the production of juices, craisins, and yes, you guessed it, canned cranberry sauce. About 90 percent of cranberries are wet harvested these days.
But luckily for the foodie population, fresh cranberries are still available at most grocery stores, which means we can easily make any of these bright and zingy dishes. Get your cranberry dish a prime spot on the Thanksgiving table this year with these inspiring and simple recipes.
1. Cranberry Chutney
This fusiony take on traditional cranberry sauce has craisins, apples, and even celery thrown into the mix. According to Mel's Kitchen Cafe, the apparently disparate ingredients come together in bright red tart perfection.
2. Cranberry Orange Relish
This super simple recipe from With Style & Grace is totally raw, and may also be the easiest Thanksgiving side dish that I've ever seen. Just throw everything into a food processor, and you're done!
3. Cranberry-Jalapeño Cream Cheese Dip
So, it's not exactly "cranberry sauce" — sue me. This dip is a little bit country, and a little bit rock and roll. It has all of the sweet cranberry tartness you love, and the perfect amount of spice from the jalapeños. Plus, it's got the added creamy goodness of cream cheese going for it. This is the perfect traditional sauce alternative for people who aren't into the texture of preserves. Find the recipe at Mel's Kitchen Cafe.
4. Bourbon Ginger Cranberry Sauce
This recipe sounds like the best cocktail ever that just happens to be a wonderfully lumpy sauce. It's a subtle spin on the traditional fresh cranberry sauce with all the great spicy flavor notes of bourbon. Find the specifics over at Food Fanatic.
5. Traditional Spiced Cranberry Sauce
Cinnamon, cardamom, and clove add a spiced contrast to the bright flavor of the cranberries. It's simple, it's delicious, and you should probably make some ASAP. Find out how at The Kitchn.
6. Cranberry Orange Sauce
This recipe from Damn Delicious has only three ingredients, and you almost definitely already have them in your house. If you're a fan of efficiency, this recipe is a big winner.
7. Pomegranate Apple Cranberry Relish
This festive relish is set off by the pomegranate juice reduction sauce that holds it all together. If you're a pomegranate fan, this almost salsa-like relish will speak your language. Get the recipe at A Spicy Perspective.
8. Fig Cranberry Sauce
This is another recipe that calls for bourbon and familiar fall spices, but what sets this one apart is the addition of a whole heap of chopped dried figs. The combination of cranberry and figs really shouts "happy holidays!" Find the instructions at The Kitchn.
9. Tequila Lime Jalapeño Cranberry Sauce
It's like a spicy margarita mixed with cranberry sauce, which, if you ask me, sounds pretty delicious. Plus, the spiciness from the jalapeños is a great contrast to all the buttery gravies and potatoes. Check out the recipe at Closet Cooking.
10. Raspberry Cranberry Sauce
This intriguing little recipe sounds just crazy enough to be unforgettably amazing. As a matter of fact, I'm going to make two cranberry sauces for Thanksgiving — a spicy recipe, and this super tart sauce that you can almost taste just from the picture. Get a load of all the details over at A Spicy Perspective.
For more Thanksgiving ideas, check out Bustle on YouTube.
Images: Mel's Kitchen Cafe (2); With Style & Grace; Food Fanatic; The Kitchn (2); Damn Delicious; A Spicy Perspective (2); Closet Cooking