'Grease Live's First Photos Have Arrived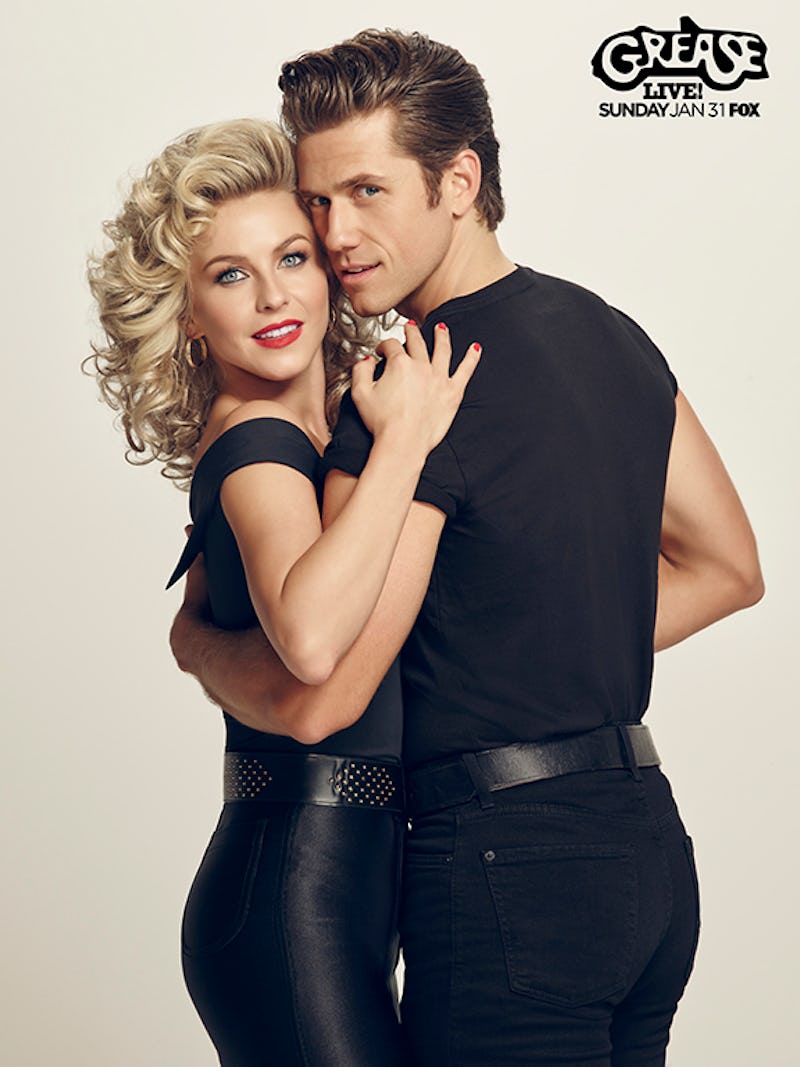 I don't know about you, but I've been looking forward to these images since FOX first announced that their next TV musical adaptation would be Grease. The first photos from Grease Live have hit the Internet, and it's going to take you right back in time to a land of Pink Ladies, Greased Lightning, and Summer Lovin'. Julianne Hough as Sandy, Vanessa Hudgens as Rizzo, and Aaron Tveit as Danny all make an appearance in these pictures, and not only does everyone look perfectly casted, but they're also about to make you very, very excited for this special if you weren't already. I can't look at these pictures without humming my favorite Grease songs, so get ready to be hopelessly devoted to them. (How many Grease puns can I fit into a single paragraph? Well, you're finding out right now, aren't you?)
The first photo features Julianne Hough as Sandy, dressed in her white skirt and powder blue skirt, looking like the picture of angelic wholesomeness. The second photo jumps us straight to the end of the movie, where Sandy is dressed in her black Pink Lady skintight catsuit, wrapped in the arms of a jacket-less Danny Zuko. The final shot puts Sandy and Danny alongside Rizzo, also missing her trademark jacket, but possessing all of her trademark attitude. Check them out below.
1. Sandra Dee Reporting For Duty
She's so cute. Don't you just want to be her best friend? Or, if you're Rizzo, sing an entire song making fun of how cute she is?
2. Sandy & Danny Have Summer Lovin'
My problematic OTP is problematic, but still my OTP. (And, if you don't know what OTP means, then I just have nothing to say to you. Either way, Danny and Sandy are the ultimate couple, because they worked so hard to be together.)
3. Rizzo Checks In
Annnd everyone else can go home, because Rizzo has arrived and she has my heart, my soul, my attention, and all the best songs in the movie.
Believe me now? Grease Live is going to be epic, and these photos just prove it.
Image: Tommy Garcia/FOX (3)