A Day In The Life Of Lillie Keenan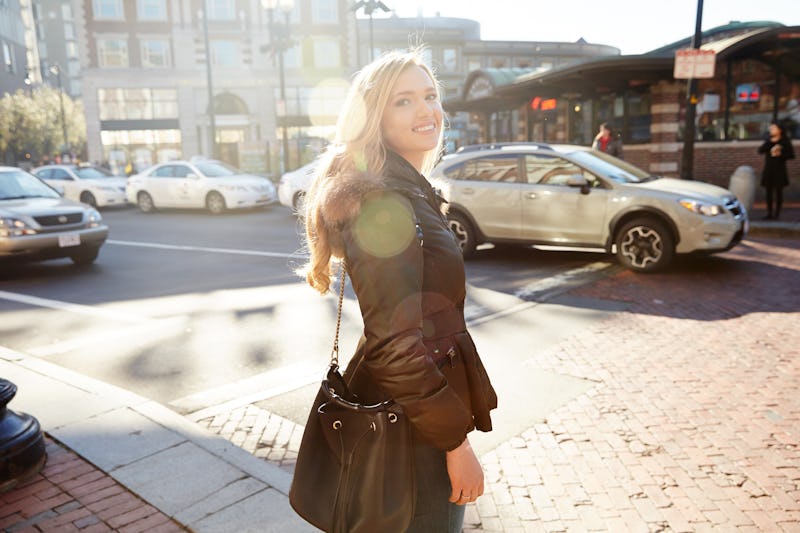 Arm Candy is a series in partnership with Samsung Gear S2. We're spending a day in the life with talented women on the rise, from self-made YouTube celebrities to budding athletes to visual artists to our fellow editors.
Lillie Keenan is a 19-year-old freshman at Harvard, but she's perhaps better known in some circles as a decorated junior equestrian. As someone who isn't well acquainted with that world, I asked her a lot of silly questions. Could we watch her jump? How do you even make a horse jump? Is it weird to wear riding clothes out of the context of a barn? Are there horses at Harvard?
Lillie was kind enough to entertain our questions and give us a little more insight into her day-to-day. Right now, she's experiencing a bit of a transition. She's gone from riding every day in New York and Florida to living the life of a college student — albeit an extremely busy, well-traveled one.
"I am very lucky that I get to travel and experience different parts of the world because of my sport," she acknowledged, even if that means she has a lot of juggling to do. When we first reached out to her, she was en route to Qatar. When we tried to arrange a meetup at a horse farm, we realized we'd have to go to Ireland or Florida to do so.
As of September, she's just one impressive student in a sea of many, and she seems to like it that way. Lillie has a sense of poise and maturity that you don't see too often, but she still has that freshman-year excitement about her. She recently started training with Irish Olympic rider Cian O'Connor, which explains the whole horses-in-Ireland thing. So in lieu of an impromptu trip overseas, we decided to pay her a visit in Cambridge.
Where She Calls Home: NYC, but Cambridge, MA for school and Ireland and Florida while training.
Where You've Seen Her: On the junior equestrian circuit, or on Instagram (@lilliekeenan7).
In One Word: Motivated
"Growing up, I played almost every sport and I played a lot of instruments, but I had a hard time finding something that I truly loved to do," she explained in a 2013 interview with the USEF Network. "My mom rode as a kid, and when I was very young, I saw pictures of my mom on the walls dedicated to her riding career." Her mother was reluctant to start her, but "five months of prodding" turned the tide.
"I got on a pony for the first time when I was six years old, and have not looked back," she says. Given her drive to succeed, this isn't hard to believe at all.
Here's more about Lillie in her own words. In the meantime, I'll be here trying to figure out the difference between equitation, hunters, and jumpers.
"A typical day starts early; I am up and out no later than 7 a.m. so that I can work out before class. Because I have scheduled my classes so that I can leave on weekends for competitions, most days at school are packed with academics."
"In my sport, the rider and the horse are both athletes. I owe it to my horses to make sure I take care of my body and fitness, just like any athlete would want to do for themselves and their teammates. With all the travel and long hours, I feel a lot better when I am in a workout routine. I exercise at least once a day, either in a class or at the gym."
"I don't pick favorites, but I would say my top horse at the moment is Super Sox. He is nine years old, and I have been working with him for one year now."
"I have always had an extreme passion and love for animals, and there's something about a connection with a horse. To be able to compete in a sport where the one teammate and partner who is with you is a horse, that's what drives my passion for the sport."
"In my free time, I relax with friends and family, watch TV, or go to a movie. Of course, there are times that I feel overwhelmed, but I am lucky to have the opportunity to balance work and school."
"I think that show jumping motivates me in my academics. Schoolwork provides a grounding escape from my equestrian pursuits. I would not be as successful in school if I did not also commit myself to riding, and vice versa."
"After college, I envision myself pursuing my professional career in show jumping, eventually running a successful business with a farm and competing at the top level of the sport."
When you ask someone as goal-oriented as Lillie about her hopes and dreams, she's ready to talk specifics. She doesn't say "I hope to" — she says "I plan to." She's had a lot of achievements to date, chief among them winning the individual and team gold medals at the prestigious 2013 North American Young Rider Championships.
For her, the Olympics isn't a pie-in-the-sky dream. Along with graduating, gaining a high individual ranking and competing at the Nations Cup, World Equestrian Games, and World Cup Finals, the Olympic Games are just part of the plan.
This post is sponsored by Samsung Gear S2. Featured above: Modern Utility watch face, heart rate monitor.
Photos: Lauren Perlstein; Hair and Makeup: Linsey Goyette.