'Friday Night Lights' Musical = All The Feels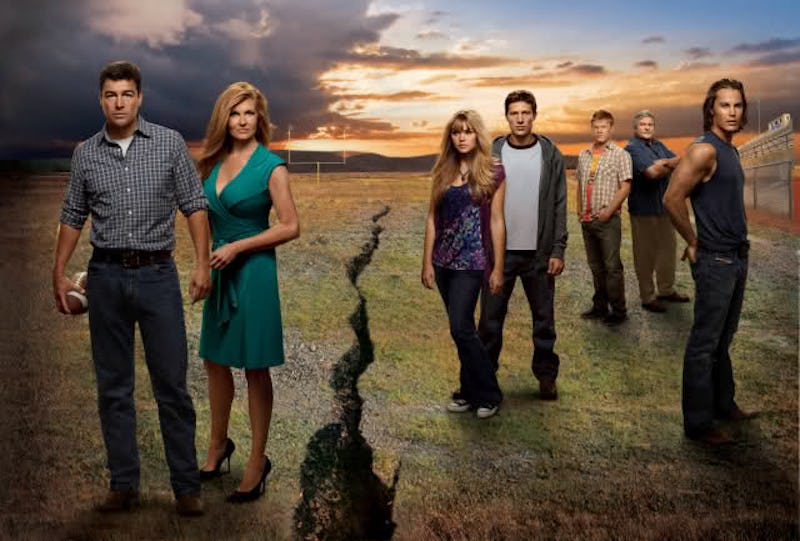 Clear eyes, full hearts, can't lose. Those words never felt more real than with the recent announcement that Friday Night Lights is becoming a musical. The news broke on Twitter with # FNLMusical sharing the exciting news that Sucker Love Productions — the company that also brought us The O.C. and Cruel Intentions musical — is bringing the Dillon Panthers to the stage in Los Angeles in 2016. Yep, those football players are going to be singing their full hearts out.
And, if that didn't get you excited enough for the musical that you probably never knew you wanted (but you do, you know you do), it was also announced that the role of Coach Eric Taylor will be played by FNL star Scott Porter. Porter originally played star quarterback Jason Street on the TV show, but, as any Hart of Dixie fan already knows, Porter can actually sing. His voice has a nice musical quality with a bit of downhome twang that should be perfect for a football coach in Texas.
The actor then managed to make things even better and fans even more excited by Dubsmash-ing his way into all of our hearts by lip-synching Coach Taylor's most iconic pre-game pep talk. He really nails the furrow brow that the original Coach Taylor, Kyle Chandler perfecting over the course of the show's five seasons. We're buying all the tissues in anticipation for next year's premiere.
Of course, some may wonder why anyone would want a Friday Night Lights musical, but the truth is, is there any better way to get at all the feels of the show than some well-rehearsed musical numbers? No, there just isn't. A brooding ballad by Tim Riggins as he gets carted off to jail for being a good brother? Yes, please. These are moments that could only become more emotional when set to music.
Coach Taylor could add some rock 'n' roll or a country twang (this is set in Dillon, TX after all) to some of his best speeches, which we hope will be taken word-for-word from the original series. It also gives us another chance to watch the best love affair probably ever put on film with Coach and Mrs. Coach — now with singing. Just imagine the love songs that could be written about these two. I'd cheer my enormous wine glass to that.
Maybe they can even try to rope in Connie Britton to reprise the role of Tami Taylor. Thanks to Nashville, we already know she can sing. Or how about Minka Kelly, who originally played Lyla Garrity when the show premiered, but would be a perfect Tami Taylor for the stage production? Then again, Mae Whitman wouldn't be a bad choice, either, for any role in the musical ,since the Parenthood star has never tried to hide her love for FNL. Remember when she carried around a framed photo of Tim Riggins at the ATX Festival in Austin? (Not to mention Porter played her husband on Parenthood. Just sayin' Sucker Love Productions, there's a lot of options out there.)
If you're still not excited yet, the creators of the musical has already promised the musical "comes with ALL OF THE FEELS. (And none of that Tyra/Landry murder plot.)" This probably also means we won't be seeing Santino or any other forgotten plotlines from Season 2. Score for us. Guess there's nothing else left to say now but Texas forever!
Image: Direct TV