The 12 Best Holiday Movies To Stream In December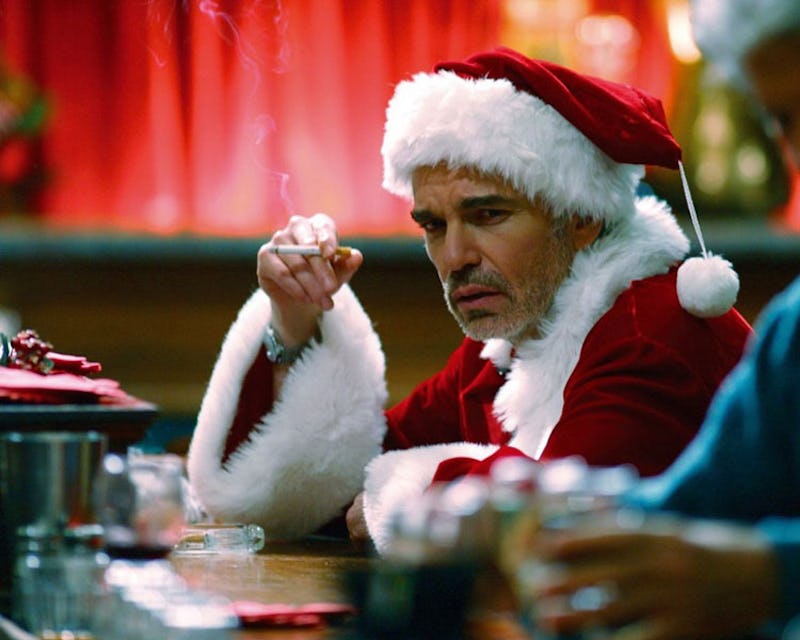 Pretty much the second the Thanksgiving gourds are put away and the table scraps are fed to the dog, I'm ready to start decorating for Christmas. So with the big dinner just days away at this point, I'm already starting to brainstorm how I'm going to fit a tree into my tiny living room, how exactly a person can hang a stocking without a mantle, and which Christmas movies I'm going to marathon for the entire month of December. Because there really is nothing like a good movie marathon to get you in the holiday spirit, and I can't think of a better way to get ready for Christmas than to watch these 12 holiday movies streaming this December, as well all those other classics, all month long. And I may or may not eschew pretty much very television show that I normally watch during this month in order to make merry with Netflix, HBO NOW, and the rest to get my holiday marathon on.
Thankfully, there are a ton of holiday-themed movies to choose from these days, what with online streaming services and the enormous options that the Internet makes available to us. If you have a computer and an available Wi-Fi connection, these movies are ready and waiting for you. After your post-Thanksgiving nap, of course.
1. 12 Dates Of Christmas (Netflix)
For the romantic in your life — or the perpetually single — this movie is the perfect combination of holiday and romance.
2. A Christmas Carol (Netflix)
Don't forget what Christmas is really all about, guys. Old men who grumble "bah humbug!" in the street. Oh, and realizing that we should all be a bit more generous this time of year.
3. Bad Santa (Netflix)
Or, if you'd rather avoid the cheer altogether, you might prefer a more naughty version of a holiday classic. Billy Bob Thorton as Santa Claus will definitely do the trick.
4. Gremlins (Amazon)
I'll never forget the first Christmas my boyfriend and I spent together, and, when I asked him what his favorite Christmas movie was, he said this one. Don't worry, I am shaking my head and rolling my eyes, even as I write this.
5. Home Alone (HBO)
A classic! A gem! And one of my all-time favorites. And if you need another reason to rewatch this one (why would you?!), it's also the 25th anniversary of the movie's release, which will either make you feel really glad to be young or really freaking old.
6. Home Alone 2: Lost In New York (HBO)
If you don't mind recycled stunts and basically the same storyline, I suggest marathon-ing this sequel with its predecessor for a fantastic holiday-filled night.
7. Home For The Holidays (Amazon)
Directed by Jodie Foster, this movie about a woman who loses her job and is forced to face her family during the holiday season will make you thankful for all that you have, including your dysfunctional family.
8. It's Christmastime Again, Charlie Brown (Amazon)
It's not Christmas without Charlie Brown. So get your cozy pajamas on and braid your hair while it's still wet like you used to do in the '90s. This is the perfect movie to watch this December.
9. The Nightmare Before Christmas (Netflix)
When a Halloween skeleton stumbles into Christmastown, where there is nothing but bright lights and warm spirits, he becomes a new man. Ahh, the power of the Christmas spirit.
10. The Radio City Christmas Spectacular (Netflix)
Nothing says Christmas better than a bunch of scantily clad ladies in red velvet and white fur jumping in time to holiday classics. Oh, but who am I kidding? I freaking love the Rockettes, even if they are not exactly family-friendly.
11. White Christmas (Netflix)
One of the best, this classic Christmas movie will transport you to Vermont and post-WWII America. It's probably also your Grandma's favorite movie. And, as her closet full of vintage sweaters proves, Grandma's got good taste.
12. The Year Without Santa Claus (Amazon)
After Santa wakes up with a cold on Christmas Eve, the world is subjected to a Christmas without Santa. Oh, the horror! This stop-motion 1974 classic is probably one you watched on repeat as a kid. Time to bring it back thanks to the miracle of modern movie streaming.
Now if you'll excuse me, I'm going to go cuddle up with a cup of hot cocoa and start this holiday movie marathon early.
Image: Dimension Films; ABC Family; Paramount (2); MGM; Giphy (7)