'Tremors' Is Coming To TV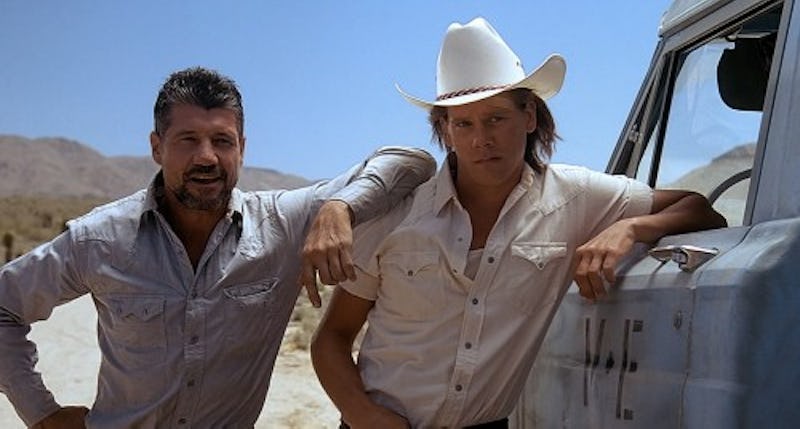 If you're a fan of getting the crap scared out of you, then get ready to add yet another amazing television show to your DVR schedule. It was announced on Tuesday that Kevin Bacon has signed on to star and executive produce a television show based on the 1990 movie Tremors . Bacon will be reprising his role as Valentine McKee, the repairman tasked with saving his small town from the monsters that live underground — except this time, it's 25 years later. And honestly, I'm not sure what I'm more excited for: More television shows to scare the bejeezus out of me, a chance to relive the delightfully zany '90s desert world of Tremors, or to have more Kevin Bacon in my life on the regular.
The original movie starred Kevin Bacon as McKee, a man whose small town of Perfection, Nevada was being terrorized by underground monsters. (Hence the tremors.) I don't know about you, but this is the kind of M. Night Shyamalan unknown stuff that totally terrifies me (and although the movie was unintentionally hilarious, a TV version could be legitimately scary). It's the underground thing that freaks me out; give me a serial killer or a ghost any day over an unknown entity that can't be seen or defined or understood. The idea of an invisible monster wreaking havoc on my life? It makes my skin crawl just thinking about it. That creeptastic monster killing off the townspeople one by one as they struggle to anticipate where it's coming from and what it even is enough to send me to bed early, insisting that I sleep with the lights on.
And that chill factor is exactly why I can't wait to add this show to my lineup of scary television shows.
Although the show hasn't yet been attached to a network, it's being made by NBC Universal-based Universal Cable Productions. Wherever it lands will be lucky to have it in its lineup. Not only will Tremors most likely attract original fans of the 1990 movie, but it will probably also attract a whole new generation of horror-lovers already tuning into scary funny television shows, ones like American Horror Story and Scream Queens.
So consider me the first fan of the show, long before it's even started production. Not only can I not wait to be terrified on the regular by this awesome show, but I'm dying to get my greedy little hands on more Kevin Bacon. Having him on my television once a week — and in cowboy hats, no less — will be a total treat.
Image: Universal Studios (2)