Holiday Hairstyles From The '90s & '00s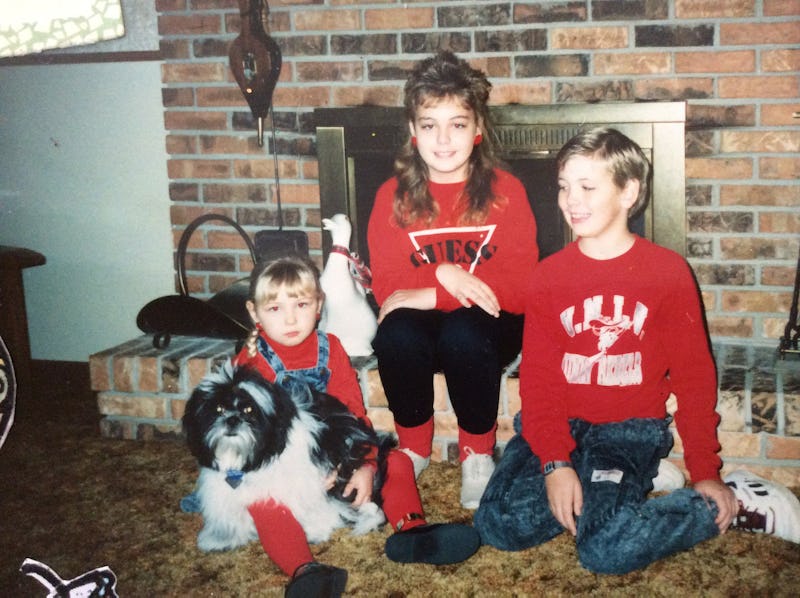 Nothing brings on waves of nostalgia quite like the holidays. And on days like today, when you're more than likely surrounded by family and friends, reminiscing about '90s and '00s fashion and beauty is all sorts of fun. Whether you're flipping through old family albums to check out what you and your cousins wore on Thanksgivings past, or taking an online walk down celebrity memory lane, you're bound to find some hilarious and hair raising styles.
Of course, when it comes to hair, the '90s and '00s were magical decades, filled with whimsical updos, butterfly clips, and a multitude of textures. And holiday style in those days usually meant going above and beyond — which often translated to wildly placed spikes, braids, tendrils, and elaborate messy buns. (Who said hair had to make sense anyway?) To honor those mane masterpieces of old, and to feed your holiday flashback frenzy this year, here's a brief walk down memory lane, featuring a handful of the more memorable holiday and formal hairstyles that, for whatever reason, were all the rage in the '90s and '00s. So grab your favorite '90s playlist, and let's pay homage to the messy bun!
Teased On Top
Okay, so this wasn't just a holiday look. It was a lifestyle. Teasing in the '90s was a rule of thumb. Your hair was either big, bold, and beautiful, or sleek. Or, well, in a messy bun. Or braids. Dang, the '90s were multifaceted, weren't they?
Crimped Waves and Frizz
The perfect crimp was akin to the holy grail of '90s hairstyles. In the age of crimping irons and tiny braids galore, if you mastered a tight wave in your hair, you were likely the envy of your fashion forward friends. Seriously, waves were like, so totally in.
Braids Were The Bomb
If you wanted to add a formal twist to your holiday hair in the '90s and early '00s, braids were your go to. Whether it was rows, elaborate french braids, or pigtail braids, nothing said, "I put effort into my style," like a quick braid.
So Totally Sectional
What was this look even called? I would dig in and research it some more, if I thought there was any risk of it coming back into fashion, but let's be honest, this one was pretty bad. Sure, it's interesting, but the amount of work involved in sectioning off your hair like this, adding all of those tiny butterfly, shell, or flower clips, then attempting to get each of those strands to go in a somewhat unique direction was definitely not worth the hassle. Hopefully we can all agree to admire this one from a distance and keep it where it belongs — back in the '90s.
The Formal Messy Bun
If stacking all of your hair on top of your head in random curls isn't fancy, then frankly, I don't know what is. Of course, you have to finish this look off with two strands of hair hanging down either side of your face. (Okay, you have to finish any look from the '90s off with two strands of hair hanging down either side of your face.)
Clipped To Perfection
Before there was, "put a bird on it," the rule of thumb was to put a butterfly in it. Remember all of the holidays and formal events you prepped for by adding tiny clips to your mane? OMG, they were adorable. And, admittedly, pretty annoying. Oh, the strange things we do in the name of style!
Confused Curls
What's a girl to do when she's headed to a big holiday event, but she can't choose between ringlet curls and stick straight hair? Like, totally do both! Duh!
Alright, I'm sorry I brought this one up. It was a confusing moment in history.
Tendril Time
Running late to Thanksgiving dinner with the family? Just pull down two strands of hair from your ponytail. There, see? You look better already.
Party In The Back
Of course, we can't talk about '90s glory without mentioning the mullet. And nothing says holidays like business in the front and party in the back.
Spiked Hair
While we're on the topic of throwback hairstyles for men, it's clearly a good moment to bring up the beauty that was spiked hair, which reached its epic peak in the '90s.
Guys Did It Too
Oh, and did I mention splitting your hair to either side of your face? Yeah, I did? Well, good, because nearly everybody was doing it.
Hopefully that satiated your need for '90s and '00s nostalgia. Maybe after you've finished your Thanksgiving meal, you and your family can bust out your crimping irons and recreate some classic holiday portraits in your own hat tip to hairstyles of old.
Images: m01229/Flickr