The National Dog Show Winner Is Cooler Than You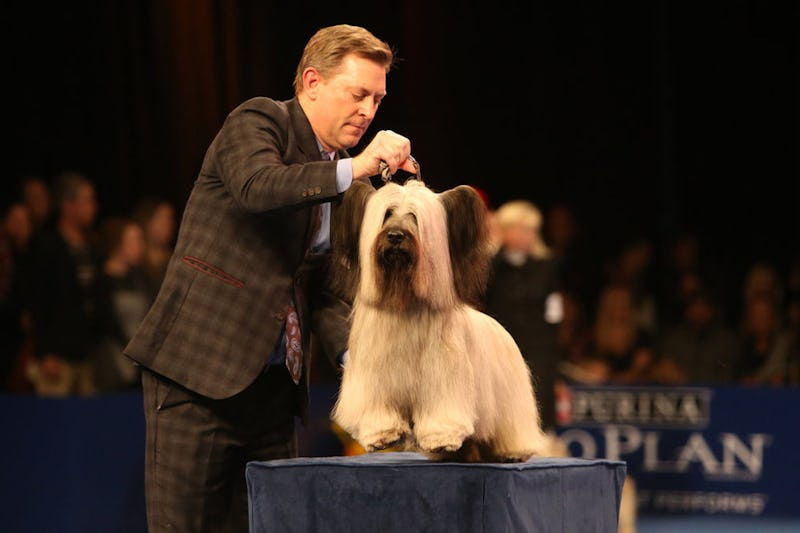 When I picture a dog show champion, I think of an animal that's well-refined, practically bred in a laboratory, and more high maintenance than I or any of my friends will ever be. However on Thursday, this Thanksgiving, Charlie the Skye Terrier won Best In Show at the 2015 National Dog Show, and this dog could not be more chill.
Presented by Purina and covered by a celebrity duo that I'm still pinching myself exists years later, Tara Lipinski and Johnny Weir, the National Dog Show was broadcast on NBC following the 2015 Macy's Thanksgiving Day Parade. For some, it is a tradition that rivals football, family weirdness, and creative ways to use your leftover turkey. The winner was chosen from seven leading dogs in their individual groups. The seven American Kennel Club groups, which represent the function and characteristic of the breeds, are working, hound, herding, sporting, terrier, non-sporting, and toy.
Charlie previously won Best In Show at the 2014 AKC/Eukabuba National Championship and has seventy-nine Best In Show Titles from various shows overall. His full name is GCH CH Cragsmoor Good Time Charlie — this is because show dogs, much like race horses and other cool animals with real jobs, are registered under names that tell their story. The name reflects something specific to the pup, as well as their breeder or kennel.
Look at that coat move! It's putting every time I judged the "twirl-ability" of a new dress as a little girl to shame. Charlie almost looks as if he's floating across the floor. In an email to People, National Dog Show host David Frei said that "not only a great Skye terrier and a great show dog, but Charlie is fun for everyone. He makes us all smile as we look at those big ears, his beautiful coat... and his happy personality." Here is an interview NBC did with Charlie's handler, Larry Cornelius, and his whole squad after they won.
He mentions that this breed isn't "necessarily known for being a good showdog," so my instincts were correct. "Long, low, and level" is how Cornelius describes ideal Skye terriers, but to me Charlie is just so friendly and approachable! Congratulations, Charlie! I'd express my worry that he'd chew on his trophy, but I'm sure a dog of that caliber wouldn't dare.
Images: Bill McCay/NBC; Giphy