The Best Movie & TV Xmas Sweaters Ever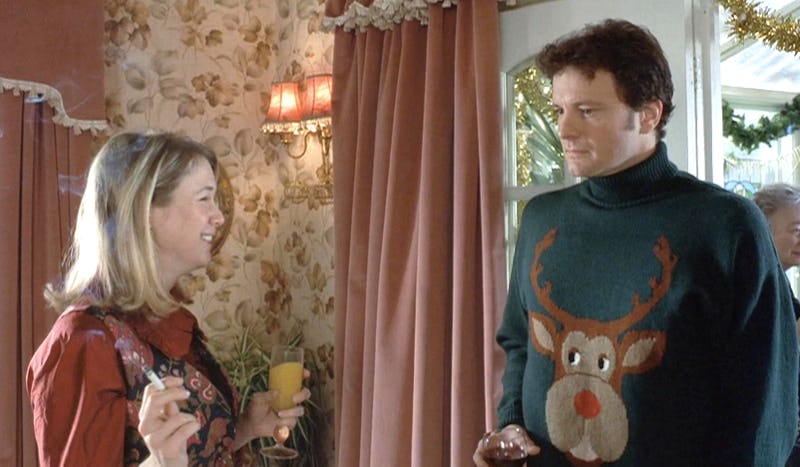 Christmas sweaters are making a fast comeback this year (OK, and every year for the past 10 years, but who's counting?). Whether you are going to an ugly Christmas sweater party, or just looking for the cutest sweater this year, as always, famous folks tend to do it up right. Especially when it comes to Christmas sweaters worn in TV and movies. From hilarious costumes to just plain weird Christmas attire, there are plenty of sweaters to choose from for seasonal inspiration this year.
Luckily, the time has arrived to marathon all your favorite Christmas movies and holiday themed TV episodes to soak up those sparkly threads. While I'm sure 2015 will add more than a few nice options to the all-time mix, now's the perfect time to enjoy the classics — the best pop culture holiday sweaters from years past. Whether it's Lily and Marshall's couples reindeer sweater on How I Met Your Mother or Will's perfect holiday getup on every holiday episode of The Fresh Prince of Bel-Air, the holiday jumper tradition dates back to the dawn of time — or at least the early '80s when they got really good. Prepare yourselves for ultimate knitwear bliss with these priceless gems, folks. These are what we're all aspiring to this holiday season:
1. Seth Cohen, The O.C.
Forget Christmas: There's nothing quite like Chrismukkah without the wonderful Seth Cohen. Of all the iconic episodes and wardrobe choices of The O.C., this holiday episode is at the top of the list and that reindeer-lined festive sweater couldn't be worn by anyone more perfect than Seth.
2. Cameron Tucker, Modern Family
The thing that made this father daughter bonding moment just that much more perfect was being able to look at those enviable holiday sweaters. Yes, sweater-vests count.
3. Abed & Troy, Community
Troy and Abed are the human embodiment of Christmas sweater goals. These two stole this show, and the Christmas episode solidified that. Watching them celebrate the holiday in these adorably festive sweaters was the highlight of this series, and the dashing memory will live on forever.
4. Steve Finch, Deck The Halls
Not only is it an ugly Christmas sweater, but that carrot nose poking out totally makes it one for the books. Christmas is just not the same unless someone has a sweater with actual 3-D qualities to it. While the movie may not have done great, this sweater was a hit with me.
5. Lars, Lars And The Real Girl
Ryan Gosling doesn't look bad in anything, even this textbook ugly Christmas sweater.
6. Mark Darcy, Bridget Jones' Diary
This is an American classic, and while it is not a Christmas film in it's entirety, the reindeer jumper Colin Firth's Mark Darcy is rocking is one for the ages — and the sweater that started it all for Bridget. Nothing screams Christmas like a giant reindeer.
7. Will Smith, The Fresh Prince Of Bel-Air
No one does Christmas better than the cast of The Fresh Prince of Bel-Air. Every single holiday episode of this show hit the nail on the head, but this this colorful sweater could hold up the legacy all on its own.
Christmas sweaters are becoming a thing to behold, and the year is still early to get yours. Hopefully some of these delightful masterpieces inspired some creative Christmas fashion vibes, and will work their way into your seasonal wardrobe for years to come.
Images: Universal Pictures; Warner Bros. Television; Giphy (6)