This Song From 'Pitch Perfect 2' Is A Classic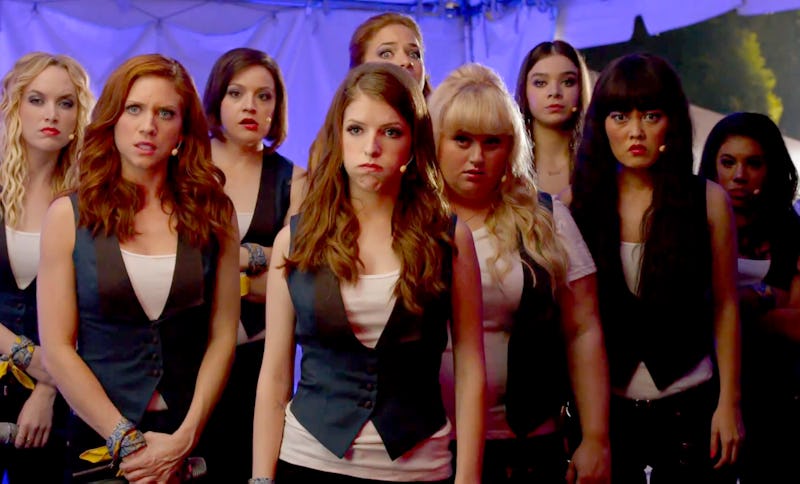 We all know that the music from Pitch Perfect was aca-amazing. I have been known to bust out my own cup-flipping rendition of "Cups" at parties after a couple of glasses of wine — unsurprisingly, it's never as charming as I think that it is going be. The Barden Bella Finale remix is also my go-to workout song. (Just kidding. I don't workout. Netflix is my sport of choice — while I horizontal run, obvi — but I do really like that song.) The music from Pitch Perfect 2 actually exceeded my expectation and gave me a total toner (a musical boner) and then some. But the true reason the Pitch Perfect 2 soundtrack is the greatest of all time is because "Winter Wonderland/Here Comes Santa Claus" is the perfect holiday song.
I am being Dixie Chick serious about this. The Anna Kendrick and Snoop Dogg Christmas mashup of "Winter Wonderland" and "Here Comes Santa Claus" is the greatest thing to hit the Christmas holiday season since canned cranberry sauce and iTunes gift cards. There's so much to be thankful for in this song, from the vocals, to the beat, to the composition. I love every moment of it and, and I fully intend on keeping this Christmas song in heavy rotation as early as Thanksgiving and way past it being socially acceptable.
Whomp, here it is, the reasons why "Winter Wonderland/Here Comes Santa Claus" is my new favorite Christmas Song.
1. Surprise! Snoop Is A Really Good Singer
I wasn't aware that Snoop Dogg was capable of such smooth vocal stylings. And with the Adele-level hand gestures! Everyone should look forward to hopping aboard this Snoop-stroll through a winter wonderland.
2. New Is Always Better
While some people might believe that synchronized lady dancing to a Mariah Carey Holiday chart-topper is not lame, I do get sick and tired of hearing the same five Christmas songs (Mariah songs included) on a constant loop during the holiday season. This mash-up is a fresh take on classic songs, and it catapults these decade old songs into the new millennium. It is like a Christmas carol 2.0.
3. Mashups Are Cool
Hannah Montana was totally right — when you mix things together, you truly do get the best of both worlds. There is so much mixing happening in this song. First, there's Anna Kendrick's pop vocals with Snoop's amazing voice. Then, there's the combination of classic holiday lyrics with a dub-step beat. It's crazy good. Fat Amy would very much approve.
4. Anna Kendrick Is The Best
In addition to having the best tweets and acting in the greatest movies, Anna Kendrick has the voice of a thousand angels. She can literally do no wrong. I might be biased because I love her so much, but, yeah, that Anna chick is total boss.
5. Because The Song is Aca-Amazing
This song is just too much. From the vocals to the layering of classic holiday lyrics, it's absolutely perfect — just like the movie Pitch Perfect 2. The Pitch Perfect franchise has some pretty amazing tunes, but Anna Kendrick and Snoop Dogg's "Winter Wonderland/Here Come Santa Claus" mashup is simply a step above the rest.
Check out the song for yourself because it will be coming to a shopping mall sound-system near you this holiday season.
OK, I will take it one step further. I'm gonna suggest we take to the streets and demand an all-Bella Christmas Album. Can you imagine an entire Christmas album of Barden Bella mashups? It would be aca-insanity. I know what I'll be asking Santa for this Christmas.
Images: Universal Pictures; Giphy (4)