Cynthia's Not Happy With Porsha On 'RHOA'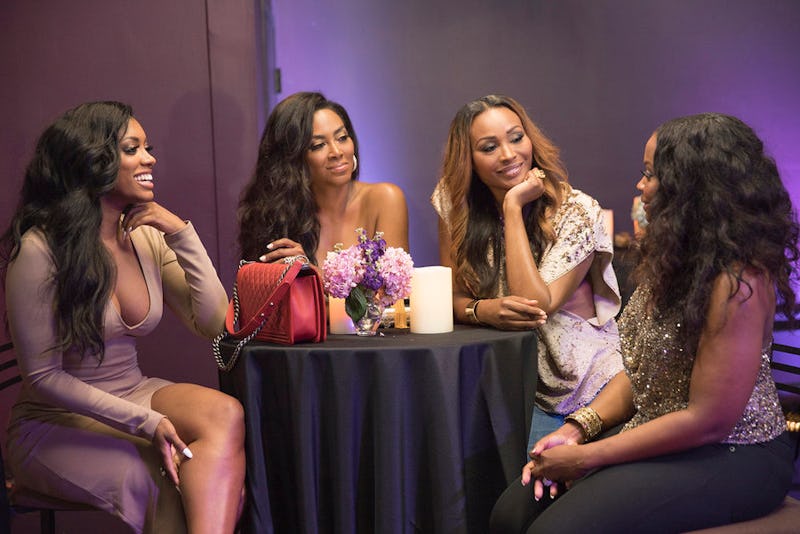 Porsha and Cynthia have not been quick to get along on any recent seasons of Real Housewives of Atlanta, and even though it seemed as through they were finally back to normal, tensions erupted again over Porsha getting in a physical fight with Cynthia while out on a boat trip (terrible idea) with almost all of the Housewives. And even though Cynthia didn't really seem married to the idea of being on the boat together with everyone, Kenya put it together, getting very protective over the guest list. But even though they were getting along before the event, it was actually Porsha, not her friend Shamea, who caused the most trouble.
Throughout the trip, most of the ladies were imbibing more than a few drinks, trying to egg on the "bachelorette party" theme of the party with good food, dancing, and a good time. And once a little tipsy, Porsha made a mistake: saying a joking "Whatever, b*tch" to Cynthia, who was immediately offended by the remark.
Cynthia, who, to be fair, certainly does use the word in an affectionate way, claimed that modifying it by saying "Whatever" made the whole thing "dismissive" and insulting. And even though Porsha did have a point that it was pretty clear that she was joking, she kept refusing to apologize, which would have instantly diffused the conflict.
And, of course, things got even worse when a physical scuffle started. Finger pointing very quickly turns into a fight, which is, of course, how Porsha found herself getting kicked out of the cast in the fist place, when she grabbed Kenya during the reunion.
And it looks like the next episode will feature Cynthia and Porsha pairing up again, so she wasn't immediately kicked off of Season 8. Hopefully she can learn how to apologize by the time they meet up again, and Cynthia realizes that the jape was meant affectionately, because these two do not need to be exchanging any more blows on Real Housewives of Atlanta.
Image: Mark Hill/Bravo; Giphy (2)