How To Maintain Hair Color Between Dye Jobs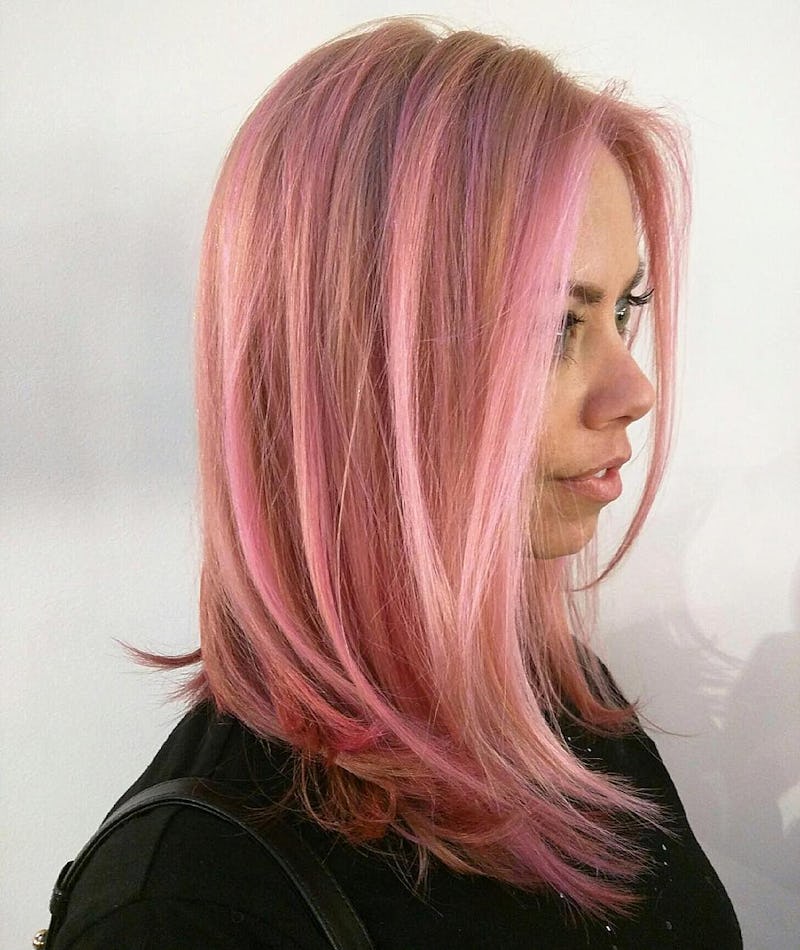 Whether you spend extra to get your hair colored at the salon or you DIY it yourself at home, we can all probably agree on one thing — you want your color to last as long as possible. Color fading too quickly, especially when you've spent money to get it done professionally, feels like such a waste of time, money, and your hair's health. The good news is there are actually things you can do to learn how to maintain your hair color between dye jobs.
If you want to prolong the time between your color applications, you are going to want to make sure you're taking proper care of your hair. Lucky for you, Bustle interviewed world-renowned colorist, Daniel Moon, to find out the insider scoop on how to maintain your hair color. Given that he's a celebrity favorite when it comes to bold hair hues — he's the one responsible for Nicole Richie's lavender look and Kylie Jenner's now infamous teal-dipped ends — it's more than fair to say that he knows what he's doing. Trust me — you're definitely going to want to take some notes on his advice.
Moon talks to us about the the importance of making sure your locks are healthy and strong while also ensuring your color is vibrant and on fleek. Coloring your hair definitely can weaken it and cause damage (especially if you're a color addict), but that doesn't mean you have to skip the highlights or the dye job — it just means you need to take extra special care of it.
Here are Daniel Moon's no-fail tips to maintain color, whether you're going bright platinum blonde or soft and honey-hued.
1. Use A Deep Conditioning Mask
Nutiva Organic Virgin Coconut, $11.89, shop-links.co
In order to keep your hair healthy and strong, make sure you use a deep conditioning mask. "Try a coconut oil mask the night before washing. Pin your hair up, and rinse before you shampoo and condition," Moon advises.
2. Think Darker Than Pastel
Pastel dye jobs fade fast — like, every two to three weeks fast, so go a shade darker than pastel. "I tell my clients to come in for a refresh or to formulate a shade that will be deeper than a pastel but light enough to have the lighter effect," Moon says.
3. Remember: A Strong Bleach Foundation Is Key
B3 Brazilian Bond Builder, Starting at $15, brazilianbondbuilder.com
First thing's first — before you do anything, you need a strong bleached foundation to help your hair take the color. "A strong bleach foundation is key. Reinforcing that foundation is even more important. I use B3 Brazilian Bond Builder in my toner, pure pigment colors, and bleach," Moon says.
4. Be Aware Of Bleach Processing Time
"It is important to take notes on your bleach processing time. Although you have B3 Brazilian Bond Builder as a safety net, do not take advantage of the time. It's so important to be aware of time, and it should be used correctly," Moon says.
5. Don't Skip Regular Maintenance
"Bleach is not to be trusted, yet respected. Neater application, and regular four-week appointments for on the scalp and B3 Bond Builder treatments is key. A clean canvas will determine how bright your tones will be. So make it happen," Moon says.
Want more beauty tips? Check out the video below, and be sure to subscribe to Bustle's YouTube page for more hacks and tricks!
Images: Amazon; @majormoonn/Instagram