Rising Designer LaQuan Smith Finds His Path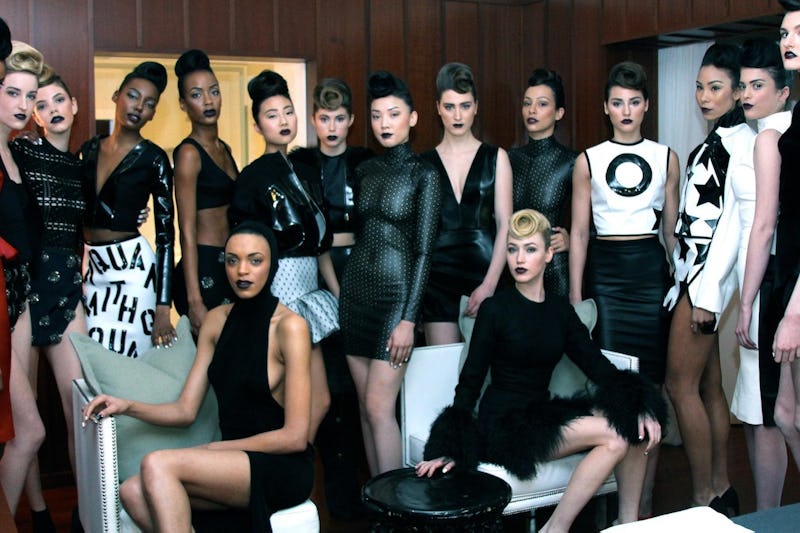 LaQuan Smith works in a nondescript studio in Long Island City, Queens, not far from the hustle of Manhattan. The 24-year-old designer shares his office, which also functions as a factory space, with several women who manufacture dresses in bright prints. Smith's sculptural creations, some thick, dense neoprene he molds into clothes, are a marked departure from the work of the other tenants in the small space, which seem subdued in comparison.
Like many young designers in New York City, LaQuan Smith is fighting to carve his name into the proverbial marble slab comprising the venerated Council of Fashion Designers of America and 7th Avenue's Fashion Walk of Fame. He's counting on the fact that his story and his artistic voice set him apart.
Born and raised in St. Albans, Queens, Smith describes himself as a young, creative child, defying his middle school teachers by sketching all day in class. In 8th grade, Smith applied and was accepted to the specialty Art and Design High School — the same school Marc Jacobs attended.
"I met kids with blue and purple hair and I was like, 'Yo this is the spot, this is where I need to be,'" Smith says.
Following high school, he met difficulty, calling between 18 and 21 his "roughest time." He was rejected from FIT and Parsons — mentioning this still stings — and watched his blue-haired friends move on with their careers, while he worked part-time jobs at Banana Republic and Express.
At the seminal point in most young designers' careers when they receive the technical training needed to precisely pintuck chiffon and evenly taper a dress train, Smith found himself floundering. Still, he continued to design.
"I would be making fab dresses with Walmart fabrics. It was all I had. I didn't have the Garment District," he says.
Smith's industry break came when he landed an internship under Elizabeth Sulcer, the former fashion director for BlackBook magazine. Although his parents questioned the untraditional hours and lack of compensation, Smith saw the opportunity and seized it. With the new gig came access to events and parties to which he wore his own designs; his lithe, long figure lends itself to women's runway looks. He became a walking advertisement for his brand, donning jackets, leggings, and anything else he'd recently fashioned.
"I would use it in a transformation like Crewella. Disco, club kid, futuristic. It was womenswear but I was strutting," he says, winking.
Smith spent a year building his brand, attending events, and giving away clothes. While working out of his room at his grandmother's house, he had no paying job. He admits that his first collection was financed by "nickel and diming" from friends and family.
He presented his first collection in February 2010. Smith was 21 years old. A few days before the clothes bowed to the public eye, Ruth de la Ferla, the venerated fashion writer for the New York Times, came to his grandmother's house to write an article about Smith.
"My grandmother had never seen so many people with cameras in her home," he says.
The preparation continued. "My hands were hurting from sewing so much. Now I have industrial machines. Back then I did not have that. I was really challenging myself."
He had the onus to make the collection superb; not only was he presenting to people he didn't know, but more intimately he was presenting to the people who had given him their hard earned dollars in order to realize his dream.
André Leon Talley came to his first presentation, as did Sean Combs' mom. People spotted his talent and supported him. Thinking back on that pivotal moment, Smith says, "I'm an African-American designer and I'm new on the scene. People were like, something's happening now."
He designs the outlandish, the outrageous, and often the elegant. The first collection showed dotted, short flirty skirts stuck in perpetual pleats paired with neoprene cropped jackets featuring strong shoulders channeling the Balenciaga woman.
It should come as no surprise that powerhouse women like Tyra Banks (whom Smith now considers a mentor), Nicki Minaj, and Lady Gaga have all gravitateed towards his designs.
Maybe due to a lack of technical training, there's certain rawness to some pieces. But most are a flawless finish. Lisa Marie Fernandez uses neoprene for sexy surfer bathing suits and Cynthia Rowley teamed up with Roxy on stretchy dresses, but Smith has been using the fabric since the beginning.
"I like shapes. To me the neoprene, the scuba, I love the idea of manipulating that fabric, creating a shape that you've never seen before."
Since his first showing, Smith's business has taken off, and his designs have evolved. He showed his Fall/Winter 2013 collection in the lofty greenhouse at the Hudson Hotel; there were black and white neoprene skirts and crop tops and slim calf hair mockneck blouses and touches of Mongolian lamb fur. He teamed up with the Joffrey Ballet to make tutus and other eye-popping numbers for their recent performance of Black Iris. Smith also made shiny, abundantly sexy numbers for the cocktail waitresses at the latest New York hotspot, The Raven.
The convention Smith may lack in a Manhattan office and formal technical training he has made up for in hard work, belief, and well-heeled support. While unorthodox, his success speaks for itself. Smith, it seems, would not have it any other way.