2014 Ecco Domani Fashion Foundation Winners Have Been Announced... and They are Awesome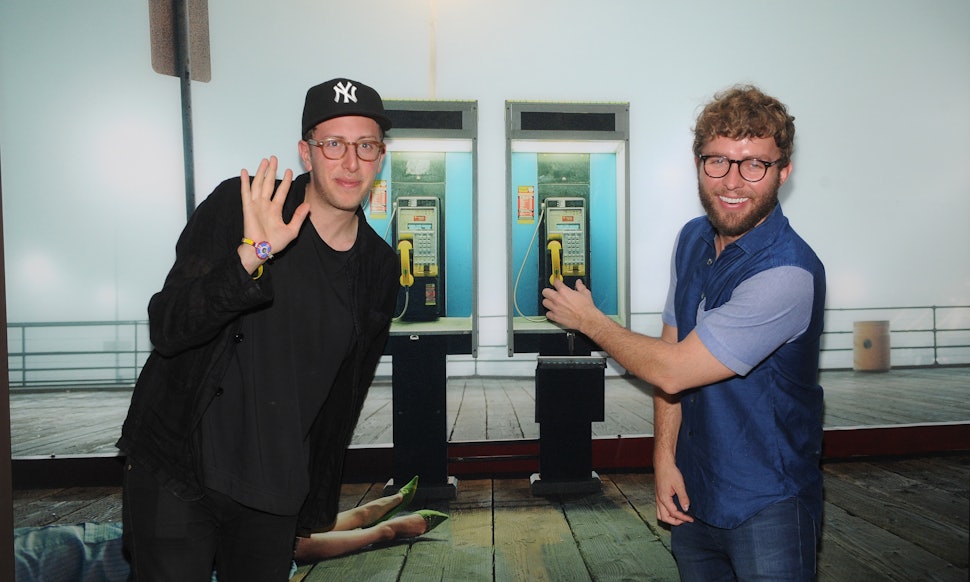 Jamie McCarthy/Getty Images Entertainment/Getty Images
Fashion and vino go hand-in-hand. That's why each year wine label Ecco Domani awards $25,000 to a select batch of up-and-coming designers. The 2014 Ecco Domani Fashion Foundation winners: Timo Weiland, Alan Eckstein, and Donna Kang of Timo Weiland; Lindsay Degan of DEGAN; and Jordana Warmflash of Novis. The honor has previously been bestowed upon such heavyweights as Joseph Altuzarra, Alexander Wang, and Zac Posen. That's nice company.
Each winner must put the prize money toward their New York Fashion Week presentation, design a wine-themed accessory, and provide a few bottles of Ecco Domani at their NYFW event. (I'm sure you feel as bad for the attendees as I do.) Pop open your favorite wine and check out what these winners are all about.
Timo Weiland
Timo Weiland is designed by Timo Weiland, Alan Eckstein, and Donna Kang. Their American sportswear aesthetic is clean and creative, providing a refreshing take on drop-waist dresses, button down shirts, track pants, and pleated skirts.
Jersey Track Pants
Track pants are kind of the worst. But not these track pants, which are black and white striped and made of jersey. If you must bring the gym clothing to the office, this is the way to do it.
"Annabelle" Cross Front Dress
The Catholic schoolgirl vibe has never looked as good as it does on this striped, cross front dress with sheer sleeves and a silk faille waistband. Goth meets good girl.
"Carly" Skirt
A red A-line wool skirt sounds boring, but not when you add a red leather waistband. You'll want to tuck in every single shirt.
DEGAN
"My brand celebrates the human body as a work of art and encourages expression through garments. A product of obsession, DEGEN embodies the lover of the handmade, general silliness, and an exploration of ideas through the knitted stitch," says DEGAN founder Lindsay Degen on her website. She founded her label in September of 2011 with a line of knitted underthings. Since then, DEGAN has grown to include knitwear of all kinds, including sweaters, dresses, leggings, and shoes.
"Jay Degan" Sweatshirt
This sweatshirt is equally necessary for curling up at home on sick days as it is for being the quirkiest girl at the office.
"Madisonville" Shoes
These suede platforms with a foam sole would look killer with black skinny jeans and that "Jay Degan" Sweatshirt we told you to go buy. Sure they're goofy, but footwear is a perfect way to let your freak flag fly.
"Rare Strain" Legging
DEGAN's collection for Spring 2014 was inspired by none other than…influenza. Hence the name "rare strain" for these cream and black leggings. They look so comfy, we doubt they'll make you come down with anything you don't want.
Novis
Jordana Warmflash got her start working for big names like Zac Posen, Alice + Olivia, and Peter Som. In 2012 she launched Novis, a line that celebrates her whimsical sensibilities and impeccable construction skills, which she puts to good use by redefining the cocktail dress. The name honors her grandmother, Gwen Novis Warmflash.
Image: Novis/Facebook
Black and Grey Tweed Trench
This tweed trench from Spring 2014 is so cute with its black accents and pale grey base. Those huge pockets actually look roomy and functional, unlike the pockets on jeans, which may as well not exist.
Sheer Black Gown with Printed Bandeau and Shorts
This is a completely different take on evening wear for warm weather. Gown has a conservative cut while the fabric makes it provocative and the bandeau/high-waisted shorts underneath give the whole look a pin-up silhouette.
Sheer Floral Jumper
Jumpers are generally confusing as far as clothing goes, but this one has just right amount of vintage flair and sex appeal to be cool. Wear this with some flirty underpinnings and chunky sandals and you'd fit right in at any outdoor music festival.