Gifts For Makeup Lovers That Aren't More Makeup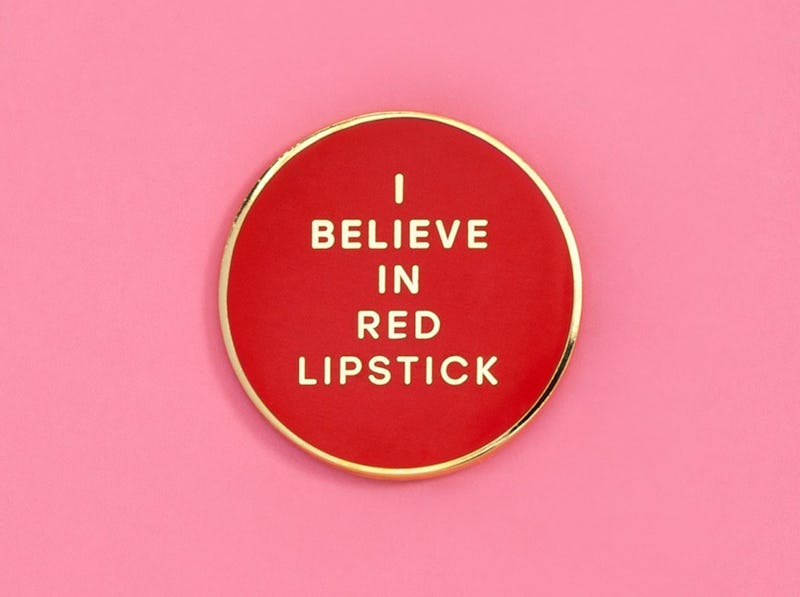 Trying to find the perfect present for the makeup lover in your life? I can tell you from experience that the last thing any beauty addict needs is more beauty products. As a product hoarder myself, I know that girls who really love makeup already have enough eye shadow palettes, foundations, brushes, skincare creams, etc. (the list could go on forever) to last them a lifetime. If you want to get them something really special for the holiday season, focus on an accessory or piece of clothing that describes their love for beauty items instead.
Not only is this a more fun option, it's also a safer one: When picking out a makeup item, you run the risk of either buying them something they already have or something they really don't like. And sure, a gift card to the holy ground that is Sephora is always a good idea, but sometimes you just wanna do a little extra.
Whether you're trying to pick a gift for your best friend who is never seen without lipstick on or the person you got in Secret Santa you know nothing about except that they can do an impressive cat eye, there's something for everyone here. From useful makeup pouches to cute clothes to a little bit of home decor, there are a lot of options — and they're so cute that you won't even know how to pick your favorite.
Sincerely Jules Lipstick & Lashes Tee, $49, Nordstrom
This lipstick and lashes tee is glamorous and cute at the same time, and it was created by super chic Instagram style blogger Sincerely Jules. Get this for your friend who loves makeup and can't resist a good graphic tee.
Important Zip Pouch, $29, Jac Vanek
We all know at least one person who has a serious eyebrow obsession. This pouch is perfect for the beauty guru in your life whose brows are always on fleek, and can act as a casual clutch or a makeup bag.
Lipstick Iron On Patch, $4, Wildflower
Patches are super popular right now and make a great small gift, or something little you can add to a bigger gift. This lipstick patch is beyond cute and would look great on jeans, a leather jacket, or even to decorate a bag.
Sephora Collection Breakups To Makeup Holiday Bag, $26, Sephora
This makeup pouch is large enough to fit lots of products and cute enough that you'll want to bring it everywhere. It's so cute that you'll want to use it as a clutch instead of just a makeup pouch.
Daily Routine Flowy Tee, $20, Shop Time La
I'm currently obsessing over this tee that any makeup-lover will also obsess over. Is this not an accurate depiction of everyday life? Too cute.
Are You Ready For Your Closeup Compact, $10, Knock Knock
Anyone who wears makeup regularly usually likes to have a compact on hand for quick touch-ups on the go. This one is really cute and will make anyone smile every time they open it.
E.l.f. Studio Large Brush Holder, $21, Amazon
Everyone who owns a lot of makeup also owns a lot of makeup brushes, which can be hard to store. This brush holder makes organizing easy, has space for a lot of brushes, and looks sleek and chic for a great price.
Valfre Lip Service iPhone 6 Case, $42, Amazon
This case is bold, bright, and definitely stands out. It's a must for any lipstick junkie and makes the cutest beauty gift.
The Makeup Eraser, $16, Amazon
Removing makeup is the worst thing about wearing it. Make someone's life easier by giving them The Makeup Eraser. It might look like just another towel, but add some warm water to it, and it will remove every trace of makeup there is. It's a game changer!
Bouffants and Broken Hearts Black Lipstick Scarf, $60, Fab
The coolest thing about this scarf isn't the glamorous print all over it — it's the fact that the lipstick color is black rather than something more classic like red or pink. It's a little pricey, but it's perfect for the unique beauty lover in your life.
No product junkie could ever have enough makeup bags, but sometimes you need something a little bit bigger. This cute tote bag is good for traveling with a lot of products or using for basically anything.
Tosca Tiered Catch-All Dish with Mirror , $40, Amazon
These little mirrors are super helpful, and this one is extra special. The two catch-all dishes make it easy to keep bobby pins, small beauty products, and hair ties close by while someone does their makeup. It's super useful and a great space saver.
Watercolor Cosmetics Makeup Lover Mug, $15, Etsy
This watercolor mug is so pretty and, obviously, useful. It's a great option if you want to give them something they'll love that doesn't contribute to their beauty collection.
The Lashes Pillow Case, $25, Shop Betches
How cute are these pillow cases? These are #eyelashgoals tbh, guys. Plus, they're black and white, meaning they'll match with almost any bedroom decor.
Lipstick Chanel Mug, $25, Etsy
This cute mug will empower anyone the second they take a sip of their coffee in the morning. Get it for the #GirlBoss in your life.
Muscles and Mascara Tank , $15, Amazon
This is the best gift for your friend who loves working out and also loves all things beauty. It's a cute workout top that you basically can't go wrong with.
Makeup Art Print, $5, Etsy
There is no shortage of makeup prints on the Internet, especially on Etsy, and it can be overwhelming to search through them. This one says everything perfectly and is so pretty to look at. It's also an instant download, which makes gift giving so much easier.
Time Los Angeles Makeup or Die Phone Case, $15, Shop Timela
Get this for the diehard beauty fan in your life. The best thing about this option is that it's offered for iPhone 6 phones, but also for iPhone 4 and 5, and Samsungs. It's hard to find cases that are offered for a variety of phones!
Holographic Peekaboo Clutch , $24, Macy's
What makes this clutch stand out from the millions of other makeup brands out there? This one is clear, so you can see the products inside of it without having to look through it. Plus, it just looks really cool.
Always Flowy Tank, $21, Shop Time La
This tank top makes the cutest gift for anyone who is a Harry Potter fan and a dedicated lipstick user. Honestly, not ordering this for myself is a struggle right now.
Breakups to Makeup Lipstick Pouch, $35, NYLON
Get this for your friend who can never have enough lipstick. Or ask for it for yourself. This makeup pouch is also perfect to put in your handbag to hold little items.
I Believe In Red Lipstick Pin , $10, Macy's
How great is this pin? Give it to your friend who can't go a day without wearing her signature red lip - or any lipstick. This is such a cute small gift option.
I know those rows of lipstick are tempting, but trust me when I say your makeup loving friend's face will light right up at the sight of these alternative gifts.
Images: Courtesy Brands