7 Excellent Ideas For A First Tattoo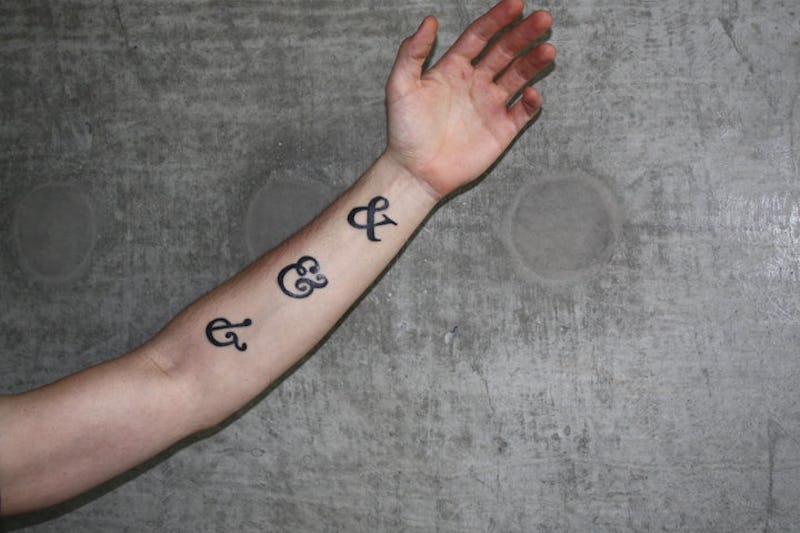 When it comes to tattoos, finding inspiration is everything; and getting a tattoo for the first time can be one of the most daunting, exciting, and satisfying feelings ever. It can be a rewarding experience that literally lasts a lifetime. Personally, I've always been interested in tattoos and get psyched to witness the roller coaster of an experience IRL whenever someone I know takes the plunge.
As cliché as it might sound, one of the first things that exposed me to the world of tattoos was Kat Von D's L.A. Ink back when it was on the air. To say that the show left an impression on younger me is an understatement. I couldn't get enough of the wide variety of ink featured, and it prompted me to consider what I'd want for my own first tattoo.
Fast-forward to today and I'm constantly browsing social media for ideas. The tattoo community on Instagram holds nothing back through work that is seriously breathtaking. Whether you've been eyeing a design for years or have recently been hit by a wave of inspo, it's never too late to consider getting inked. Check out some of the most wearable tattoo designs that you can fall in love with for years to come, and that are the perfect segue into the world of ink for any newbie.
1. Ampersand
Whether you're a writer or you truly enjoy reading, an ampersand can be a perfect symbol to represent your love for the written word. Go for a minimalist design and get it inked by itself, or jazz it up with intricate details like fun letterpress. Not only will add-on's help give the tattoo more dimension, but they will also make it stand out and be differentiated from an otherwise common symbol.
2. Scales Of Justice
If justice and fairness are things that you always strive for and prioritize, a tattoo symbolizing the Scales Of Justice can make for a great design. Not only is it discreet enough to wear in a low-key spot like the back of the neck, but it also holds multiple meanings. The symbol represents the Libra zodiac sign and alternatively symbolizes balance. If finding your inner zen and feeling grounded are important to you, this tattoo can be a much needed daily reminder to do so.
3. Faith
This tattoo serves as the perfect motivation to always keep your faith, even during times of hardship or struggle. If you are going through a personal ailment that remains persistent on a daily basis, for instance, a tattoo like this might help keep you grounded, optimistic, and hopeful. It's definitely worth considering for those who want to keep going, especially since the word "faith" is embedded into a heart rate line.
4. Map
A fun idea for a person who's a traveler at heart is definitely a map. Tattoos like this can symbolize all of the places that a human has been, as well as the places they hope to see one day. If you always find yourself on the hunt for new destinations to visit and explore (or just love a really great adventure), a map can make for an ideal tattoo design.
A great way to add-on to this piece would be to have the map filled in with a different color each time you visit a new location. It's a tattoo that definitely won't get boring and will offer motivation to see the world.
5. Wanderer/Wonderer
A play on words like this one is sure to inspire an original tattoo idea. It's subtle, but nevertheless words can have a powerful meaning and speak for themselves. In the case of the "wanderer/wonderer," this is the tattoo for someone who is curious and always in search of their next big adventure. This tattoo puts a new spin on the all-too-common "wanderlust" tattoo, so if you want something along those lines but still hope to keep things unique, such a design will capture the same idea.
6. Watercolor
This isn't your typical cat tattoo. Watercolors have been gaining traction in the ink world and it's easy to see why: The results can be beautiful and incorporate something special into a simple design. This color technique can also be utilized for a number of different tattoos.
7. Wind Rose
A tattoo with a variety of meanings, the wind rose is an oldie but a goodie. Used by meteorologists and sailors, this symbol has history; but today's modern twist can stand for a lot of things. For some, it signifies focus and looking to the future when it comes to relationships. For others, it represents starting fresh and leaving the past behind.
Tattoo designs allow you to interpret any image you so desire and use it to symbolize whatever you want. But when you're trying to navigate through life, something that will empower you every time you look at it might just be the perfect match for a tattoo newbie.
Want more ink-spiration? Check out the video below, and be sure to subscribe to Bustle's YouTube page for more hacks and tricks!
Image: davidhoogland/Flickr