12 Ways To Channel the Moodiest Girls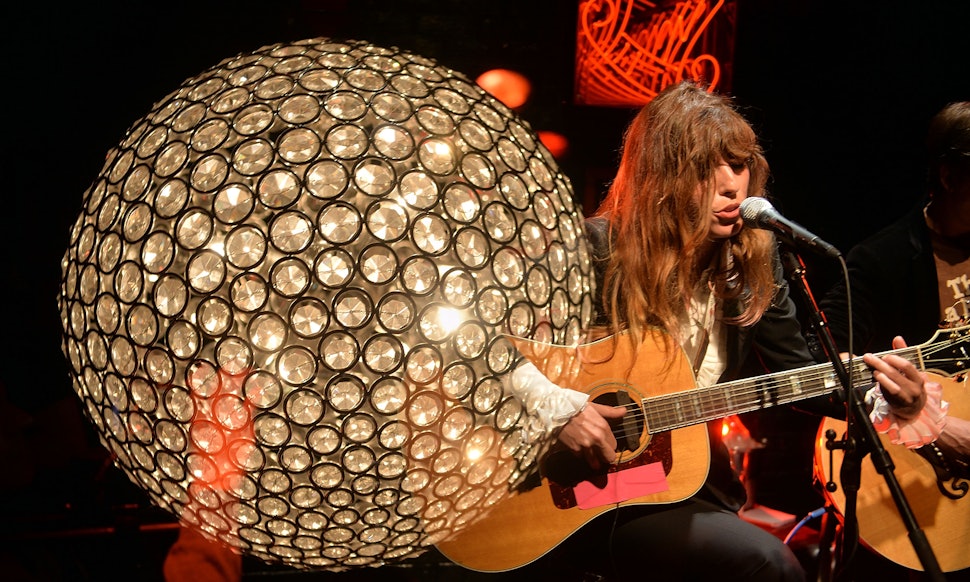 Andrew H. Walker/Getty Images Entertainment/Getty Images
Fashion had a bad attitude all last fall, and if the spring 2014 ad campaigns are anything to go by, the chip on fashion's shoulder isn't going anywhere. Last year, we saw an explosion of moody florals all over the runways, and now we've got Alexander Wang's models sulking in the school bathroom, the new crop of Miu Miu girls dressed to the nines but looking at the camera like "What's your problem?" — and Miley Cyrus, clad in Marc Jacobs, mulling over the meaning of life on a dark beach.
It's because the '90s are back, isn't it? We've embraced slip dresses and jelly sandals and that famous Seattle grunge attitude has crept right back along with them. Because style is at least half attitude, and we all know that. When polished tops and proper skirts are in fashion, Vogue editorials always refer to being "grown-up." But now that we're interested in skulking around in skinny jeans and Chelsea boots, our grunge-era plaids tied around our waists, nothing but dark, troubled, high school-dropout vibes will really complete the look. Welcome to the moody side. Here's how it's done.
Image: Getty Images
Miley Cyrus for Marc Jacobs
The poster child for a moody generation, Miley Cyrus for Marc Jacobs teaches us that attitude is all in a sulky lower lip, though a dead-looking friend doesn't hurt, either.
Image: Marc Jacobs
Christopher Shannon Men's RTW Fall 2014
Rain-drenched hair provides instant ennui. (No clouds in the sky? Try hair gel.)
Image: Getty Images
Valentino Pre-Fall 2014
Cloak yourself in darkness (or a literal cloak). Glance back over your shoulder to tell the world that you're half-listening — but you don't really care what they have to say.
Image: @jjuniordesigner/Instagram
Lou Doillon
Bangs and a guitar equal serious angst. Remember: having feelings is painful, much less channeling them into art.
Image: Getty Images
Rooney Mara
Surrounded by movie stars? NEVER SMILE. Just emote.
Image: Getty Images
Cara Delevigne for Mulberry
Lorde
Hair: messy. Lips: dark. Leaning: witchy.
Image: Getty Images
Kosiuko Pre-Fall 2014
Hats and necklines should both be pulled down low.
Image: @kosiukooficial/Instagram
Philosophy Pre-Fall 2014
Hair in the face at all times is a must, even if someone's forcing you to dress up.
Image: @philosophy_official/Instagram
Antonio Berardi Pre-Fall 2014
Voluminous shapes simultaneously intimidate society with your raging angst, and provide shelter for your tender but very real feelings.
Image: @greer_deburgh/Instagram
Tavi Gevinson
The teen of many feelings reminds us that channeling Margot Tenenbaum is usually the best way to get your mood across.
Image: Getty Images
MSGM Pre-Fall 2014
A partner in crime with bad posture and brooding eyebrows is the best accessory.
Image: @mrmsgm/Instagram