Pantone's Colors (Yes, Two!) Of 2016 Are...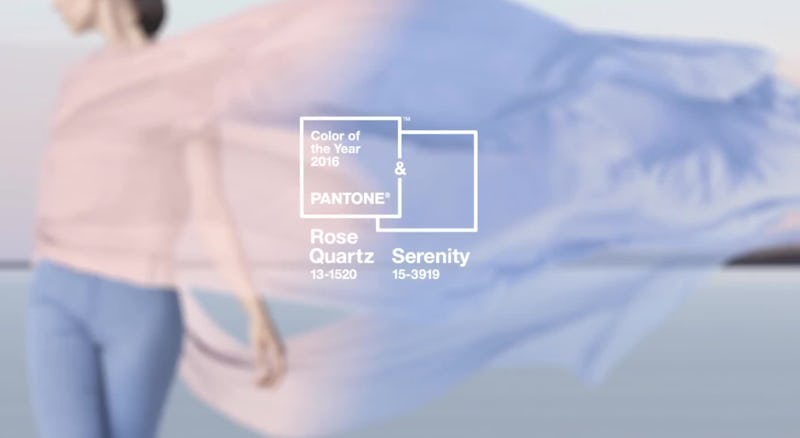 Why pick one color of the year when you can pick two? Pantone's 2016 Colors of the Year are Rose Quartz and Serenity. Yes, there are two colors this year, because twice is nice and rules are made to be broken! Rose Quartz, which is pink, and Serenity, which is blue, are taking the baton from Marsala, which was Pantone's 2015 Color of the Year all by its rich, wine-hued self. Onward, 2016!
According to ABC's report, every year, Pantone, a company comprised of color experts who find, observe, and pinpoint global trends, picks a shade that it believes will assert itself and be reflected in everything from fashion to beauty products to home decor to graphic design. The Pantone Color of the Year choice is the result of the firm's research.
Pantone believes that these two soft, pastel hues will make their presence known in 2016.
On its website, Pantone labels Rose Quartz as a "persuasive yet gentle tone that conveys compassion and a sense of composure." It describes Serenity as "weightless and airy, like the expanse of the blue sky above us, bringing feelings of respite and relaxation even in turbulent times."
Ah... it all sounds so lovely. In a press release, Pantone noted that Rose Quartz and Serenity offer "a harmonious pairing of inviting shades that embody a mindset of tranquility and inner peace." Well, that's true. Each color is soft, delicate, and easy on the eyes. But don't mistake softness for being blah. That's hardly the case!
So, why did Pantone opt for a pair of colors instead of sticking to just one?
Well, the times? They are a'changin'. Pantone believes that binary, "one or the other" ways of looking at color are no longer the norm.
Pantone Color Institute Executive Director Leatrice Eiseman also stated on the site that "in many parts of the world, we are experiencing a gender blur as it relates to fashion, which has in turn impacted color trends throughout all other areas of design."
There you go! Pantone's 2016 Colors of the Year are reflecting, rather than dictating, our culture. Essentially, our culture is not divided into two halves and is not viewed in black and white. People represent all shades of the rainbow and beyond, both literally and figuratively.
The statement even nodded to gender now being a more fluid construct that is no longer defined by color. Eiseman furthered, "This more unilateral approach to color is coinciding with societal movements toward gender equality and fluidity, the consumers' increased comfort with using color as a form of expression which includes a generation that has less concern about being typecast or judged, and an open exchange of digital information that has opened our eyes to different approaches to color usage."
Did that make your heart jump out of your chest? It did for me! It's not about pink being for girls and blue being for boys any longer.
Images: Pantone (3)