What To Wear To A Black & White Wedding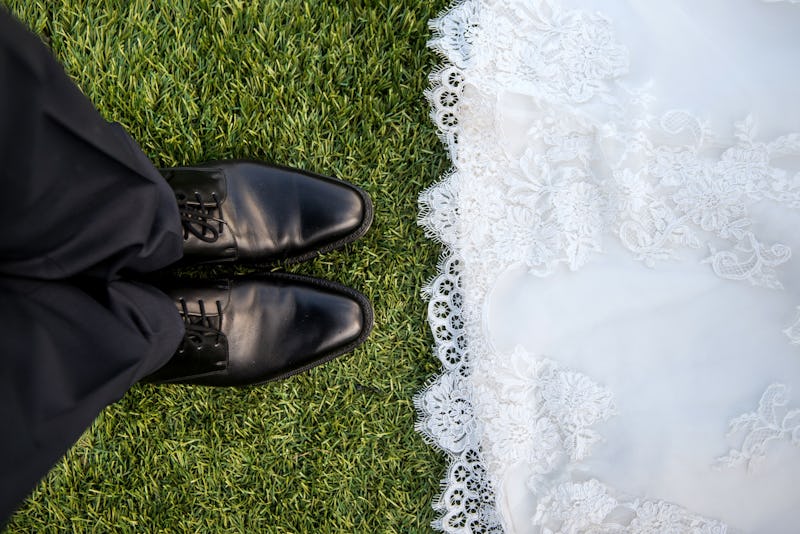 Attending your first black and white wedding is nothing short of exciting, but it can be a little intimidating to find the right thing to wear. Chances are, the bride to be will surely be wearing white. So to find that perfect dress that won't take away from her glory, it's best to find either black, or black and white pieces to wear.
"It's best for ladies to wear black," style expert and author Constance Dunn tells me over email. "You can wear a black-and-white dress, but make sure that black is the dominant color, with just hints of white."
If you decide to wear a black-and-white dress, it's important to note that bridesmaids could be wearing black with white accents, to indicate they are part of the wedding party, says Dunn. To avoid looking out place, try accessorizing with another color, to help offset your look.
"Consider wearing a fill color that is not white," explains Dunn. "You can do this easily, by wearing a pink wrap around your shoulders."
To find your perfect wedding-ready outfit, here's some options that won't overshadow the bride.
1. Sophisticated Dress
IGIGI Marni Dress in Shadow Daisy, $138, Full Beauty
Perfect for any type of black-and-white wedding, this sophisticated piece can be dressed up, or down with the right shoes and accessories.
2. Overlay Bodycon Dress
Thalia Lace Overlay Bodycon Dress, $60, Boohoo
For something sleek and sexy, this overlay bodycon dress sizzles and stuns with black and white lace.
3. Edgy LBD
Tourmaline Dress, $178, Whitney Eve
If all-black pieces are more your thing, this edgy LBD keeps things interesting. If the wedding is in the winter, just bring along a structured blazer or jacket.
4. Accented Dress
Paper Dolls Beige and Black Flocking Dress, $90, Little Mistress
Not entirely white, the black lace detail on this sleeve cap dress keeps you from looking like the bride.
5. Mini Black-And-White Dress
Pinafore Dress Naomi, $174, Desigual
Great for casual or fancy ceremonies, this mini dress looks fantastic with both boots and heels.
6. Black Bodycon Dress
Lexington Bodycon Dress, $52, Shopsosie
For a long-sleeved LBD, this sultry bodycon turns heads, without taking away from the bride's big moment.
7. Velvet LBD
Va Va Velvet Dress, $100, ModCloth
Upgrade your usual LBD picks, with this velvet A-Line dress, which brings elegance to any occasion.
8. Boho Maxi Dress
Kris Maxi Dress, $179, Endless Summer
For a boho type of affair, this free flowing maxi dress keeps things stylish yet casual.
9. Chic Sweater Dress
Cute Black White Long Sleeve Stripe Plus Size Sweater Dress, $15, Ami Clubwear
Sweater dresses are another alternative to the white and black dress routine, being that they can be dressed up or down easily.
10. Swing Dress
Sway Of Life Black and Ivory Swing Dress, $44, Lulus
To offset the white found in this piece, dress this perfect swing dress with a faux fur wrap, or bright scarf for winter-wedding chic. Simply gorgeous, darling.
Images: Gianni Scognamiglio/Unsplash