Who Was San Bernardino Victim Michael Wetzel?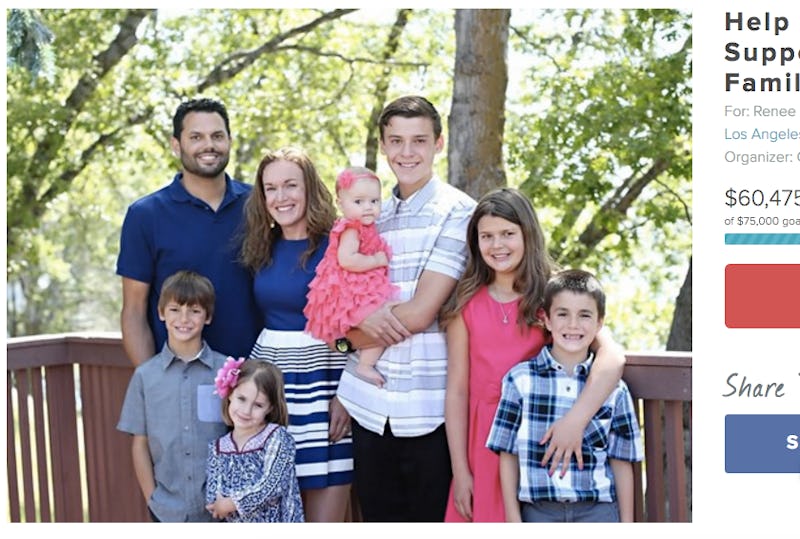 On Thursday, the identities of some of the San Bernardino shooting victims were revealed, including one who sadly leaves behind a large family. Who was San Bernardino shooting victim Michael Wetzel? According to a report by BuzzFeed, Wetzel was a father to four children and stepfather to two. He also leaves behind his wife, Renee, who learned of his death late Wednesday night, according to Los Angeles's ABC 7. In the wake of the tragedy that claimed 14 lives, Wetzel's family members are speaking out to remember their loved one.
After learning of her husband's death, Renee took to her Facebook page and posted a photo that quoted Psalm 61:2: "When my heart is overwhelmed, lead me to the rock that is higher than I." Wetzel's ex-wife, Amy, also took to Facebook to describe her heartbreak. She wrote that she and Michael had three children together (he and Renee also had a child together while Renee has two children of her own). Amy also wrote:
The hardest worst day of my life is upon me today. My heart is broken. Suddenly our entire world has shifted. I have to tell my babies that there [sic] dad is no longer here. I have to explain to them the tragedy of today's events. I have to raise them without him. We didn't see eye to eye on many things but he was my husband at one point. I loved him.
A family spokesperson told ABC 7:
They are very overwhelmed. There are six kids that have lost their father and Renee is a stay-at-home mom, so they've also lost all of their financial support, and the kids are just finding out today.
Wetzel, who was an environmental specialist, leaves behind six children who range in age from an infant to a teenager. Friends of the Wetzel family have set up a donation account, and the family's church, Church of the Woods, are also accepting donations on behalf of the family. In a statement on its page, the church wrote:
In the wake of the San Bernardino shootings yesterday one of our own church family, Mike Wetzel, was one of the victims. As his spirtual [sic] church family we are doing all we can to help coordinate an effort with his wife Renee and their children. ... Please continue to pray for Renee, his children, and his former wife Amy as they process this terrible tragedy and loss of their husband and father.
If you would like to help the Wetzel family, you can donate through their YouCaring page or through the Church of the Woods' website.
Image: YouCaring