16 Boozy Gift Ideas Anyone Would Love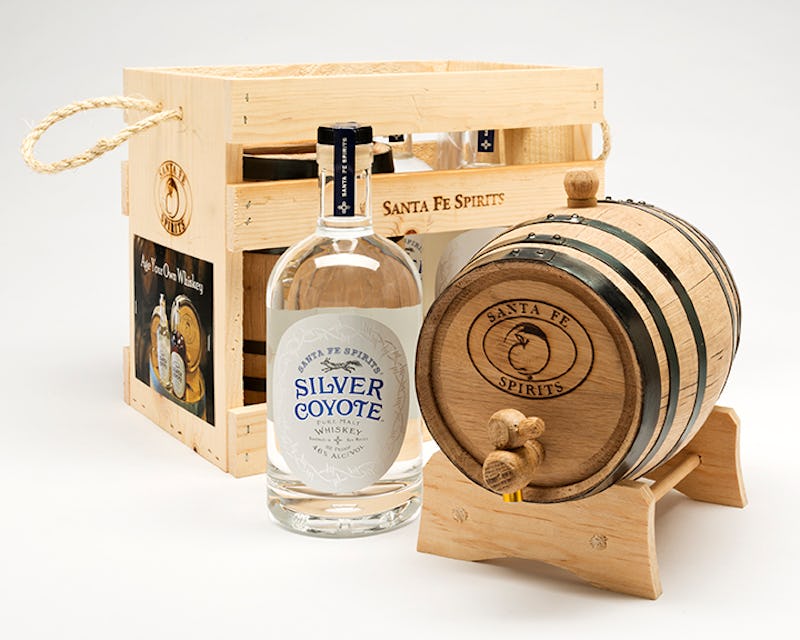 You want to give your friends the perfect gift this holiday season, but oh what shall you choose? In the past, your go-to in a pinch was to stick a bow on a bottle of wine and call it a present, but that's getting a little old. This year, hit the gift-giving process out of the park with these cool alcohol gift ideas for every person on your list. Trust me, you are about to become a hero at your next holiday gift exchange.
Giving gifts can be a stressful process. You may think you are getting the ideal present for someone, but they could just as easily hate it and return it the next day. There is nothing worse than getting the dreaded forced smile and tentative "oh you shouldn't have…" from someone you care about when they open a gift you carefully picked for them.
I can promise you, that won't be happening this year — because everyone loves booze! With this exhaustive roundup of alcohol-themed gifts, those party animals in your life will be able to continue bringing their party magic for years to come. After all, there is no better way to share the holiday spirit than, well, with a few holiday spirits. Cheers!
The ULTIMATE tailgating gift is right here for your biggest fan fanatic friends! Now the cooler is right at your fingertips with this belt holster. Plus it comes in camo. Can you say "hey there bad*ss!"?
Beer Holster, $13, Amazon
Don't let your friends become suburban moms and start throwing ice cubes in their wine. Make sure the wine stays cold, undiluted, and classy with these oh-so chill wine glasses.
Wine Glasses, $22, Amazon
With the Star Wars release just around the corner, your geeky Jedi-loving boozy friends are going to flip out over this rad Death Star Ice SPHERE Mold. I can already hear Darth Vader's theme song… Bum bum bum bum, bum bum bum bum bum bum bum…
Death Star Ice SPHERE Mold, $20, Amazon
Got a boozy girlfriend who loves her accessories? She'll be extra stylin' with this bracelet flask the next time she hits the town. Plus you're saving her money on drinks — it's the gift that keeps on giving!
Bracelet Flask, $35, Nordstrom
The classic drinking horn just got a major whimsical upgrade with this magical unicorn drinking horn from ThinkGeek. This makes the perfect gift for those who still love their fairytales. And really, who doesn't still love fairytales?
Unicorn Drinking Horn, $20, ThinkGeek
Wheel of Fortune ain't got nothing on this Wheel of Shots game from Urban Outfitters. Gather your friends, and get ready to spread some serious holiday cheer after a few rounds. You might even be brave enough to go caroling!
Wheel of Shots, $15, Urban Outfitters
If you've got a boozy friend who loves getting funky in the kitchen, then this infused vodka maker from Home Wet Bar makes the perfect gift. They can get crazy with their cocktail creations using naturally infused flavors!
Infused Vodka Maker, $26, Home Wet Bar
The mad scientist is in the house with this fun chemist's cocktail kit from ThinkGeek for the uber nerd in your life. Who says nerds don't know how to party?
Cocktail Kit, $30, ThinkGeek
Your tailgating booze-fiend of a friend is going to flip out over this disposable flask. No need to keep track of that fancy flask they received as a groomsmen's gift. Just use once, and toss when all the booze is gone. Party on!
Disposable Flask, $9, Amazon
Everyone loves sweater weather for a reason. Give your friend a bottle of SKYY to match their favorite holiday knit.
SKYY Holidayy Sweater Vodka, $19, Available nationwide wherever SKYY Vodka is sold
Forget about Das Boot and Das Beer Stein, the Das Can-in-Stein will allow your friends to proudly boast exactly which beer they are enjoying.
If you've got a friend who loves a boozy brunch, it's time to make sure they're building their Bloody Marys to the best of their abilities. These Bloody Mary diagram glasses from Uncommon Goods are the perfect accessory.
Bloody Mary Glasses, $25, Uncommon Goods
For the true whiskey aficionado, there's nothing that says, "I love you" like an age your own whiskey set from Santa Fe Spirits. They'll be able to age their own whiskey, and may even invite you over to enjoy it. Win-win, am I right?
Whiskey Set, $99, Santa Fe Spirits
I am a big ol' wino, so this wine bottle glass is making it on my personal wish list this Christmas. Guilt-free drinking an entire bottle of wine? Yep, that's what Christmas is all about.
Wine Bottle Glass, $18, Amazon
It's not the holidays without a little bubbly. Gift your friend a bottle of Moet & Chandon Festive So Bubbly Imperial Brut so that they can toast in style.
Moet & Chandon Festive So Bubbly Imperial Brut, $50, Wine.com
Show how sweet you really are with this adorable stocking stuffer! Any friend with a sweet tooth and an affinity for sweet drinks is going to gobble up these candy-drinking straws from Home Wet Bar.
Candy Straws, $6, Home Wet Bar
For more boozy holiday ideas, check out Bustle on YouTube.