Ways To Make Your Sleeping Space Super Comfy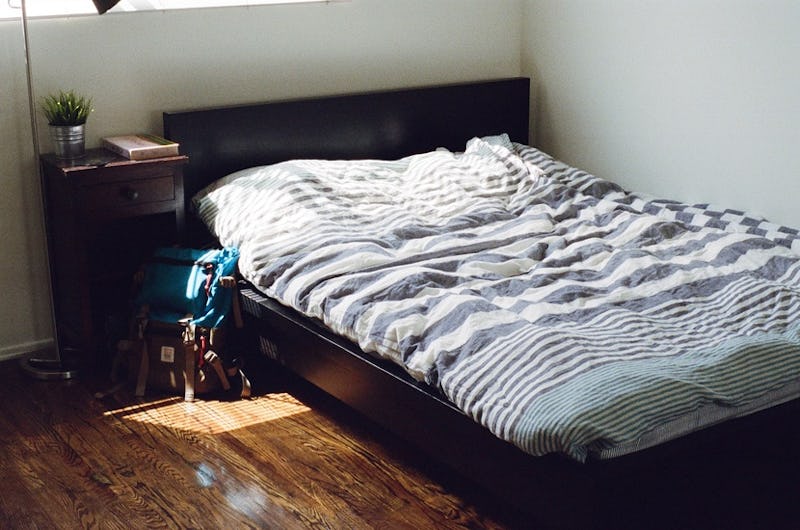 Life can get extremely stressful. It's why coming home to a relaxing home space at the end of the day can feel vital to our mental health, and it's also why creating a cozy, calming bedroom can be so important to starting and ending the day on a good note.
In a piece for the HuffPost Healthy Living section, psychotherapist Robi Ludwig said, "we need our home environment to be the place where we can take both personal and physical refuge. It is here that we can balance ourselves and our psyches, because our home is the place where we can relax, regroup and reinforce the best part of who we are."
And in a piece for TinyBuddha, author and spiritual coach Omar Elgaba discussed the way spaces can affect our moods and sense of well-being. He noted how the use of certain colors, the arrangement of furniture, the placement of photos, and even the light of a space can affect how we feel when we're in it. He even recalled how at one time in his life, coming home could make him downright depressed even though there was technically nothing wrong in his life, and it all came down to the fact that his physical space was bringing him down.
Basically, having a cozy bedroom is important! It feels great and can have a legitimate effect on our psychological health. If you're feeling like you need to improve your sleeping environment and up the cozy-factor, here are eleven tips that should help.
1. Layer Blankets
Interior designer and YouTuber Toni Fairley said that one of the fastest ways to make a space warm and inviting is by layering furniture with blankets and pillows. She recommended your bed with a comforter and soft cotton blanket on top so you have options for warmth, and then adding pillows of various shapes and sizes to accommodate different activities, like reading and napping.
2. A Soft Carpet
Safavieh Silken Sable Brown Shag Rug (5' Square), $82.22, Overstock.com
According to Nancy Mitchell, Senior Writer at Apartment Therapy, a patterned rug with a texture you want to touch is a great way to add comfort and warmth to a room. Not to mention rugs on bare floors help keep in heat, meaning they are literally warming your space.
3. Choose A Calming Paint Color
In an article for Better Home and Gardens, professional color consultant Barbara Jacobs said that the importance of room color is often underestimated, and that "the effects of color are subtle and significant; physical and psychological." She said, "for a quieter ambiance, make sure your colors are not extremely bright," and recommended warmer shades like oranges, yellows, and neutral browns for coziest of shades.
4. Focus On Lighting
Lighting is an extremely important part of creating ambiance in a space. In an article for WholeLiving, Joseph A. Rey-Barreau, a lighting designer with the American Lighting Association, said to avoid bright or fluorescent overhead lights, instead opting for floor and table lamps with dimmers. "Not using a dimmer is like buying a radio with no volume knob," he noted. You can also switch to a warm-toned or Edison bulb for an added cozy effect.
5. Have Cozy Accessories On-Hand
Women's Wicked Good Shearling-Lined Slides, $59.99, LLbean.com
This is a personal tip. Hang a hook for a super comfy robe and make sure you have a pair of soft socks or slippers on hand for when you're hanging out in your bedroom. Nothing feels nice than cuddling into a soft giant robe.
6. Grab Your Favorite Scented Candle
Scented Candles (Lavender) Soy Wax Aromatherapy Candle - 8oz, $11.95, Amazon.com
A 2009 study published on PubMed.org found that teens who received aromatherapy were significantly less stressed than those who received a placebo, indicating that it could be a very effective treatment for stress management. Additionally, according to the National Institute of Health, aromatherapy is even used to help cancer patients, based on the theory that certain scents can have an impact on the brain's emotional center and provide sedative effects. So always keep your favorite relaxing scent on hand for when you're having one of those days.
7. Consider Patterned Walls
WallPops NuWallpaper Woods Peel & Sticks Wallpaper in Grey, $39.99, BedBathandBeyond.com
In an article on creating a cozy bedroom for HouseBeautiful.com, designer Tobi Tobin recommended patterned wall paper. "I think the pattern comes right off the wall and gives the room so much texture – they wrap you up and envelope you," he said.
8. Keep Colors Balanced
In the same HouseBeautiful piece, designer Sara Scaglione stressed the importance of maintaining color balance when decorating your bedroom. If the walls are dark, for example, a light comforter with lighter furniture can prevent the room from becoming too overwhelming, or "cave-like" she said.
9. Add A Few DIY Touches
Nothing feels as cozy or homy as a space with a few homemade touches. Try repurposing old mason jars for candle holders or repainting an old vase for flowers. Lifestyle vlogger and YouTube star Michelle Phan also has some great DIY tips for making your bedroom a relaxation oasis in the above video.
10. Keep It Plush
Luxury Plush Reversible Comforter, $57.98, LTDCommodities.com
An Apartment Therapy piece on creating a calm and cozy bedroom recommended embracing plush when going for a cozy feel. There's nothing like sinking into a plush mattress and getting enveloped in super soft bedding to make you feel comforted and protected at the end of a long day.
11. Keep It Simple
Finally, the same Apartment Therapy piece reminded us the importance of keeping things simple and minimalistic. Too much clutter and visual noise not only can make a space harder to keep clean, but it can feel like sensory overload to our minds when what we really need is calm. Try getting rid of extraneous objects in your bedroom and see what a difference it makes.
Your bedroom should feel like a haven where you can relax and recharge for the outside world. If you're feeling stressed and like your personal space is just not doing it for you, try some or all of these tips for some instant cozification.