8 Book Gifts For The 8 Nights of Hanukkah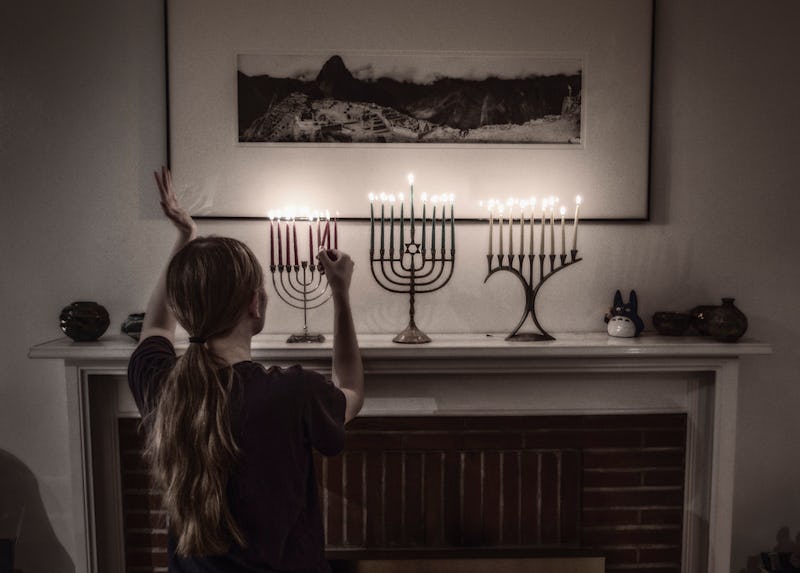 What's better than getting one book as a gift? Getting eight books as a gift, eight nights in a row, for the eight nights of Hanukkah (or at least, eight book-themed gifts, since you can never have enough reading paraphernalia). Because Hanukkah is here, and that means it's time to eat latkes, spin dreidels, and coerce your family into buying you cool literary goodies.
Or maybe you are in the gift-giving spirit, and you're the one in desperate need of some gifting ideas. Holiday shopping can be a lot to handle, especially when you have eight nights of gift-giving to consider, so I say just assume that everyone on your list is an avid reader (and if they're not, your present can be a not-so-subtle push in the right direction). Books are inexpensive and they are the kinds of things people hold on to for ages. And if you're getting dangerously close to lighting those first few candles and still don't know what to buy for friends and family, this list might help you out. Because who doesn't want to cozy up in a literary scarf while enjoying a handful of Hanukkah gelt?
So ready your blue-and-white wrapping paper, because here are eight present ideas for your upcoming Festival of Lights:
1. Banned Book Scarf
Banned Books Week Scarf, $38, Etsy
This one's for the edgy reader on your Hanukkah list: a scarf printed with the titles of banned books. These were the books most frequently banned between 1990 and 2010 — and quite a few of them are all-time classics. So you can celebrate the freedom of reading and stand up to censorship while staying warm and looking stylish in your hand-made scarf. Win/win/win.
2. Eating Delancey: A Celebration of Jewish Food by Aaron Rezny and Jordan Schaps
Eating Delancey: A Celebration of Jewish Food by Aaron Rezny and Jordan Schaps, $29, Amazon
Finally, a book to redeem everyone who never quite mastered their grandmother's matzo ball soup recipe. Not only does this book have recipes and mouth-watering pictures, it has the stories behind the recipes and the history of Jewish food culture in New York City. Plus, the one and only Joan Rivers wrote the intro. What more could you ask for in a Hanukkah gift?
3. Personal Library Embosser
Library Embosser , $26, Horchow
UM. This might be the classiest book gift ever? Look, anyone can stick some personalized sticker on the inside of a book. But only you (or your lucky family member or friend) will be able to emboss your name on your entire book collection. Maybe now people will actually return your books after they borrow them.
4. Kvetch as Kvetch Can: Jewish Cartoons by Ken Krimstein
Kvetch as Kvetch Can: Jewish Cartoons by Ken Krimstein, $28, Amazon
A cartoon book that will make you laugh, feel vaguely guilty, and then call your mother. But it's funny enough to be worth it. Who else but Kem Krimstein would be able to bring us a Pillsbury Golem? For all aspiring artists and comedians on your holiday list, this is a book about kvetching that will make them kvell.
5. Temporary Literary Tattoos
Temporary Literary Tattoos, $5, Litographs
So this website has all these different temporary literary tattoos for $5 each, and now I'm in serious danger of buying all of them. The tattoos are all beautifully designed, quoting authors from Jane Austen to Franz Kafka to Virgil. And you won't give your mom a heart attack when you show up to dinner all inked up, because they're temporary!
6. Q&A a Day: 5-Year Journal by Potter Style
Q&A a Day: 5-Year Journal by Potter Style, $11, Amazon
Where are you going to be in five years? What were you thinking five years ago today? What should you buy that one shy, bookish cousin who's already read everything in your library twice over? This journal is the answer. Everyday for five years straight, Q&A will ask you a simple question, and you'll jot down a simple answer—and see how your answers change over the years. The perfect gift for anyone who's ever struggled with journaling.
7. "Falling Books" Book End
"Falling Books" Metal Bookend, $15, Amazon
If you're anything like me, roughly half of your books live on their shelves like they should, and half of them live semi-feral lives on the floor, desk, and nightstand. This book end embraces the precarious, somewhat haphazard nature of book ownership. It keeps your books on the shelf and in order, but allows them a little breathing room to lean to one side. It's also just really cute.
8. Recycled Book Purse
Recycled Book Purse, $60-65, Etsy
OK, so this one's a bit of an investment, but look how beautiful. Sometimes you just need to send the message, "I am an elegant book nerd," and this is exactly the purse to do so. All of the covers are gorgeous (and I imagine they pair well with that banned books scarf). And it's a recycled book purse, so you're basically saving the world while looking totally chic and well-read.
Image: ** RCB **/flickr