The ONE Christmas Cookie You Have To Make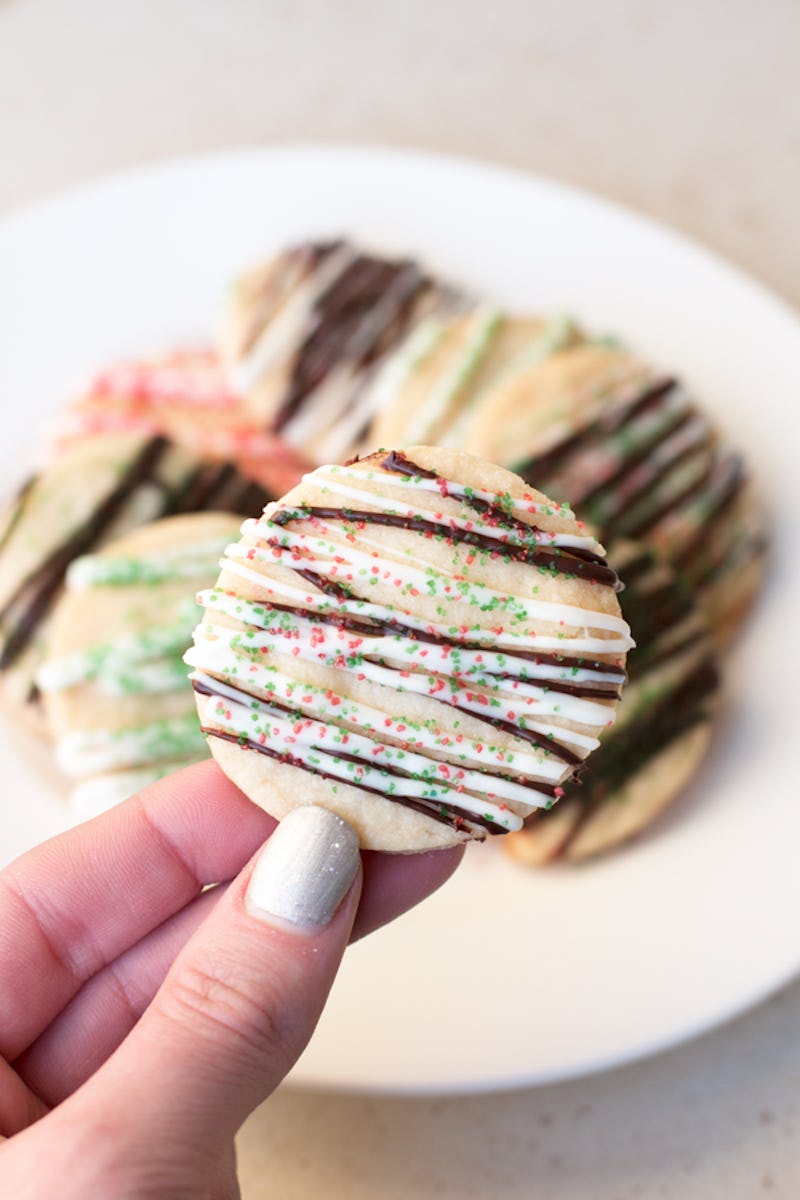 There are about five million Christmas cookie recipes out there. Trust me, I've found them all, and have made about half of them. I'm known as the baker of the family, and every year when Christmas rolls around, it's all about the cookies. I make dozens of them for gifts and send care packages full of them to family members I won't see at the Christmas dinner table this year. It can be a bit overwhelming to know which cookie to make, so this year I'm sharing the one Christmas cookie you need to try out. It's seriously so simple.
If you make no other cookie this season, that's totally cool. You won't need to because these four-ingredient beauties have everything you need. They're super easy to make, quick to bake, and they last long enough to be shipped out to the ones you love most. Plus, they are a blank canvas for your Christmas craftiness — from chocolate to sprinkles to frosting, you can make these cookies works of art.
I always go for the double chocolate and sprinkles on these shortbread masterpieces because, hello, the more chocolate and sprinkles, the more Christmas cheer in every bite. It's time to spread the holiday spirit with cookies!
Ingredients (makes 20 cookies):
1 1/4 cups all-purpose flour
1/3 cup granulated white sugar
1/4 teaspoon salt
1/2 cup butter, (cold) cut up into chunks
Optional toppings:
3 ounces dark chocolate chips
3 ounces white chocolate chips
Holiday sprinkles
Directions:
1. Preheat the oven to 325 degrees.
2. Stir together the flour, sugar, and salt in a medium bowl. Add the mixture to the bowl of a food processor, along with the butter. Pulse until the mixture resembles fine crumbs, then turn to the process setting and process until the mixture clumps together.
3. Remove dough from the processor, and knead on a lightly floured surface until the dough is smooth, approximately three minutes. Roll out the dough until it is 1/2-inch thick.
4. Use a two-inch round cutter to cut out disks of the dough. Press together the scraps and re-roll/cut.
5. Bake for 20 to 25 minutes, until the edges are just turning golden brown. Allow to cool completely.
If you want to decorate like I did:
Melt the dark chocolate chips and white chocolate chips in separate bowls in the microwave for 30 second intervals, stirring in between each, until melted. Add the melted dark chocolate and melted white chocolate to their own separate plastic bags. Seal the bags, and when ready to decorate, clip a bottom corner off with scissors. Drizzle chocolate over the cookies and repeat with the other type of chocolate. Top with sprinkles, and allow the chocolate to set, approximately 20 minutes in the refrigerator.
Merry Christmas to all!
*Recipe adapted from Recipe Girl
Looking for more holiday cheer? Check out Bustle on YouTube.
Images: Meghan Bassett