12 Books To Get You In The Christmas Spirit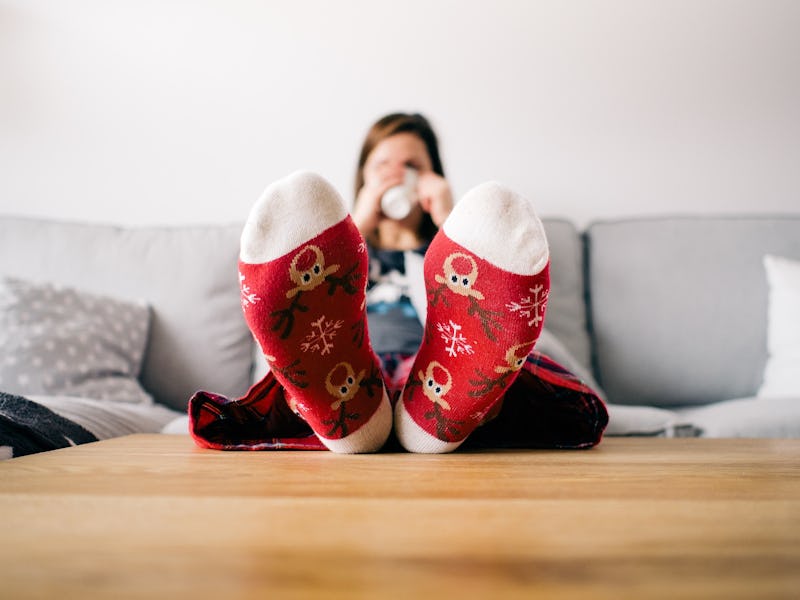 When you're little, the entire month of December feels like Christmas. The decorations go up, your parents and grandparents seem to be baking nonstop, and of course, you're writing your letters to Santa, letting him know just how good you've been this year. But once you get a little older, you might find youself thinking more and more than it just doesn't feel like Christmas. Maybe you're in school, with finals and end-of-semester assignments consuming all the time you once spent getting in the holiday spirit. Maybe you're working and feeling like you have no time or motivation for the seasonal activities you once loved. We've all been there.
But, luckily, there's almost always a book for that. Sometimes it's hard getting in the holiday spirit, I totally get it. But if you're feeling overwhelmed by family dRaMa, give You Better Not Cry a read, and you'll be laughing in no time. If you feel like it's the season for all of your friends to be getting engaged, fear not, My True Love Gave to Me will be perfect for you! And, if you're just wishing you could have all those magical Christmas thoughts from when you were young, it never hurts to reread How the Grinch Stole Christmas!
So, no matter why you're struggling to feel festive today on Christmas, here are 12 books that would get even Scrooge himself into the holiday spirit!
1. My True Love Gave to Me edited by Stephanie Perkins
Twelve holiday stories, each with a different take on Christmas, Hanukkah, and every winter holiday in between, each with a different opportunity to get you feeling festive. If you're looking for a laugh with a touch of holiday sentiment, "Your Temporary Santa" is perfect for you. If you want a sweet holiday-themed love story, you have plenty of options, but Rainbow Rowell will not let you down in "Midnights." It's the perfect Christmas collection for any mood, but they all have one thing in common: they're full of enough holiday cheer to sway even the Grinch.
2. Holidays on Ice by David Sedaris
The holidays can be a stressful time. From trying to find the perfect gift for everyone on your list, to seeing people back at home you might not want to be seeing. David Sedaris knows the holiday struggle, don't worry. Sedaris is sure to make you laugh out loud in recognition with these holiday-themed essays, no matter the mood you're in today!
3. The Gift by Cecilia Ahern
If you're finding yourself working retail today, with customers getting you down, or even if you're feeling bogged down by the commercialism of the holiday, Cecilia Ahern's emotional reminder of the true meaning of Christmas will have you bouncing back and feeling cheery again in no time.
4. Let It Snow: Stories by John Green, Maureen Johnson, and Lauren Myracle
The original YA short story collection for the holidays, Let It Snow is not one to miss, especially if you've already devoured everything else these authors have written. Three YA holiday romances will make you feel giddy and like anything can happen, and they're just short enough to give you that holiday mood boost you've been needing!
5. Little Women by Louisa May Alcott
Everyone's favorite sisters know how to do Christmas right. No matter the circumstance, or how little money they have, the March sisters were always able to make Christmas merry and bright together. If you're bummed because you don't have the money to show your loved ones how much you care with gifts, you'll definitely feel refreshed after a visit with Little Women. Plus, it might even inspire you to get your DIY on for the party this afternoon.
6. Hercule Poirot's Christmas by Agatha Christie
If you think your holiday season is rough, just read Hercule Poirot's Christmas and you're guaranteed to feel at least a bit better. This year, murder is on the menu, and it's up to Hercule Poirot to get to the bottom of it. Detectives don't rest, even on Christmas!
7. Dash and Lily's Book of Dares by Rachel Cohn & David Levithan
What can I say, YA authors know how to do Christmas. This one opens with Lily, who is feeling decidedly not jolly this year. Her parents are off an extravagant vacation without her, and will be missing the Christmas holidays. Her brother is spending every spare second with his boyfriend, and even her grandfather has someone to spend the holidays with. What's a girl to do? Hit the bookstore, of course, and get caught up in a Christmas-themed scavenger hunt, which might just lead her to her own special someone this year. Fun, funny, and full of good cheer, Dash and Lily's Book of Dares is just what you need if you want to cure your bah humbugs today.
8. How the Grinch Stole Christmas by Dr. Seuss
The only person who is more humbug than Scrooge himself has to be the Grinch. Dr. Seuss' beloved Christmas tale has been adapted into several fantastic movies, but there's nothing like a revisit to the original children's book to reawaken that childlike sense of Christmas cheer. If the Grinch can get into the holiday spirit, so can you!
9. You Better Not Cry: Stories for Christmas by Augusten Burroughs
Slightly scary cover aside, You Better Not Cry is on the same line as Holidays on Ice: biting, hilarious essays on the holiday season. If you're feeling particularly Scrooge-y this year, Augusten Burroughs will be there for you. He will take you holiday woes and wash them away, even temporarily, with You Better Not Cry!
10. Landline by Rainbow Rowell
It doesn't look like it's a Christmas story, but Landline is one of the best. Georgie McCool is a professional success, and she's about to get her big break. But, it could come at the expense of her family. Georgie and her husband have lost sight of their once untouchable relationship, and as their first Christmas apart looms ever closer, Georgie has to think about what she really wants, and a phone that leads to the past might be just what she needs. No matter what your mood this holiday, Rainbow Rowell is always worth picking up!
11. 2 a.m. at the Cat's Pajamas by Marie-Helene Bertino
Marie-Hene Bertino's novel, 2 A.M. at the Cat's Pajamas starts out on a pretty bleak note, don't get me wrong. A little girl has just lost her mother, and all she wants is to sing in the school choir. Or, really, to sing at all. It's a pretty small wish for a girl of only nine! Full of magical realism and Christmas magic, this is one that is best read right before Christmas Day, since it takes place right on Christmas Eve.
12. Home Alone: The Illustrated Storybook by John Hughes and Kim Smith
Your favorite childhood Christmas movie just made a huge comeback in this illustrated storybook! If nothing else on the list was able to get your Christmas spirit back, this one is, without a doubt, the perfect book for you!
Image: tookapic/Pixabay