18 Fun Things To Do With Candy Canes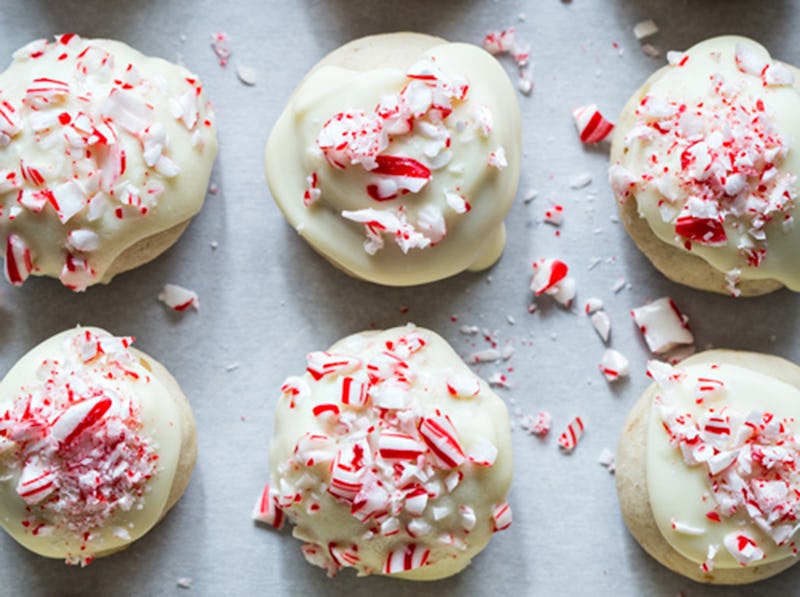 Candy canes are a Christmas staple, which means that by Jan. 1, you will probably be left with a whole bunch of leftover peppermint candies making a mess in your kitchen. I love candy canes, but even I know that too many just get boring after a while. Luckily, thanks to Pinterest and bloggers in general, there are tons of creative, fun, and unique candy cane ideas out there to make the best use of them possible.
Sure, candy canes are great to eat on their own or to stick in random desserts to make them taste more minty and look more festive, but did you know you can also use them in different crafts? These uses for candy canes range from the perfect Christmas desserts to easy crafts you can do with kids or just on your own. Trying at least one or two of these will ensure you don't waste any candy canes, and will put a fun spin on your holiday prep.
Here are 18 things you can do with candy canes this holiday season that will definitely impress everyone around you. You're basically going to be the Pinterest Christmas queen with some of these ideas (you're welcome). Get ready to eat ALL the candy canes.
1. Put Them In Hot Chocolate
My absolute favorite way to eat a candy cane is to mix it with chocolate. The easiest way to do that? Stick a candy cane in hot chocolate. It gives your drink a deliciously minty taste that screams Christmas spirit. Check out this recipe by Half-Baked Harvest.
2. Make Them Into Little Bowls
OK, how awesome is this? You can basically melt little peppermints (or what I like to call "round candy canes") into small bowls. These little bowls by Princess Pinky Girl are perfect for holding candy or cookies, or for filling with candy and giving as a gift.
3. Use Them To Decorate Cupcakes
Candy canes are excellent to use as decorating tools for dessert, because they can be eaten! They're especially great on cupcakes, like these by Half-Baked Harvest. These are hot cocoa cupcakes with tiny sugar cookies on the bottom smothered in marshmallow frosting with a candy cane on top. ARE YOU KIDDING ME?
4. Enjoy DIY Candy Cane Vodka
Just in case you wanted to bring candy canes up a notch, DIY candy cane vodka is a thing that exists. I'm both curious and a little scared to see what this tastes like. The Speckled Palate has your tutorial.
5. Peppermint Bark
Peppermint bark is one of those things that looks really complicated and impressive, but is actually super easy to make. You can save it for yourself, or give it as gifts (or part of a gift). Use candy canes to make your peppermint bark pink, a la Lil Luna.
6. Create Ornaments With Them
Cookie cutters plus melted candy canes or peppermints equal the sweetest ornaments. This is a perfect, simple craft to do with kids... or to just make yourself when you're bored and have no idea what to do with candy canes. Head over to Hello Homebody to see how it's done.
7. Make A Very Unique Dessert
This candy cane cloud dessert by A Pretty Life In The Suburbs doesn't only look cool, it also tastes delicious. It's super easy to put together and doesn't even require baking — just a food processor. This whipped dessert is different, easy, and will definitely be a crowdpleaser.
8. Put Them In Homemade Fudge
The only thing better than buying fudge is making it, because then you can make as much as you want whenever you want. The addition of candy canes gives this fudge by Shugary Sweets a nice, festive feel. It's easier than you'd think, and it makes a nice gift.
9. Add Them To Rice Krispie Treats
What's better than a Rice Krispie treat? A peppermint Rice Krispie treat. Crushed candy canes make this classic snack perfect for the holidays — and also gives a distinctly sweet flavor that will make these even more irresistible than usual. Essentially Eclectic has the recipe.
10. Use Them As Cookie Toppings
You can make any cookie Christmas-ready by adding white frosting and crushed candy canes. Seriously, it's the easiest way to make a dessert more festive. This recipe for candy cane snowball cookies by My Baking Addiction is a classic.
11. Bake Them Into Brownies
In case you were thinking chocolate brownies weren't sweet enough on their own, candy canes are here to save the day. These brownies by Crazy Little Projects include a super sweet marshmallow frosting, and wouldn't be complete without the crushed candy canes on top.
12. Melt Them Onto Popcorn
Want an easy treat that requires zero baking? Try this candy cane popcorn by The Girl Who Ate Everything. This snack combines salty and sweet flavors for something delicious everyone will love. This is great to leave out at a holiday party (or keep all for yourself).
13. Use Them As A Tray
Yes, I'm suggesting you crush up your candy canes and then bake them into a tray to hold your Christmas desserts. Why? Because why not, am I right? This tray by Pint Sized Baker will look amazing holding cookies, brownies, or cake, and it's a fun and unique DIY project.
14. Decorate Martinis With Them
Why drink a glass of wine during Christmas dinner when you could drink a martini, you know? This drink isn't complete without crushed candy canes along the rim — and a candy cane sticking out for decoration. Head on over to Dawn Nicole Designs to see how it works.
15. Melt Them Into Christmas Trees
The cool thing about candy canes is that you can warm them up and then make them into different shapes — like Christmas trees! These little guys make an amazing treat. Princess Pinky Girl has all the inspiration you need.
16. Create The Cutest Dessert
Tell me this isn't the cutest dessert you've ever seen. This is the perfect thing to make if you're celebrating the holidays with little kids, or if you just want to impress everyone with your Pinterest-y ways. Cake Whiz shows you how.
17. Make A DIY Sugar Scrub
As it turns out, crushed candy canes make an excellent addition to an exfoliating sugar scrub. Try out this idea by Classy Clutter for yourself to feel super festive in the shower, or wrap it up and use it as a really cute and inexpensive gift for someone.
18. Melt Them Into Shot Glasses
Planning on doing shots this holiday? Make them even more festive with these adorable peppermint shot glasses by Princess Pinky Girl. These are cute as a gift, or just to make you basically the best party host ever.
Looking for more holiday cheer? Check out Bustle on YouTube.
Images: Half-Baked Harvest; Princess Pinky Girl; Half-Baked Harvest; The Speckled Palate; Lil Luna; Hello Homebody; A Pretty Life In The Suburbs; Shugary Sweets; Essentially Eclectic; My Baking Addiction; Crazy Little Projects; The Girl Who Ate Everything; Pint Sized Baker; Dawn Nicole Designs; Princess Pinky Girl; Cake Whiz; Classy Clutter; Princess Pinky Girl