2014 Oscar Nomination Surprises Include Jonah Hill, 'Jackass', & Many, Many More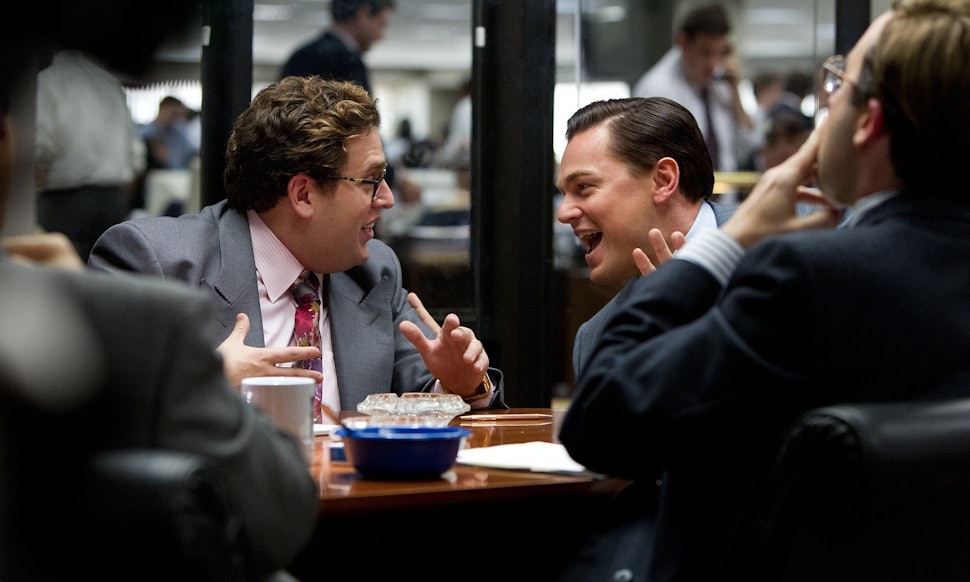 Bright and early this morning the mighty Thor, also known as Chris Hemsworth, and the Academy of Motion Picture Arts and Sciences President Cheryl Boone Isaacs announced who would grace the red carpet on March 2 for the 86th Academy Awards. And there were a hell of a lot of surprises in the 2014 Oscar nominations that not even Hemsworth's golden exterior could distract us from.
This might be the most competitive Oscar race in years and somewhere the Academy found room to throw nods to Jonah Hill, Jackass: Bad Grandpa, among other unlikely nods in HUGE categories — cough Christian Bale and Leonardo DiCaprio — and we're really surprised. Here's your definitive list of the biggest surprises from Oscar Nomination Day.
Image: Paramount
Jonah Hill, Best Actor In A Supporting Role
Are you floored? Because we are. Hill got a nod for his role in The Wolf of Wall Street and we're not sure if they meant to nominate his fake teeth and eyeglasses or the actor himself. Either way, this Academy validation sure isn't going to do much for the actor's notorious ego.
Image: Getty Images
Sally Hawkins, Best Actress In A Supporting Role
Hawkins got a nod at the Golden Globes last weekend for her role in Blue Jasmine but in this year's crowded awards race, we're surprised to see her get an Oscar nomination for her role as Blanchett's sister, Ginger.
Image: Getty Images
Christian Bale, Best Actor In A Leading Role
Another Globes nominee that we didn't expect to see make an Oscar run — Bale got a nod for his role as con-man Irving Rosenfeld in David O'Russell's American Hustle. Again, this was a crowded race and we're shocked to see Bale's name over Tom Hanks for his titular role in Captain Phillips.
Image: Getty Images
Leonardo DiCaprio, Best Actor In A Leading Role
It looks like the grudge is over! DiCaprio received his first nomination since Blood Diamond in 2007 for his role as stock broker Jordan Belfort in Martin Scorsese's Wolf of Wall Street and we can't deny we're surprised. Not because he doesn't deserve it — but because we didn't expect him to ride his Golden Globe win all the way to the Oscars (especially with his rocky relationship with the Academy).
Image: Getty Images
'Jackass Presents: Bad Grandpa', Achievement In Make Up & Hair Styling
What the hell? I mean yes, the make-up on Johnny Knoxville was undeniable epic but an Oscar nod? I know, you're almost as shocked as we are.
Image: MTV Films
'American Hustle' Gets 10 Nominations
Not that it wasn't to be expected — but with huge snubs to Inside Llewyn Davis, Lee Daniels' The Butler, and Fruitvale Station it's surprising to see David O'Russell's comedy racking up a nomination in every major category. And it got more nods than the arguable best film of the year, 12 Years A Slave.
Image: Columbia
'Gravity' Gets 10 Nominations
Again, we weren't not expecting Alfonso Cuarón's interstellar masterpiece to rack up nominations for its impressive visual and sound achievements. But again, we're surprised to see it rack up more nominations than 12 Years A Slave especially, again, in such a crowded race.
Image: Warner Bros.
'The Lone Ranger' Gets 2 Nominations
From universally panned and box office flop to Academy Award nominee? That doesn't seem to make much sense, but this lackluster re-imagining of the 1930s radio series of the same name, that starred Johnny Depp and Armie Hammer, got nods for Achievement in Make-Up & Hair Styling as well as Best Visual Effects. The Academy works in strange ways…
Image: Walt Disney Studios